NFL Legend Adrian Peterson Once Compared the NFL's Labor Strife to 'Modern Day Slavery'
In addition to being one of the greatest running backs in NFL history, Adrian Peterson has a history of speaking his mind. Sometimes, that goes better than other times.
Take the 2011 NFL lockout, for example. Like plenty of other players, Peterson had a problem with how the NFL handled its labor issues.
What Adrian Peterson said about the lockout, though, led to a controversy that earned him scorn from other players. Nearly a decade later and with professional sports facing possible labor wars, let's look back at Peterson's comments.
Adrian Peterson is among the NFL's greatest running backs
RELATED: Adrian Peterson Eyeing Surpassing Barry Sanders in NFL Record Books
Adrian Peterson would make Al Pacino proud. Just when it has seemed Peterson was headed out of the NFL, he pulled himself back in and revived his career.
The seventh overall pick in 2007, Adrian Peterson imposed his will as a rookie and ran for an NFL-record 296 yards in his eighth career game. All of these years later, Peterson is still grinding and climbing the league's record books.
Peterson enters the 2020 season with 14,216 rushing yards and 111 touchdowns to his name. Those numbers looked impossible after an ugly 2017 season split between the New Orleans Saints and Arizona Cardinals.
Adrian Peterson, out of nowhere, ran for 1,042 yards and seven touchdowns for the Redskins in 2018. He totaled 898 yards and five touchdowns in Washington last year.
Peterson needs over 4,000 rushing yards and 54 touchdowns to break Emmitt Smith's records. Even if he doesn't reach those records, Peterson has earned a spot in the Pro Football Hall of Fame.
Peterson made controversial comments during the 2011 NFL lockout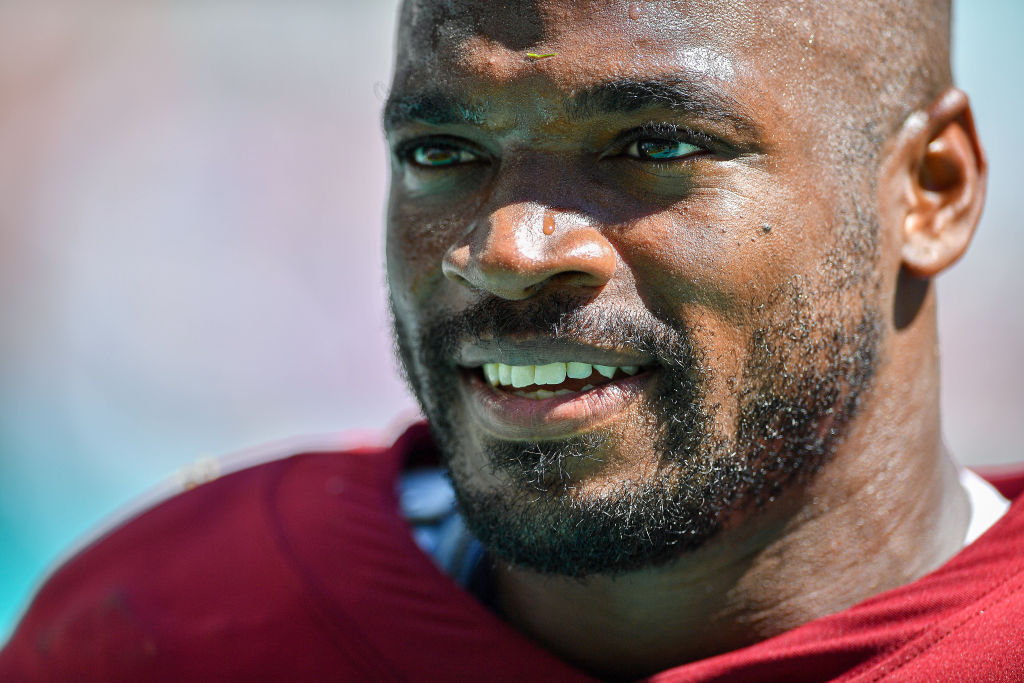 RELATED: The NFL Has Beaten Back Every Challenger on a Long List
Before he was all but guaranteed a Hall of Fame bust, Adrian Peterson was a young, elite running back who spoke out for what he felt.
That was clear during the 2011 NFL lockout. In an interview with Yahoo Sports, Peterson explained why he thought the owners needed to compromise and make up with the players.
In an attempt to explain why NFL teams needed their players to succeed, Peterson made headlines for the wrong reasons.
"It's modern-day slavery, you know? People kind of laugh at that, but there are people working at regular jobs who get treated the same way, too. … [A]s players, we have to stand our ground and say, 'Hey — without us, there's no football.'"
Are Adrian Peterson's comments relevant today?
RELATED: A Former NFL Executive Finally Told the Truth About Colin Kaepernick
It didn't take long for Adrian Peterson's comments to go viral. Media members ripped the All-Pro running back and Yahoo even removed the slavery comments from the story.
Green Bay Packers running back Ryan Grant said Peterson made a "very misinformed statement."
Peterson, for his part, said later that year he regretted those comments.
Still, it is interesting to look back at Peterson's belief that a league was nothing without its star players and apply those thoughts to the current state of Major League Baseball.
MLB owners and players are in the midst of severe labor issues that could prevent a 2020 season from occurring.
As of June 1, 2020, the Oakland Athletics aren't paying minor leaguers. The Washington Nationals originally intended to pay minor leaguers $300 a week rather than the $400 other teams have committed to paying.
Washington reversed course after the team received universal criticism.
Adrian Peterson believed the leagues would only go so far without the star players they relied on. Major League Baseball may learn that decision in the coming weeks, especially if there isn't a 2020 season.