Is NFL Legend Calvin Johnson Related to Seattle Seahawks Receiver Cade Johnson?
The Seattle Seahawks made their move once Cade Johnson went undrafted
You're not alone in wondering who Johnson, a standout receiver from South Dakota State, is. A dynamic receiver at the FCS level of college football, Johnson was a popular draft name who nonetheless went unselected.
Cade Johnson went undrafted in the 2021 NFL draft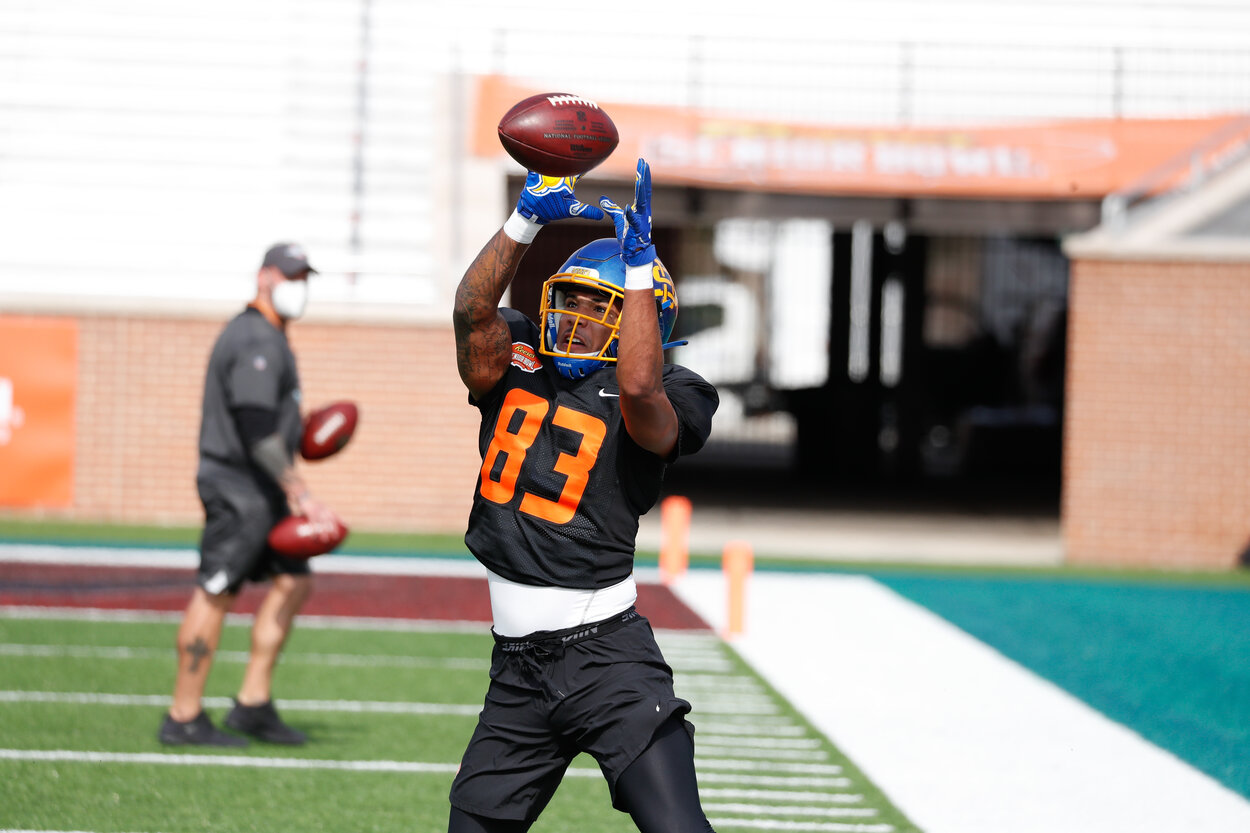 Former North Dakota State quarterback Trey Lance went third overall in the 2021 NFL draft to the San Francisco 49ers.
Cade Johnson, a standout receiver from South Dakota State, didn't enjoy the same luck. The former FCS All-American went unselected and signed with the Seattle Seahawks as an undrafted free agent.
The idea that no teams took a chance on Johnson left many surprised. Between the 2018 and 2019 seasons, he totaled 139 catches for 2,554 yards and 25 touchdowns. Seventeen of those scores came in 2018 when he earned all-conference honors.
Johnson also returned two kickoffs for touchdowns in 2017. He attended the 2021 Senior Bowl and had an opportunity to raise his profile there.
Is Cade Johnson related to NFL legend Calvin Johnson?
A talented receiver whose name reads as 'C. Johnson' will certainly sound familiar to NFL fans.
The second overall pick in 2007, Calvin Johnson dominated NFL defenses for nine seasons. A six-time Pro Bowler, Johnson recorded 731 catches, 11,619 yards, and 83 touchdowns in 135 games, all of which came with the Detroit Lions. Johnson added 17 catches, 296 yards, and two scores in two playoff games, both losses.
A three-time first-team All-Pro honoree, Johnson — who was still only 35 years old at publication — will officially enter the Pro Football Hall of Fame this summer.
Despite their name similarities, Cade Johnson and Calvin Johnson are not related. Cade is also not related to Chris Johnson or Chad Johnson, two other former NFL stars. However, Cade's father, Clester, won two national championships as a receiver on Nebraska's football team in the 1990s.
What will Johnson bring to the NFL?
Given his size and tape, Johnson attracted interest as a sleeper prospect before he went unselected in the 2021 NFL draft.
NFL Media's Lance Zierlein projected that Johnson would be selected in the draft's fourth round. Zierlein compared Johnson to Dennis Northcut, a former All-American receiver who spent 10 seasons in the NFL. Northcut, who played seven of those seasons with the Cleveland Browns, hauled in 399 catches for 4,491 yards and 18 touchdowns in 144 games. 
Zierlein praised Johnson's feet and special teams experience, although he expressed concern about the receiver's route-running. 
"His routes are a little rounded, and he doesn't have much of a catch radius," Zierlein wrote. "However, he does have the ability to add yards after the catch and offers kick-return value. College teams missed with this former FCS walk-on, but NFL teams should pay attention. He has starting slot upside."
Like Sportscasting on Facebook. Follow us on Twitter @sportscasting19.