NFL Legend Michael Strahan's Ideal Legacy Has Nothing To Do With His On-Field Exploits
At this point in Michael Strahan's life, it can be easy to forget that he once helped the New York Giants defeat Tom Brady in Super Bowl 42.
Strahan might be a pop culture superstar, but he is also one of the most prolific pass-rushers in NFL history. Although Strahan's iconic teeth are forever preserved in the form of a bronze bust at the Pro Football Hall of Fame, he wants to be known for more than just taking down quarterbacks.
Michael Strahan wants his legacy to be more than just football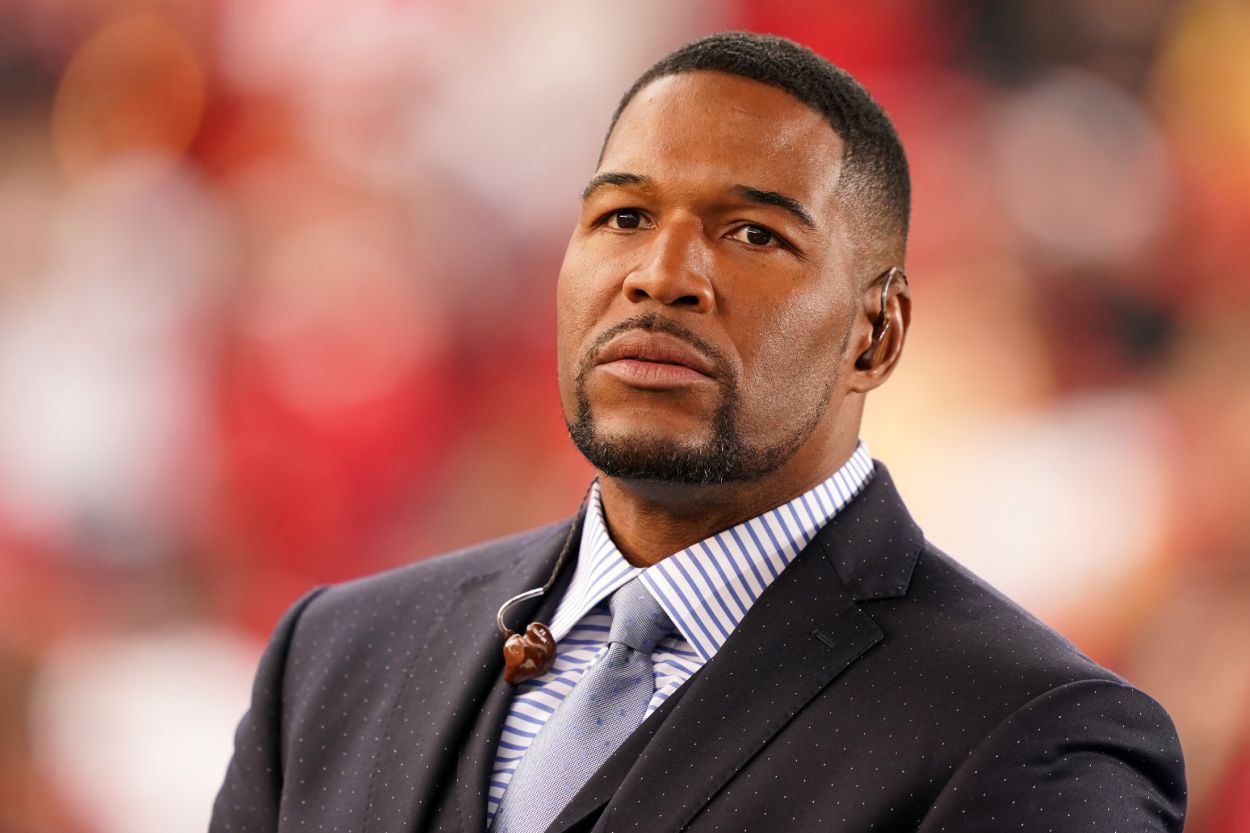 Michael Strahan crossed over from the sports world to Hollywood red carpets with no problems at all.
As much as Strahan enjoyed tallying sacks, that transition might be what he wanted all along. In a 2014 interview with Cigar Aficionado, Strahan remembered someone asking him what the legendary defensive end wanted his legacy to be.
After thinking it over, Strahan said he wanted "to have been more successful outside of football than I was in it."
"That's why I work so hard. I want to be a good example that hard work pays off. When people see someone who's successful in one thing, they want to keep you there. I want to be successful doing different things."

Michael Strahan
Strahan added he felt grateful that people accepted his mentality.
Strahan has become a pop culture superstar in retirement
Strahan called it quits on his football career in June 2008, only months after he and the Giants shocked the world by defeating Tom Brady and the undefeated Patriots in Super Bowl 42.
Since hanging up his cleats, Strahan has done seemingly everything imaginable. He joined Fox NFL Sunday before the 2008 season and has remained there since.
From 2012 through 2016, Strahan and Kelly Ripa co-hosted Live! with Kelly and Michael on ABC. He left Live! to serve as a full-time anchor on Good Morning America in 2016.
Strahan has also acted in commercials, TV shows, and even made a cameo appearance in the 2019 reboot of Charlie's Angels.
Strahan has also been honored for his football legacy
Although many out there may know Strahan more for his television work than his NFL accolades at this point, the football world never forgot about the two-time sacks leader.
Strahan entered the Football Hall of Fame in 2014, his second year of eligibility. The seven-man class also included longtime Buccaneers linebacker Derrick Brooks, legendary punter Ray Guy, and ex-Seahawks offensive tackle Walter Jones, among others.
The Giants announced in January 2020 that the team intended to retire Strahan's No. 92 later that year. Unfortunately for Strahan, the coronavirus pandemic and its impact on the NFL pushed back the ceremony.
As of May 2021, the Giants had not announced when Strahan would officially have his jersey retired. The Giants have not re-issued No. 92 since Strahan played his final down in February 2008.
Like Sportscasting on Facebook. Follow us on Twitter @sportscasting19.