NFL Legend Ray Lewis Used His Father's Abandonment as the Drive He Needed in a Hall of Fame Career
Baltimore Ravens legend Ray Lewis' fiery speeches and passionate screams personified him more than any bone-crunching tackle he applied at the line of scrimmage.
Few in recent memory exuded intensity on the football field more than Lewis, who entered the Pro Football Hall of Fame in 2018. If not for a tragic and turmoil-filled childhood, though, Lewis isn't sure if he'd have ever reached the NFL.
Ray Lewis used his challenging upbringing as motivation to reach the NFL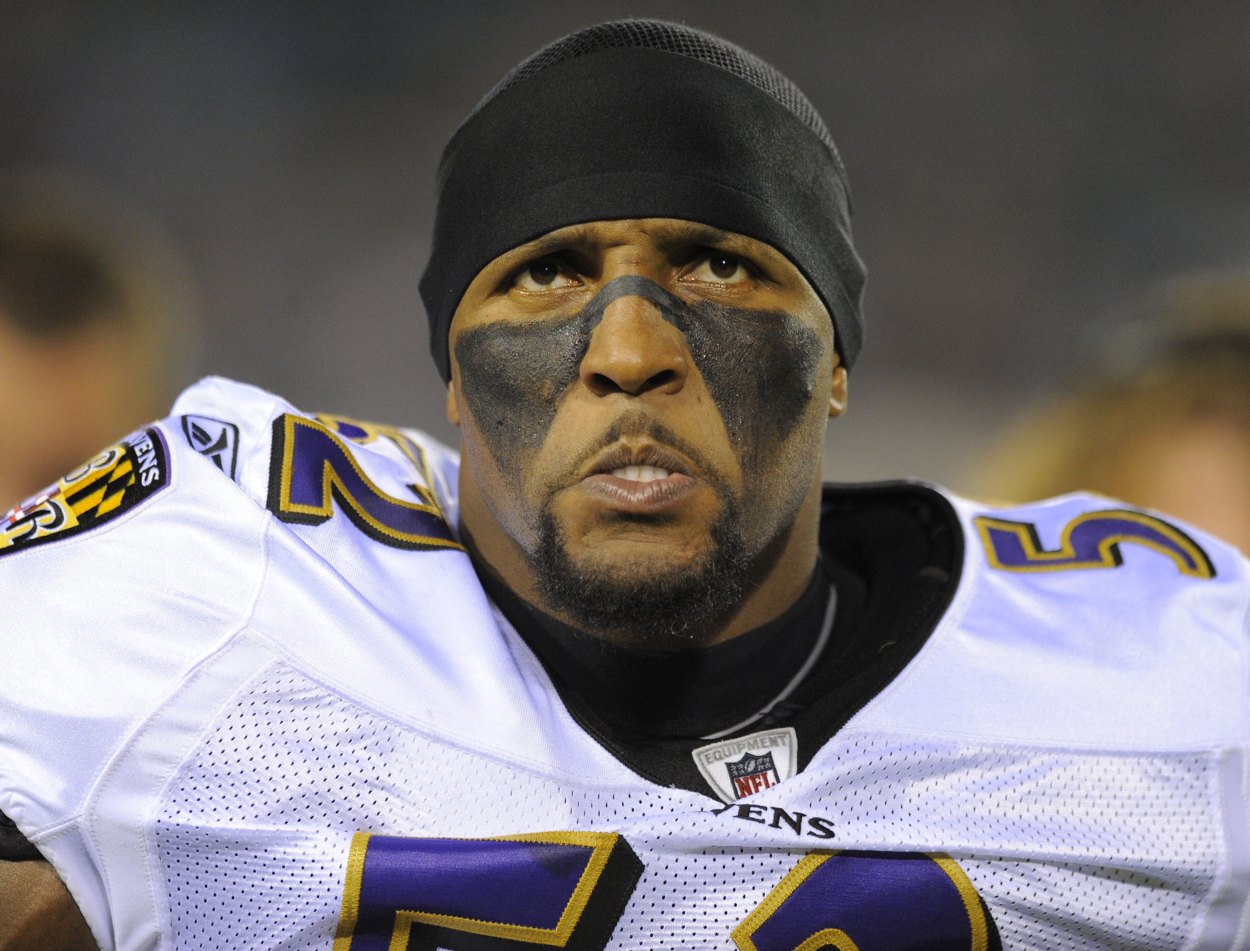 Lewis isn't someone who wants to let the past die, not when so much of it helped shape him into the man he is now.
In a 2016 interview with Cigar Aficionado, Lewis and Marvin Shanken, the magazine's publisher, discussed a speech the Hall of Fame linebacker made at Harvard University in 2012.
At one point during his interaction with the school's law students, Lewis reflected on the journey he took to reach the NFL. Lewis explained in the speech that his father, Elbert Ray Jackson, left his mother shortly after Lewis was born. He shared that his mother was abused in multiple relationships and her children noticed.
"And a lot of people always look at me, and they always say, 'Man, how did you become this great football player?' It wasn't football that drove me. It was making sure a man would never put his hands on my mom again, is what drove me."

Ray Lewis
When he spoke with Shanken four years later, he said he doesn't look back on his life and wonder about what could have been.
"I tell people all the time if there was anything to change, I wouldn't change nothing," Lewis told Shanken. "Because that drove me. I look at my kids; I look at athletes — there's a burn that has always been in the pit of my stomach."
Lewis has used his difficult childhood to help others in need
Instead of bottling everything up or saving it for a tell-all memoir, Lewis has shared his life with the world.
In that same interview with Cigar Aficionado, Lewis said his mother sent him to Florida with $20 in food stamps because he wanted to live there. He grew into a star linebacker at Kathleen High School in Lakeland, Florida, and eventually played for the University of Miami.
Lewis also understands that there are others out there with similar life experiences as him and his family. He founded the L2 Family Foundation, which helps single parents begin down a path toward owning their own home.
In various interviews over the years, Lewis has reflected on his mother's financial struggles. The Power52 Foundation works with those in the Baltimore area and trains them for possible jobs in the renewable energy sector.
Several of Lewis' children have followed in the legendary linebacker's footsteps
In the years after he retired from the NFL, Lewis had the opportunity to watch some of his children play football.
His oldest son, Ray III, briefly played at the University of Miami and Coastal Carolina University. Two other sons, Rayshad and Rahsaan, played together at Kentucky in 2020.
Rayshad began his career at Utah State and hauled in 40 catches for 476 yards and two touchdowns as a freshman receiver in 2016. He later transferred to Maryland and played both receiver and cornerback.
Rahsaan began his career playing cornerback at the University of Central Florida. He transferred to Florida Atlantic ahead of the 2019 season and, despite converting to receiver, primarily played special teams on an Owls team that won its second Conference USA title in three seasons.
Rahsaan did not see any snaps at Kentucky in 2020. Even if he doesn't crack the Wildcats' starting lineup this season, he should expect his father to be there in support. Ray Lewis is doing for his family what his own father never did for him: be around and be invested.
Like Sportscasting on Facebook. Follow us on Twitter @sportscasting19.
RELATED: Ray Lewis Could Have Played for Florida State Had the Seminoles Staff Not Offended Him