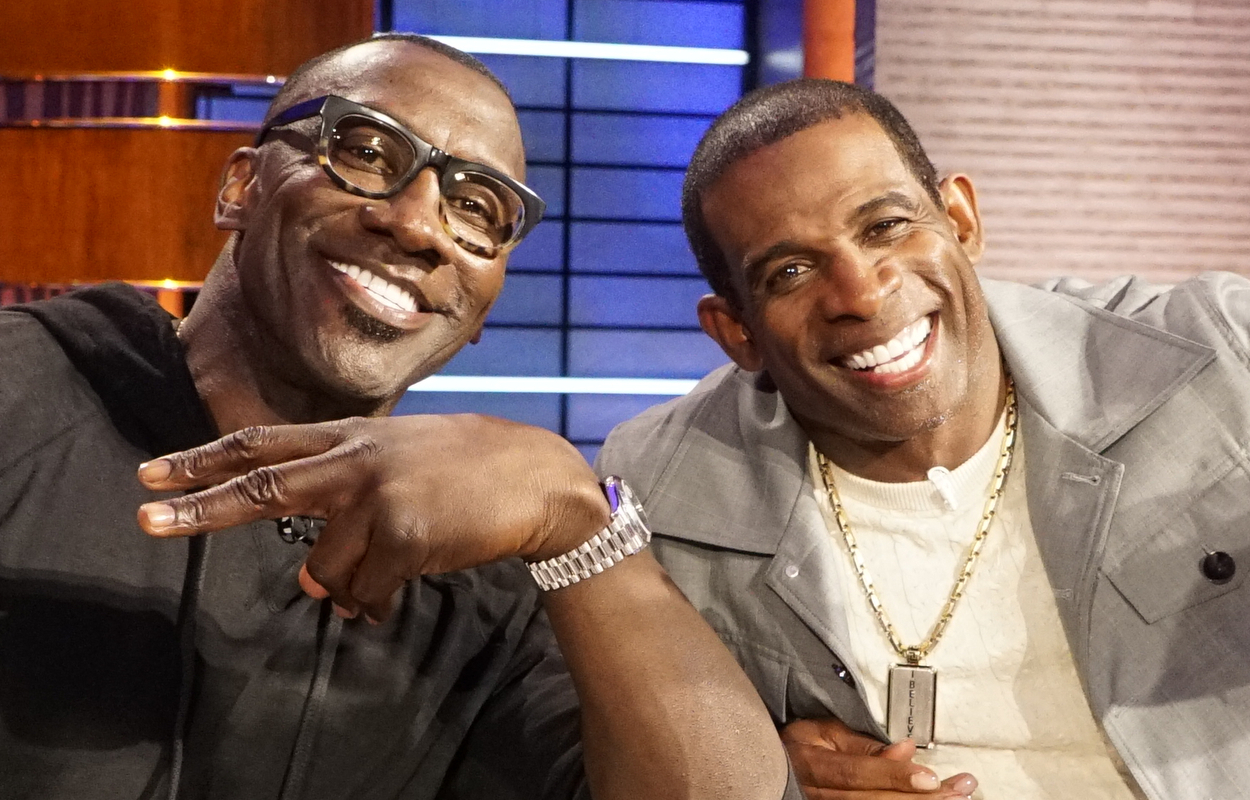 NFL Legends Deion Sanders, Shannon Sharpe Ripped the 2022 Pro Bowl: 'I Remember When We Were So Proud and Appreciative'
Pro Football Hall of Famers Deion Sanders and Shannon Sharpe were among those who expressed their displeasure with the 2022 Pro Bowl on Twitter.
Article Highlights:
NFL legends Deion Sanders and Shannon Sharpe ripped the 2022 Pro Bowl on Twitter
Sanders said he remembered when players were "so proud and appreciative" to earn Pro Bowl honors
Unfortunately for both players (and football fans worldwide), the league likely isn't improving or ditching its all-star game anytime soon
NFL legends Deion Sanders and Shannon Sharpe were mainstays at the Pro Bowl throughout the 1990s, back when the game seemingly meant something. In the olden days, back before widespread text messaging and Tom Brady's dominance, the game's top players all traveled to Hawaii and clashed in an exhibition game held the week after the Super Bowl.
Now, the Pro Bowl is a rotating event that has lost all cultural relevancy and respectability, and the two Pro Football Hall of Famers are highly displeased with what a once-proud game has become.
Deion Sanders and Shannon Sharpe ripped the 2022 Pro Bowl on Twitter
For whatever reason, perhaps out of loyalty to football or because they weren't in the mood to binge a Netflix show, Sanders and Sharpe sat through the most recent Pro Bowl. 
Neither came away too impressed with what they saw.
As recently as the late 2000s, the AFC and NFC played at full speed in the Pro Bowl. However, players have shown reduced effort over the last decade in an attempt to avoid getting hurt. Kickoffs have been eliminated, there are no more punt returns, and players are prohibited from blitzing — not that they'd likely try to do so in a meaingless game.
Sanders, an eight-time Pro Bowl selection, expressed his frustration on Twitter early in the AFC's 41-35 victory on Sunday afternoon.
"I'm watching the @nfl Pro Bowl and I remember when we were so proud and appreciative of that accolade. We went to Hawaii to prove we were more than worthy so we competed at practice and in the game. I wanted u to know that PRIME was PRIME ! What Happened & When ?"

Deion Sanders
Sharpe, who also made eight Pro Bowls, quoted Sanders' tweet and shared his own issues with the exhibition.
"This was EMBARRASSING," Sharpe wrote. "NFL should do away with the [game] but keep the accolade of being selected to the pro bowl."
Although Sharpe called the game #UNWATCHABLE, something tells us the official TV ratings will say otherwise.
The NFL's all-star game remains an easy source of criticism on social media
There are several times of the year, especially around Pro Bowl week, when the video of late Washington Commanders safety Sean Taylor levying an iconic hit on Buffalo Bills punter Brian Moorman during the 2007 event is widely shared.
Good luck finding any type of hit like that when rewatching this year's event.
Much of the social media talk during this year's game surrounded how unwatchable, as Sharpe put it, it really is. Barstool Sports' official account said Pro Bowl participants were "playing 2-hand touch football," and suggested Taylor, who died in 2007, would disapprove of the minimal effort.
Former Tennessee Titans running back Chris Johnson, a three-time Pro Bowler, tweeted Sunday's game was "terrible." Ex-New York Jets quarterback Greg McElroy admitted he laughed at most plays because the effort "is so horribly bad."
Remember, this is what the NFL proudly wants us to watch every year. 
Unfortunately for Sanders and Sharpe, the modern Pro Bowl format likely isn't going away
The Pro Bowl is an outdated exhibition idea that is only still around because cities bid to host it and because enough people are bored enough to watch it. Why finally try watching Mad Men for the first time when you can laugh at New England Patriots quarterback Mac Jones doing the "Griddy" dance?
Common sense suggests that enough football fans would have seen enough to give up on the game. However, according to Statista, the Pro Bowl topped seven million viewers every year from 2008 to 2020. The numbers for this year's game weren't available as of publication.
Although Sanders and Sharpe yearn for days past, it's clear the Pro Bowl will never resemble its previous format, one in which tackling and effort were encouraged. The game exists for TV dollars and so the league can experiment with various potential new rules. If the NFL cared about quality, it would have retired its all-star game years ago.
If Sanders and Sharpe need something else to watch next year, might we suggest Mad Men? Trust us when we say that Don Draper's brainstorming sessions are far more exciting than whatever you'll see in the Pro Bowl.
Like Sportscasting on Facebook. Follow us on Twitter @sportscasting19.