NFL: Major Update Provided in Dak Prescott, Cowboys Extension Talks
Throughout the last few months, attention around the Dallas Cowboys has been primarily centered on ongoing discussions toward what could be a record-breaking contract for Dak Prescott. However, there has yet to be any major progress being made on both sides, but there is another update on where things currently stand.
Dak Prescott, Cowboys off strong start to 2019 season
Ezekiel Elliott's holdout aside, Prescott had long been aiming to play the 2019 season regardless of how his contract extension talks panned out with the Cowboys.
This has looked to be paying off in a major way as the 26-year-old has positioned himself in a promising position by performing like a legitimate franchise quarterback with a lucrative deal ahead. Through the first three games, Prescott has recorded 920 passing yards on a 74.4 percent completion rate with nine touchdown passes to two interceptions, along with 11 rushes for 88 yards and a touchdown.
His steady play has helped guide the Cowboys to a strong undefeated start, grabbing double-digit wins in each contest. Dallas is also among the most productive offenses, ranking third overall, fourth with 32.3 points per game, fourth in passing, and third in rushing.
Beyond that, it has raised the asking price that would make the reported desire to get paid $40 million a year look far more reasonable. His play under center causes the belief that it may only be a matter of time before a new deal is worked out.
Dak Prescott, Cowboys at a standstill
The Cowboys have quickly found success this season cruising to a comfortable lead atop the NFC East. Despite that, there has yet to be any significant progress made in the extension talks with Prescott.
This falls in line with the report from Adam Schefter of ESPN that the Cowboys and the Pro Bowler are still not close to coming to an agreement on a new deal now or either in the near future. However, there is an expectation that an extension will be worked out given the strong mutual interest on both sides.
The dialogue has been fluid at points that led team owner Jerry Jones to indicate prior to the start of the season that a new deal was "imminent." Since then, the front office has backed off that stance while there has been no discussion regarding progression towards things being finalized.
There also hasn't been any concerns about it heading in the opposite direction, which only further gives off the feeling that things will be worked out between both sides at some point.
Dak Prescott will eventually get PAID by the Cowboys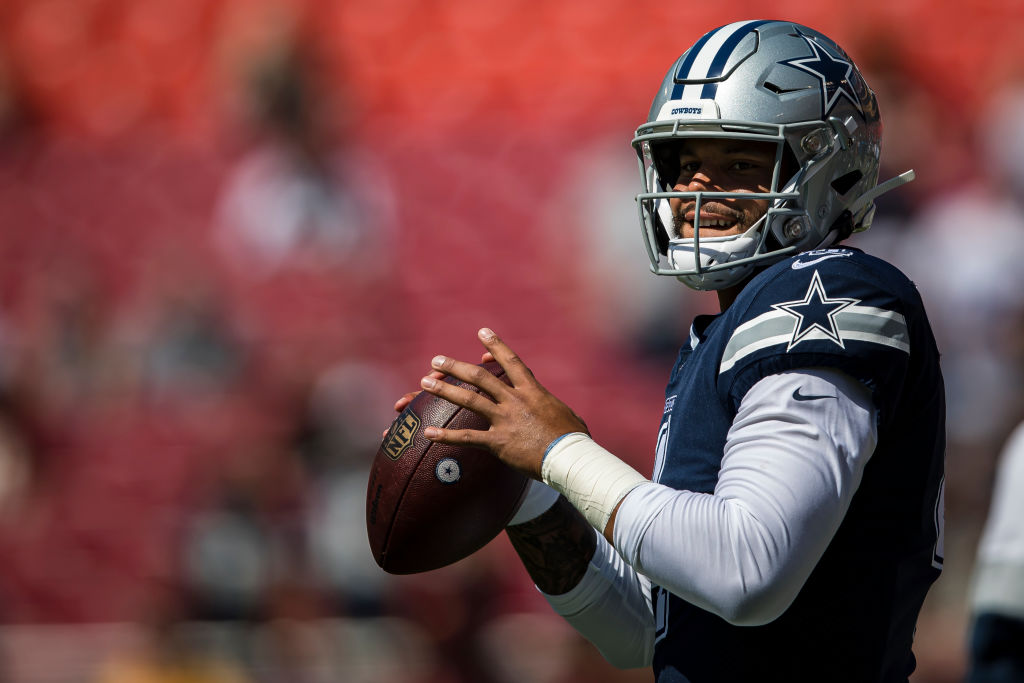 The Cowboys may have reached a quiet juncture in their extension talks with Prescott, but the focus is crystal clear that they want to make him the long-term answer under center.
It is certainly a situation that both sides would like to get out of the way. This may drag out to the Week 8 bye, which could be the extended period in which they may need to focus on finally set a new contract in place in order to put to bed any questions about Prescott's future with the franchise.
In the meantime, this is an opportunity for him to continue to use it as extra motivation as it has proven to be through the first few weeks of the season. The Cowboys have put together a talented roster that figures to be legitimate Super Bowl contenders in the stacked NFC.
This alone has given Prescott and the Cowboys complete confidence that a new lucrative extension will be worked out be it a few weeks or a couple of months.