NFL: Maybe Dwayne Haskins Isn't Ready to be Washington's Starting QB
Washington Redskins quarterback Dwayne Haskins is the rookie with the most to prove. Luckily for him, Circumstances conspire to give him his big chance to show why he deserved an earlier draft pick in 2019.
Almost no one expected Dwayne Haskins to go to the Redskins. The consensus around Ohio State quarterback pinned him as going early, likely to the Giants. To everyone's surprise — Haskins included — the Giants went with Duke QB Daniel Jones instead.

Veteran starter Colt McCoy's leg surgery recovery opens the lane for Haskins' workload to increase. Is he up to the task?

McCoy's injury narrows the three-way competition for starting QB
McCoy broke his fibula in back in 2018. Unfortunately, his attempt to get back in playing shape for a possible playoff run backfired. His load was light at camp, and preseason appearances aren't in the cards so far.
Over three games McCoy threw for 372 yards, leading to three touchdowns with three interceptions allowed. His week 13 injury ended his attempt to make his case for the starting job for the 2019-20 season.

That leaves the Redskins with two viable options at QB. First in line: Case Keenum, traded to the Redskins last year after an unremarkable run with the Denver Broncos. That leaves Haskins with just one healthy target to match himself against in preseason games.
The key word there is healthy. The Redskins' QB woes began with Alex Smith's horrifying leg injury in 2018. He endured two distinct breaks, followed by an infection. After four wheelchair-bound months, he's back on his feet. Both the Redskins and Smith won't write off the possibility of his return at some point, even if the 2019-20 season is out of the picture.
For all the opportunities this chaos at QB opens up, it leaves many elements out of Haskins' direct control.

Dwayne Haskins lacks first-team experience at training camp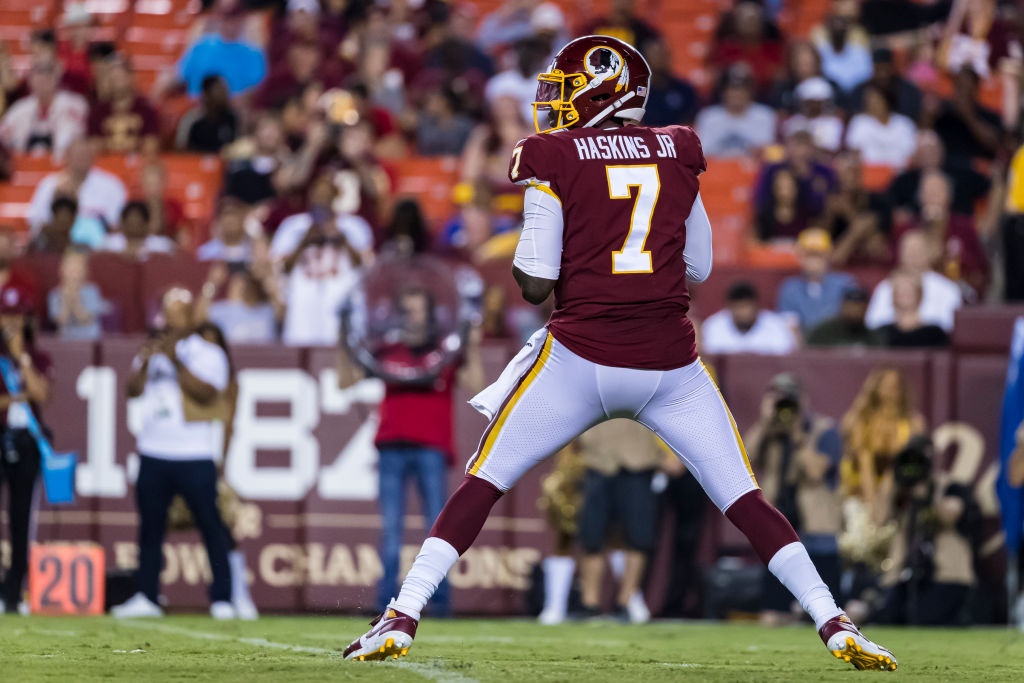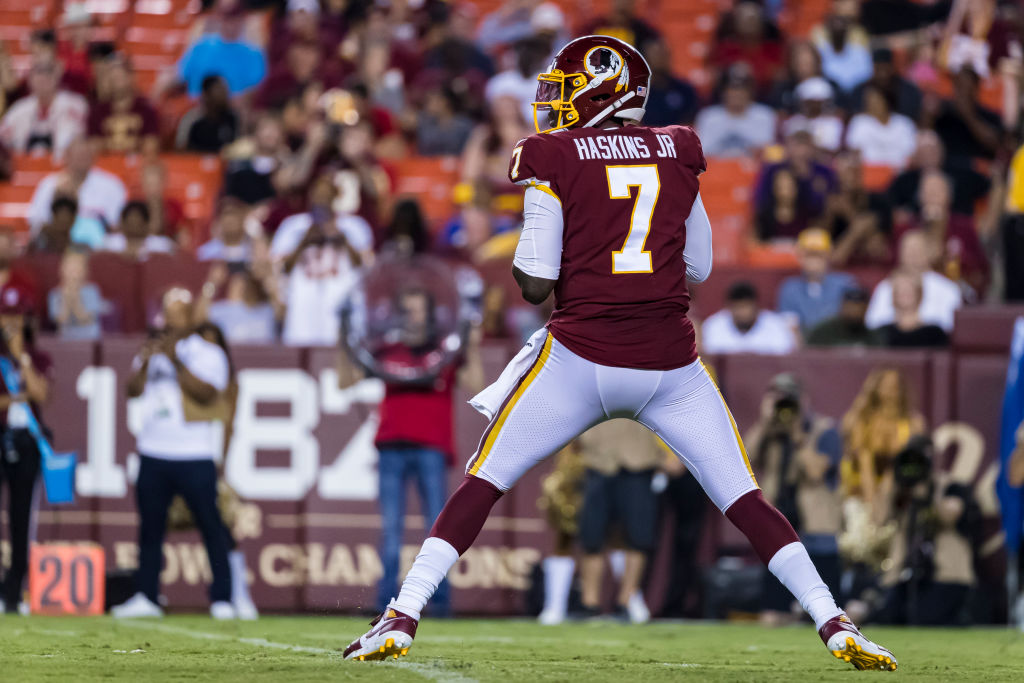 McCoy's injury and Keenum's slow development at the NFL level are points in Haskins' favor. Yet the Redskins aren't making it easy for him to prove his worth.

The unstable, largely fresh-faced offense explains why beleaguered head coach Jay Gruden prefers the experienced Keenum to eat up all the first team practice time. Keenum became a fast learner for new offensive programs by necessity. Across six seasons he learned the ropes with four different teams.

Some observers think Dwayne Haskins could drastically improve if he gets time to work with the first-team offense. The problem lies with choosing between a moderate talent with instincts developed through years of work, and a more athletic but inconsistent talent. So far, Gruden's vote of confidence goes to Keenum. It may be the right choice.

Haskins' mixed results in preseason play
Haskins has a rare opportunity despite having several viable options at QB ahead of him. Depending on McCoy's recovery, it's within the realm of possibility that Haskins could land the No. 1 spot at some point this year.

He needs to seize every moment as they come. So far, his results are mixed. His great range and accuracy nonetheless led to ugly turnovers in his first preseason appearance. He threw an interception that wasn't all on him. Then, his lack of maturity at the NFL level showed itself when Haskins froze up and took an avoidable sack.

Overall, his six drives looked decent, for a developing player. He looked like a young QB sanding off his rough edges. He came off as awkward in attempting to command the shaky offense around him. Dwayne Haskins is ready for the NFL, but a starting job might not be as close as he'd like.