NFL Meets MLB: 4 Best to Play Both Pro Football and Baseball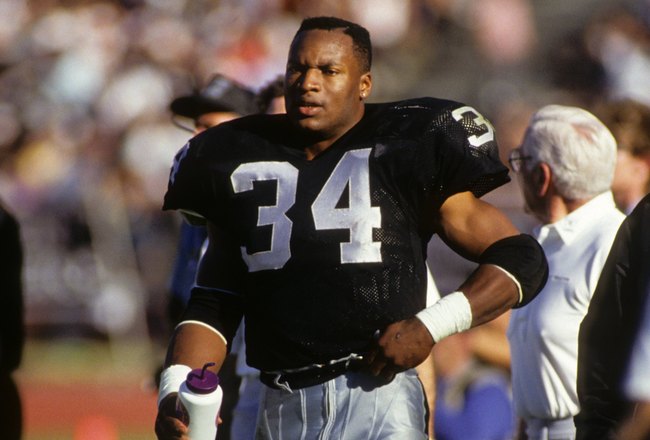 With spring right around the corner (although the way this winter has been going, it doesn't feel that way) and football officially over, baseball season is gearing up. Earlier this week, the Associated Press released its preseason All-American honors for the college baseball season. Coming in on that list, albeit a third-team selection, was utility player Jameis Winston — not a household name for his ability on the diamond. In football though, he's coming off a redshirt freshman season at Florida State that saw him win the prestigious Heisman Trophy award while leading the Seminoles to a National Championship.
If Winston chooses between the two sports at some point, it seems likely that he would go with football, where he is almost a guaranteed first-round draft pick when he's eligible. But the six-foot-four, 228-pound utility player could have his heart set on baseball. Last season, as a freshman at Florida State, he made 22 starts in the outfield and 10 as a designated hitter, finishing with a .235 batting average, three triples, and nine RBIs. Winston's work on the mound was even more notable than at the plate — in 27 innings pitched, he had a 1-2 record, 3.00 earned run average, and 21 strikeouts. Winston impressed Seminoles' coach Mike Martin so much on the mound that he told reporters a month ago, "We want him to be our closer when it's all said and done."
Now, if Winston somehow does succeed in baseball as he has succeeded in football, he could very well be the next professional player to make it in both the MLB and the NFL. In the past 25 years, there have been various players to be drafted by MLB teams, but failed in the minor leagues (Michael Jordan, John Elway, etc). With regard to Winston's future potential in both the MLB and NFL, here are four players who thrived at both sports in their careers.
1. Bo Jackson
Jackson could do it all — literally and figuratively. After winning the 1985 Heisman Trophy as a running back at Auburn, he was selected by the Kansas City Royals in the 1986 MLB draft. He was then selected with the first overall pick by the Tampa Bay Buccaneers in the same year, but chose baseball instead. The Oakland Raiders still redrafted him in the seventh round of the 1989 round, hoping that he'd consider playing football again. He did.
This past year, Jackson was named the Greatest Athlete Of All Time by ESPN. Not only was Jackson the only player to ever be named an All Star in both respective leagues, but he also ran the fastest 40-yard dash time (4.12 seconds) in the history of the NFL Combine to this day. Jackson also posted impressive numbers with the Royals — his 32 home runs and 105 RBIs in 1989 help lead Kansas City to a 92-70 record. Jackson truly was the best to ever play both baseball and football professionally.

2. Deion Sanders
Most notably known for his prowess as a cornerback in the 1990s, Sanders' baseball career wasn't as fortuitous. He really came to fame for playing both sports when he hit a home run the same week that he scored a touchdown during the 1989 season for the New York Yankees and Atlanta Falcons. Sanders also became the only player in history to play in both a World Series and a Super Bowl, albeit not in the same year.
Sanders played a combined nine years in the MLB where he finished a 15-year hall of fame football career in 2005. His NFL tenure saw him win two Super Bowls, eight All-Pro selections, and the 1994 NFL Defensive Player of the Year award. Sanders' speed and coverage ability in the secondary were second to none, making him a threat for opposing NFL teams to throw at. This same speed also set him apart as an outfielder and a base stealer with the Yankees during his time in the MLB.

3. Jim Thorpe
A unique addition on this list, Thorpe, while playing in a completely different time than Jackson or Sanders, personified what it meant to be an all-around athlete. His professional football and baseball career between 1913-1920 followed impressive Olympic performances at the 1912 games. During his time as a baseball player, he played for four different teams en route to a .252 career batting average and 82 RBIs.
But in football, Thorpe won three titles with the Canton Tigers between 1916 and 1919. He was reportedly the team's coach and star player. His on-and-off eight-year football career garnered him a hall of fame induction. Following his playing days, Thorpe became the president of the newly formed American Professional Football Association (what's now the NFL), which left a firm mark on the present league.
4. Brian Jordan
Jordan was drafted in the first round of the 1988 MLB draft by the Saint Louis Cardinals and also the seventh round of the '88 NFL draft by the Buffalo Bills, despite later being cut. His short-lived, two-year stint in the NFL — playing cornerback for the Atlanta Falcons — occurred while he was in the Cardinals' minor-league system. Finally, in 1992, Jordan signed a contract that ended his football career and put him on track to start for St. Louis that coming spring. He rounded out a 15-year baseball career with a 184 homeruns, 821 RBIs, and one All-Star selection in 1999. Similar to the rest of this list, Jordan's unique speed and natural athletic instincts allowed him to seamlessly transition from football to baseball at the professional level.