NFL MVP Race: These 3 Players are Closing in on Patrick Mahomes
Through the first three weeks of the season, Patrick Mahomes winning the NFL MVP Award again in 2019 looked like a foregone conclusion. The Chiefs rolled out to a 3-0 start as Mahomes completed 71.9% of his passes and collected 1,195 passing yards and 10 passing touchdowns along the way.
But since that red-hot start, the Chiefs narrowly avoided a road loss at Detroit before losing back-to-back home games over the last two weeks against the Indianapolis Colts and the Houston Texans. Patrick Mahomes has been far more pedestrian over this three-game stint with a 56% completion percentage, 909 passing yards, four touchdown passes and an interception. While he's still the one to beat in the MVP race, the door suddenly looks open; and one of these three players could be the one to burst through it.
3. Christian McCaffrey, Carolina Panthers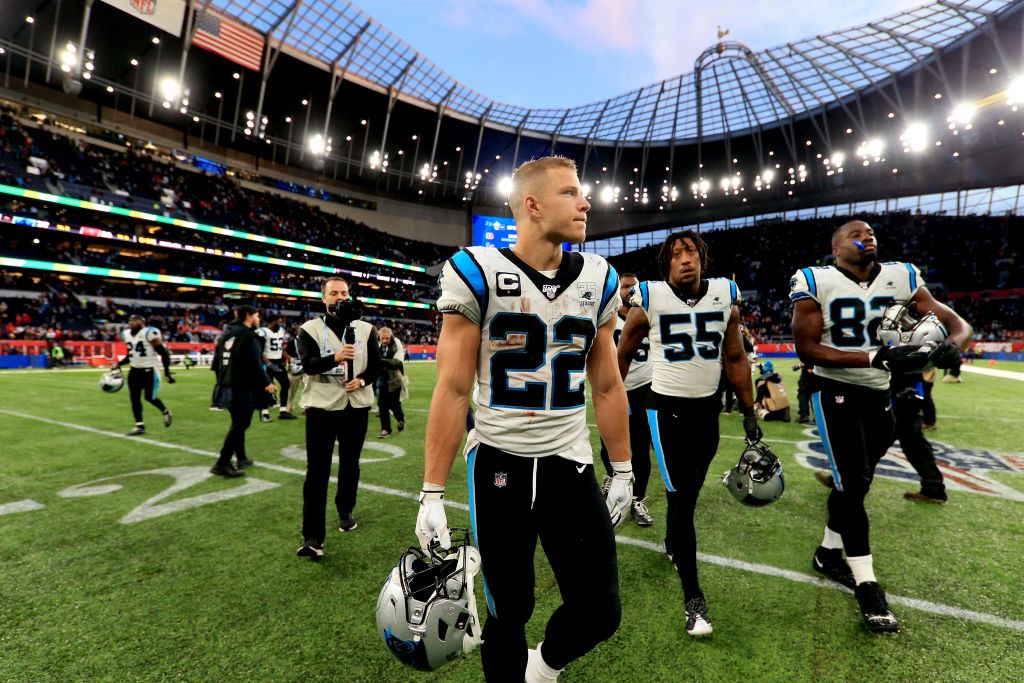 Even on a quiet day like Sunday in which Christian McCaffrey had only 31 rushing yards with one rushing touchdown and 26 receiving yards with a receiving touchdowns, he still managed to become the first player in Carolina's franchise history to both catch a touchdown pass and run for a touchdown in back-to-back games.
So far in 2019, Christian McCaffrey has 618 rushing yards, seven rushing touchdowns, 305 receiving yards, and two receiving touchdowns. This puts the 23-year-old back on pace to hit 1,648 rushing yards, 813 receiving yards, and 24 total touchdowns over a 16-game season. Those 2,461 all-purpose yards would eclipse the 2,314 all-purpose yards that Adrian Peterson had when he was the last running back to win NFL MVP back in 2012.
2. Deshaun Watson, Houston Texans
In the much-anticipated battle between Deshaun Watson and Patrick Mahomes this Sunday, Watson out-dueled his fellow 24-year-old SB in a 31-24 win over the Chiefs. Both players had three total touchdowns on the day, but Watson had more total yards with 322 to Mahomes' 272 and also won where it counted, on the scoreboard.
Deshaun Watson's odds to win the NFL MVP have been steadily climbing as the Texans keep compiling wins. Watson won't likely end up with as many passing yards as some of the league leaders, but his high scoring frequency (12 passing touchdowns and five rushing touchdowns so far) and the value he brings to the Texans will make him a popular MVP pick if Houston goes on to win the AFC South.
1. Russell Wilson, Seattle Seahawks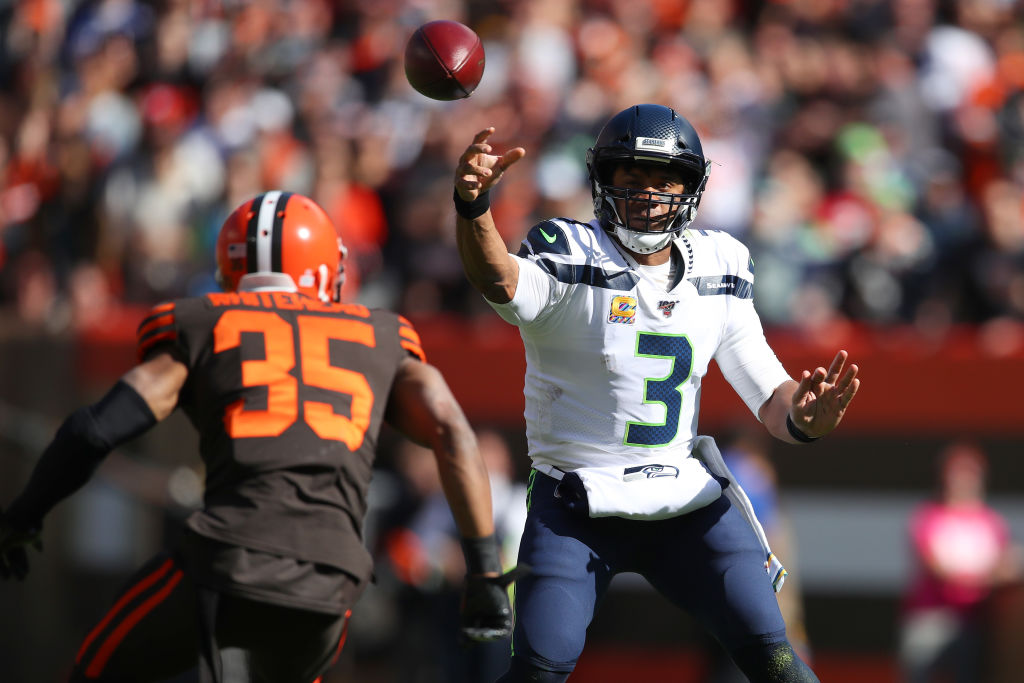 But while Christian McCaffrey and Deshaun Watson are both firmly in the NFL MVP conversation, the biggest threat to Patrick Mahomes' quest towards a second straight MVP award is Russell Wilson.
Unlike Deshaun Watson who has one of the best wide receivers in the game in DeAndre Hopkins and Patrick Mahomes who has a whole offense full of Pro-Bowl caliber players including Travis Kelce and Tyreek Hill, Russell Wilson doesn't have too many household names joining him on offense in Seattle. But despite this fact, he's put up some insane numbers in 2019; Wilson has completed 72.5% of his passed for 1,704 yards and 14 touchdowns with no interceptions. He has also rushed for 151 yards and three touchdowns while leading the Seahawks to a 5-1 record.
Kansas City, Carolina, and Houston are each 4-2. All four of these MVP candidates are leading their teams to success in 2019, but only one of them will be crowned league MVP when it's all said and done.