NFL Network Analyst Reveals Why the Raiders Are Surprisingly Flourishing After Jon Gruden's Departure: 'A Lot of Guys Prefer That Environment'
The Las Vegas Raiders have endured more turmoil than any team should have to deal with throughout an NFL season in just seven weeks. Jon Gruden resigned from his post as head coach following scrutiny for a lengthy history of sending offensive emails. NFL Network analyst Daniel Jeremiah has seen a difference in this Raiders team since Gruden's departure.
The Las Vegas Raiders are currently 5-2 and riding high
The Raiders weren't playing poorly under Jon Gruden by any means. Las Vegas knocked off the Baltimore Ravens on Monday Night Football to open the season. The team won its next two games before dropping two straight to the Los Angeles Chargers and Chicago Bears.
Gruden and the Raiders parted ways at the end of Week 5. It would be understandable if the players were distracted by the news about their former coach. However, they seem to have different energy under interim head coach Rich Bisaccia.
Since Gruden's departure, Las Vegas has won both of its games, notching convincing victories over the Denver Broncos and Philadelphia Eagles.
The Raiders' locker room has some leaders inside it, including quarterback Derek Carr, tight end Darren Waller, and defensive end Maxx Crosby. Behind their leadership, the players have rallied around each other and played inspired football.
The Raiders are currently 5-2, good for first place in the AFC West. No one predicted that.
NFL Network's Daniel Jeremiah says the Raiders are better without Jon Gruden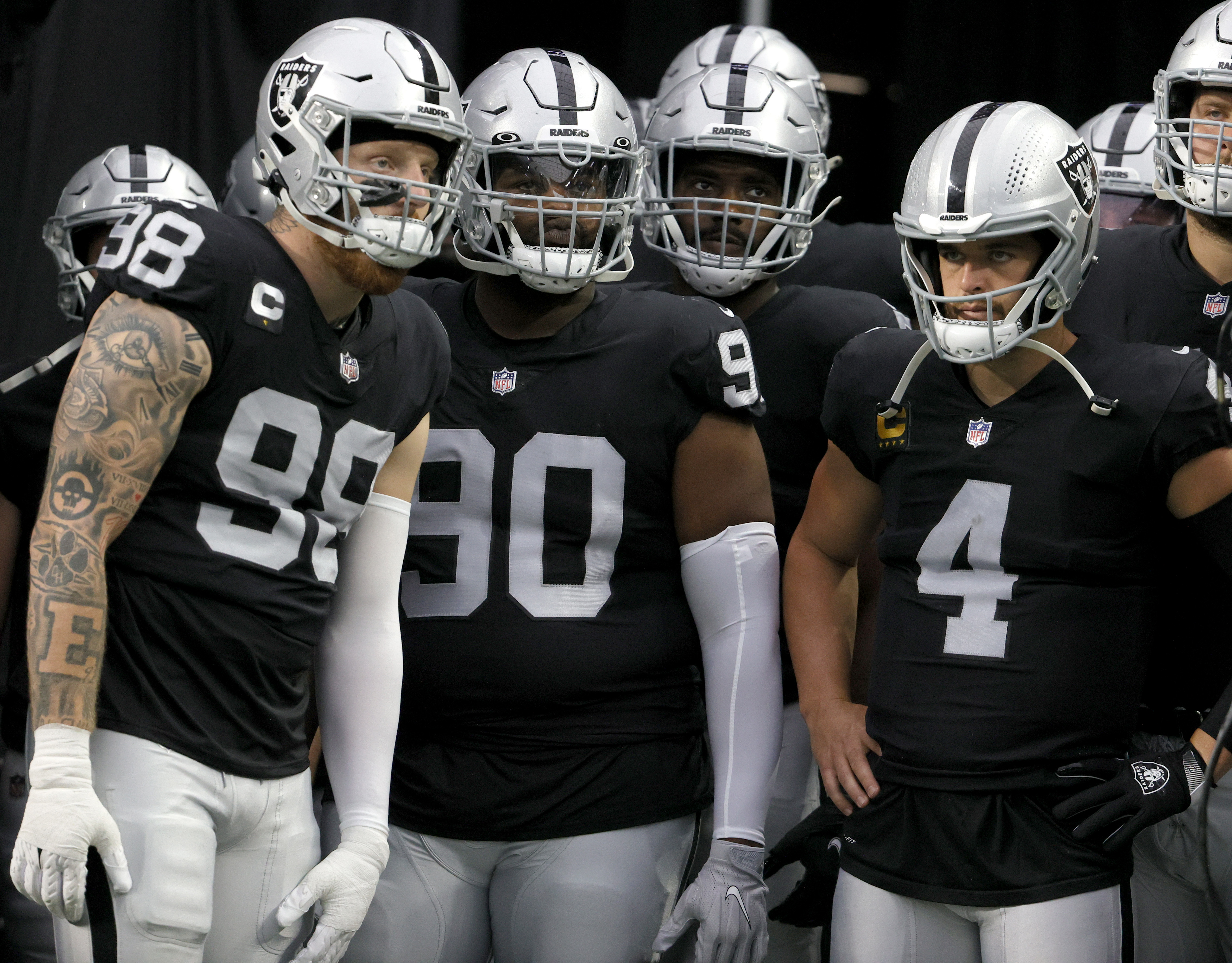 Through seven weeks, the Las Vegas Raiders are currently in second place in the AFC. They're in the thick of the playoff mix, even though it's early in the season.
The team has played surprisingly well since Jon Gruden's resignation. NFL Network analyst Daniel Jeremiah has a theory that explains why the Raiders are still playing great football despite the loss of their head coach.
"With Gruden, you get some of the genius aspects of it, but you also get a lot of chaos and a lot of tension," said Jeremiah on the Rich Eisen Show. "It could be a tornado."
Jeremiah alluded to the difference in coaching style between Gruden and Rich Bisaccia. "Now, I think it's a very calming atmosphere with Bisaccia in charge," he said. "I think that we've seen a lot of guys prefer that environment, and they're thriving."
The NFL Network analyst also notices differences in the scheme. "Everything just seems to be a little bit simplified," said Jeremiah. "It's just really efficient. And to do that without Waller, who's their best offensive player, is even more impressive."
The Raiders are playing well right now, but it will be interesting to see how they fare in the coming weeks.
Gruden's departure seems like a breath of fresh air
Daniel Jeremiah referenced what it could be like playing with Jon Gruden as your head coach. Chaos and tension are words that describe a situation no NFL player wants to play within.
Gruden said some horrible things in the emails he sent over seven years. Many of his current and former players were shocked to hear that he could say such things.
At least half of football is mental. The Gruden scandal dominated headlines, yet the Raiders appeared mentally prepared for their Week 6 matchup against the Broncos. The momentum carried into the team's win over the Eagles.
Gruden's departure seems like a breath of fresh air for the players. The offense is moving the football efficiently and effectively. Derek Carr is playing at a high level, and the defense is playing with a chip on its shoulder.
When players feel good, they typically play better. That's a testament to the players and Coach Bisaccia's leadership.
The Raiders play the Kansas City Chiefs, Cincinnati Bengals, and Dallas Cowboys over four weeks following their bye. Let's see if they're for real.
All stats courtesy of Pro Football Reference.
RELATED: Derek Carr Delivered a Blunt Message to His Raiders Teammates After Jon Gruden's Resignation: 'Nobody Cares What We Think, How We Feel Except for if We Win This Game'