NFL News: Trivia That Will Stump Even the Most Dedicated Fans
With the NFL having celebrated its 100th anniversary in 2020, the league has generated mountains of data for die-hard fans to dig through. Lifetime fans can rattle off a shortlist of their team's superstar athletes in a heartbeat. And nobody at the bar is surprised at a fan who can knock off rushing yards from a favorite player's MVP season, final scores from playoff games decades past, or a superstar quarterback's hometown. The key to being the most knowledgeable football fan in your circle is knowing where to look for NFL news, along with NFL trivia others haven't considered yet. We have some of that for you today.
Who actually owns the NFL?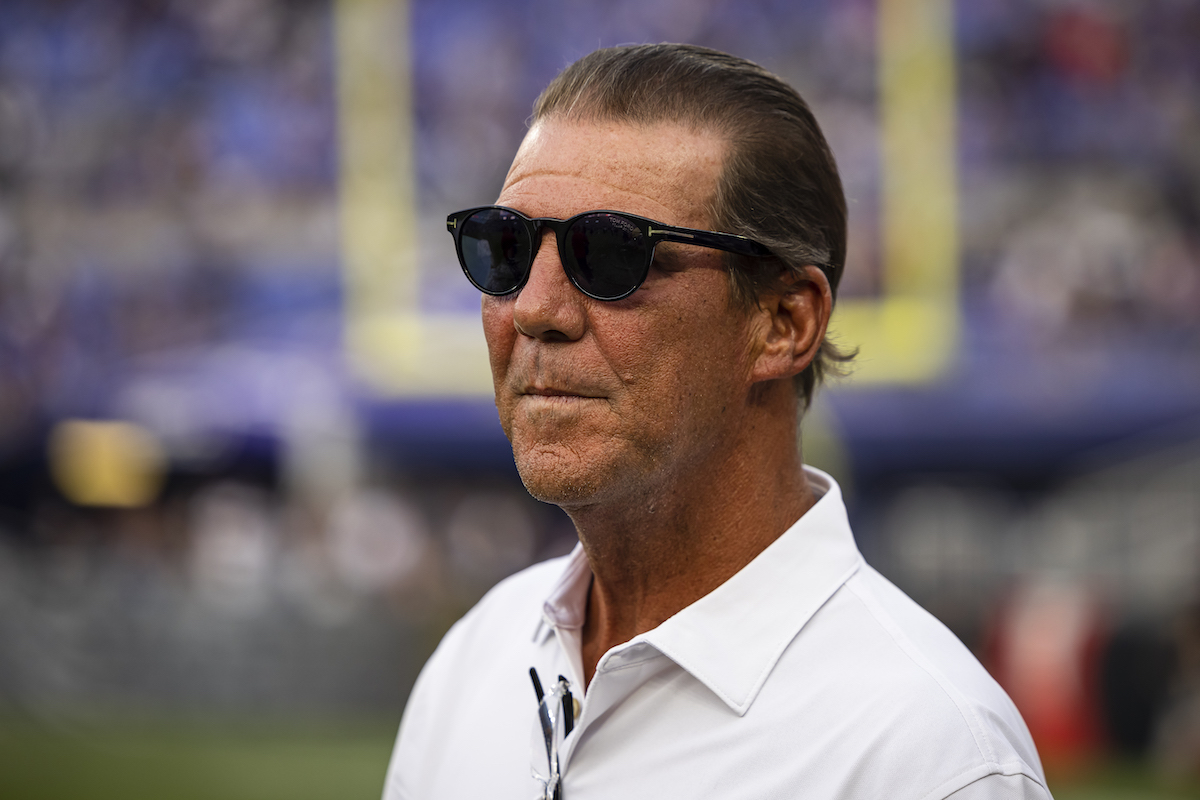 NFL ownership is a trick question, as no single entity owns the NFL. The NFL is a trade organization, a collection of companies with common interests who work in the same industry. The NFL distributes all of its revenue equally amongst the 32 member teams, regardless of team performance. That revenue comes from merchandising, league-owned NFL network and Sunday ticket channels, and long-term television contracts. 
The corporate hierarchy of the league consists of the commissioner, a secretary, and a treasurer. The commissioner is elected by two-thirds of the existing member teams and has authority similar to a CEO at other corporations, including hiring, negotiations, discipline, sanctions, and even outright bans. The commissioner does not possess any ownership of the league. Current commissioner Roger Goodell has been controversial due to his massive contract and a perceived inconsistency in his decision-making. 
How do NFL rules differ from NCAA rules?
How many differences between NCAA rules and NFL rules can you name off-hand? We'll lay all of them out for you here. 
Feet in-bounds rule
An NFL receiver must have both feet in bounds for a completed pass. In the NCAA, a receiver must only have one. 
Instant replay
NFL scoring plays, turnovers, and plays during the final two minutes of each half and overtime periods are subject to replay booth review. NFL Head Coaches for both teams receive two challenges they may use during the game to request a replay. If they win both challenges, they are awarded a third. In the NCAA, all plays throughout the game are subject to booth review. Coaches receive only one challenge per game. 
Spotting the ball after missed field goal attempts
The greater of the spot of the kick or the opposing team's 20-yard line in the NFL. NCAA rules use the greater of the previous line of scrimmage or the opposing team's 20-yard line.
Hash marks
NFL hash marks are the width of the goalposts: 18 feet, 6 inches. NCAA hash marks are 40 feet apart. 
Defensive holding
Defensive holding penalties cost NFL defenses five yards and an automatic first down. The NCAA is a 10-yard penalty, and the offense repeats first down unless the penalty yards gained a first down.
Defensive pass interference
The NFL rules an automatic first down at the spot of the foul. NCAA rules an automatic first down, with the lesser of 15 yards from the previous spot OR the spot of the foul. 
Down by contact
In the NFL, a player is down when tackled or forced down by an opposing team member. An NCAA football player is ruled down whenever a part of his body other than his feet or hands touches the ground. 
Clock stoppage
In the NFL, the clock does not stop for first downs. In the NCAA, it does.
Two-minute warning
The NFL has a two-minute warning before both halves. The NCAA does not have it. For some additional trivia, the NFL installed this rule in the NFL's early days when referees kept official time on the field to ensure teams knew there was a limited amount of time left in the game. Once scoreboards kept official time, the NFL kept the rule to add drama to the game's final minutes and serve as a commercial break. 
Overtime rules
The NFL has a 10 minute sudden-death overtime period. If the team that elects to receive the kickoff scores a field goal, it kicks off to the opposing team. If their opponent scores a touchdown, the game is over. If the opponent scores a field goal, the game continues in a sudden-death format. The game will end in a tie if pre-season and regular-season games remain tied after 10 minutes. NFL playoff games will have multiple 10 minute periods until there is a winner. NCAA football teams each receive possession from their opponent's 25-yard line without a game clock. After the third possession, teams are only allowed to attempt two-point conversions after a touchdown. Possessions continue until one team has outscored the other. NCAA games cannot end in a tie. 
Extra points and two-point conversions
The ball is snapped from the fifteen-yard line for extra points and the two-yard line for two-point conversions. In the NCAA, the ball is snapped from the three-yard line for both. Before the 2015 season, the NFL had been taking their extra points from the three-yard line. After moving it back, teams missed more extra-point attempts and began going for more two-point conversions. 
Who was the first NFL player ever drafted?
On Feb. 8, 1936, the first NFL draft took place at the Ritz-Carlton hotel in Philadelphia, Pa. Until then, NFL teams would get into bidding wars over amateur players and pay them as much as possible to join their teams. Team owners agreed that the fairest way to institute a draft order was from worst to first, thus awarding the Philadelphia Eagles the first pick. 
So who was the first player ever taken? If you know this one, you're either a true draftnik or a family member. The first player taken in the 1936 draft was the Heisman Trophy winner out of the University of Chicago Jay Berwanger. With the Eagles unable to meet Berwanger's demands of $1,000 per game, they traded him to George Halas's Chicago Bears. With the Bears also unable to agree to his terms, the No. 1 pick never played a down in the NFL, electing instead to start a rubber manufacturing company. 
The draft turned out four Hall of Famers in Joe Stydahar, Al "Tuffy" Leemans, Wayne Millner, and Dan Fortmann. Like Berwanger, the No. 3 pick never played a down of NFL football, but Pittsburgh Pirates (now Steelers) Back Bill Shakespeare had a Hall of Fame name. 
Super Bowl ticket prices have skyrocketed over the years
Want to get a sense of the game's popularity over time? Check the price of Super Bowl tickets throughout history. 
Tickets for Super Bowl I would have set you back $12 or $87, adjusted for inflation. The prices stayed around this range until Super Bowl XII, at which point they took a drastic leap up to $30 or $118, adjusted for inflation. One decade later, Super Bowl XXII tickets were $100 or $213, adjusted for inflation. After another decade passed, Super Bowl XXXII's face value was $275 or $420, adjusted for inflation. By 2009, tickets had hit $1,000 apiece. By 2021, tickets increased exponentially over the years, with prices ranging from $5,000 to $9,000 apiece. 
So why are tickets so hard to get? Supply is deficient and demand is extremely high. By the time tickets are available to the average fan: 
35% of tickets go to teams playing in-game for players, staff, and family 
34.8% are equally divided among the other NFL teams
5% go to the host city team
25.2% go to the NFL office
Some invitees either sell their tickets to other lucky individuals or make their way onto the secondary market, where the average fan buys them at a significant mark-up. That $5,000–$9,000 price you might be seeing comes from re-sellers on the secondary market. 
NFL cards can sometimes sell for hundreds of thousands of dollars
With so many sources available on the internet for breaking news and sports trivia, this information has driven obsessed fans back to collecting football memorabilia, including NFL cards. If you were lucky enough for your granddad to pass you down a 1935 National Chicle Bronko Nagurski, you might be looking at a cool $750,000. A Topps Jerry Rice or Joe Montana card could contribute to a down payment on a house. Fans have the information at their fingertips to learn about which cards are valuable, getting cards graded, and how to sell them. 
Who were the original 8 NFL teams?
The National Football League is a brand in its own right. But it wasn't originally known as the NFL, and of course, it didn't initially start with 32 franchises. Beginning in 1920 as the American Professional Football Association, over the next 12 years, the league would shorten its name to the National Football League and trim its roster from 14 teams to 8. In 1932, the NFL had its first playoff series. The teams that existed at that time are considered the eight original teams. 
New York Giants
Founded in 1925 by Tim Mara, his grandson John Mara is the current owner of the team. The team is legally known as the "New York Football Giants."
Chicago Bears
Founded by Illinois manufacturing magnate A.E. Staley, the team was initially called the Decatur Staleys. Staley moved the team to Chicago during the Great Depression to sell more tickets and eventually transferred ownership to long-time owner George Halas. The Bears' mascot "Staley Da Bear" is named after the team's original owner. 
Arizona Cardinals
They are the oldest surviving professional team in the U.S., founded as the Morgan Athletic Club in 1898, and joined the NFL as a charter member in 1920. They moved from Chicago to St. Louis in 1960 and then to Phoenix, Ariz., in 1988. 
Detroit Lions
The franchise was founded in 1920 in Portsmouth, OH. After struggling financially, the Portsmouth Spartans relocated to Detroit in 1934 and renamed the Lions to complement the Detroit Tigers franchise. 
Washington Football Team
Formerly known as the Washington Redskins, the team was founded in 1932 in Boston, Mass., as the Boston Braves. They promptly moved to Washington D.C. in 1937. They experienced early success, winning the 1937 and 1942 championships. 
Green Bay Packers
Early "Curly" Lambeau and George Whitney Calhoun founded the Green Bay Packers in 1919 and are the third oldest NFL franchise. Owned by its fans since its first public stock sale in 1923, the Packers are the only non-profit, community-owned major league professional sports team in the U.S. 
Philadelphia Eagles
The Eagles were established in 1933 when Bert Bell and Lud Wray purchased the rights to Philadelphia's existing Frankford Yellowjackets franchise. In a unique proposition in 1941, they swapped home cities with the next club on our list, the Pittsburgh Steelers.  
Pittsburgh Steelers
Arthur J. Rooney founded the Pittsburgh Steelers in 1933. Ownership has remained in the Rooney family ever since and is considered one of the best-run organizations in sports, with minimal staff turnover and consistent winning seasons. 
What NFL team is the richest?
The Dallas Cowboys are not only the NFL's richest team — valued at $5.7 billion and predicted to earn $1.3 billion annually over the next five years — they are the most valuable sports franchise in the world. 
The massive value comes from several areas. First, there's facility upgrades such as luxury boxes, corporate headquarters, and a practice facility called The Star. It also comes from revenue sources such as an equity stake in the stadium management company Legends, NFL licensing and merchandising and investments in esports, and a platform built to support youth sports.
How many NFL teams are named after birds?
In a league with 32 franchises, certain types of mascots are sure to pop up multiple times. In the NFL, it's bird mascots. The NFL currently has five teams named after birds, including: the Cardinals, Ravens, Falcons, Seahawks, and Eagles. 
The Arizona Cardinals mascot is named Big Red. On Oct. 4, 1988, he hatched at 6 feet, 4 inches tall with a 7-feet wingspan. That's a gigantic egg. 
Poe is the Baltimore Ravens mascot, named after late author and Baltimore resident Edgar Allen Poe. After 2009, two live ravens, "Rise" and "Conquer," were added to the team and can be seen on the sidelines of home games. 
Freddie Falcon is the official mascot of the Atlanta Falcons. He's 6 feet, 2 inches, 190 pounds, and has been around for 35 years. 
Blitz is the official mascot of the Seattle Seahawks, having made his official debut in 1998. He's 6 feet, 1 inch tall, or the equivalent of a touchdown and an extra point. He also has a more diminutive sidekick named Boom, which the Seahawks introduced in 2014. 
The Philadelphia Eagles mascot is called Swoop, and he comes in at 6 feet, 3 inches and 216 pounds. He had the distinct misfortune of being viciously attacked in the movie Ace Ventura: Pet Detective, in 1994. 
What is the most loved football team?
Who are the most popular NFL teams? The website WSN conducted a study accumulating and totaling Facebook page likes, Twitter followers, and Instagram followers of all NFL teams and ranking them from most to least popular. 
They determined that the Dallas Cowboys are America's team, followed by the Patriots, Steelers, Packers, and Seahawks. The popularity of most sports franchises waxes and wanes with their success. While the Cowboys have not been a remarkably successful franchise since the mid-'90s, owner Jerry Jones spares no expense with the facilities, merchandising contracts, and partnerships. 
The Steelers' and Packers' traditions of winning go back decades, which means they carry multiple generations of happy fans on their backs. The Patriots have been a winning organization since the early '90s and are the second most valuable organization in football, mainly on the arm of now Buccaneer Tom Brady. It'll be interesting to see if Bill Belichick can keep the winning tradition alive. The Seahawks struggled in the late '80s and early '90s with a series of losing seasons. They saw a stretch of success with Mike Holmgren and a strong running game. Pete Carroll, Russ Wilson, and The Legion of Boom defense saw the Seahawks win their first Super Bowl and a string of playoff appearances that continues to this day. Their fans are among the loudest in sports. 
What are the most hated NFL teams?
It follows that some of the most successful and noteworthy teams are among the most hated. 
While the Dallas Cowboys have been dubbed "America's Team" by non-Cowboys fans, they're also likely the most hated team. Many fans have been rubbed the wrong way by owner Jerry Jones, its star players, and not all Americans consider the franchise their team in the first place.
Tom Brady's Patriots beat so many teams on the way to his seven Super Bowls that he has attracted his share of haters. Many fans were rooting for the Giants in their underdog Super Bowl victories over the Pats. The Falcons' blown 25-point Super Bowl lead served to build Brady's legend, but it was a massive let-down for any never-Pats watchers. With Brady having moved on to the Buccaneers, the Patriots are probably safe again. 
The Steelers are another team known for a history of success. With six Super Bowl wins and a wake of losing teams and crushing blocks in their past, the hate from opposing fans is real. It doesn't help that the Steelers have consistently maintained the same front office, coaching staff, and quarterback in a league rife with turnover. 
Does Joe Montana think Brady is the goat?
Tom Brady is the all-time leader in Super Bowl wins and stands atop a mound of other statistical categories. There's an easy argument for him as the greatest football player of all time. But what do his peers think? 
Ask none other than legendary quarterback Joe Montana. "Joe Cool" was known for his pinpoint accuracy and unflappable leadership. On ESPN's First Take, Montana weighed in with his opinion that Brady is the best and has been for some time. 
Which quarterback has the most rings?
Tom Brady is the all-time quarterback Super Bowl ring leader, and second and third place can't catch him because they're long retired. 
After adding his seventh ring with the Buccaneers, "Tom Terrific" padded his lead over Joe Montana and Terry Bradshaw, who have four Super Bowl rings apiece. 
Brady has won Super Bowls in three different decades ('00s, '10s, and '20s), and he's won them back to back ('03, '04). At age 39, Peyton Manning had been the oldest quarterback to win a Super Bowl. A 39-year-old Brady tied Manning one year later while completing the largest comeback in Super Bowl history and winning MVP. Brady has won two more in '18 and '20, both after turning 40 years old.
Brady's most recent ring has its very own stadium built into it. Check this thing out: 
What is the NFL MVP trophy called?
The Associated Press NFL MVP trophy is presented annually to the athlete deemed by a committee of expert sportswriters to be the regular season's most valuable player. It is awarded the night before the Super Bowl. 
The committee is currently made up of 50 writers, with many of them being known entities such as Chris Collinsworth and Troy Aikman, though this amount has increased throughout history. Even the name of the trophy hasn't always been the same. From 1938 to 1946, the award was known as the Joe F Carr Trophy. 
When the NFL was known for a more run-heavy attack, high-profile backs like Jim Brown, O.J. Simpson, Walter Payton, and Earl Campbell won it. As time went on and the league moved to a pass-heavy attack, the award tilted heavily toward quarterbacks. Over the last 20 years, 17 winners have been quarterbacks. 
Who has the most touchdowns in NFL history?
Jerry Rice
Jerry Rice leads the list by a wide margin, with 208 career touchdowns. He stands atop the receiving yard list as well, by a significant margin with 22,895. He led the NFL in receiving touchdowns and receiving yards six times apiece. Rice made 13 pro bowls and 10 All-Pro teams, which are both records as well. No receiver has been close to running his precision routes and maintaining his level of durability. 
Emmitt Smith
Second place Smith finished with 175 career touchdowns. Emmitt entered the league when the best NFL teams relied on a high-volume power running game. Emmitt held up better than any back in history, tallying a league record of 4,409 career attempts over 15 years. He was efficient during his prime, leading the league in yardage four times and rushing TDs three times.
Ladainian Tomlinson
The always electrifying LT is in third place with 162 career touchdowns. His eye-popping 2006 campaign generated the single-season touchdown record of 31. His 2,370 yards from scrimmage that year was good for fifth on the all-time list. LT went for double-digit rushing touchdowns in the first nine seasons of his career and ran for over 1,000 yards in those first eight. The ultimate all-purpose back and a model of consistency, LT is on any all-time list. 
Top NFL free-agent signings
Throughout the history of the NFL, there have been Free Agent signings that have changed the course of franchise histories. Here are our top 10:
Drew Brees
Brees is a top 10 quarterback of all time, topping the passing charts in all meaningful counting statistics and grabbing a Super Bowl during his prime. San Diego decided that Philip Rivers, a great in his own right, was the future and moved on from Brees. New Orleans paid the money and ran. 
Reggie White
One could say that Reggie White's Green Bay Packers individual career was just as good with the Pack as it was with the Eagles. Except with the Pack, he won. A lot. He played in 14 playoff games in Green Bay, winning a Super Bowl and appearing in two others. 
Peyton Manning
"Suck for Luck" will echo into eternity. Peyton Manning rode off into the sunset with the Broncos after three more Pro-Bowl appearances and one more Super Bowl ring. The prospect he was abandoned for ultimately retired mid-way through his prime. 
Deion Sanders
Neon Deion was a classic Jerry Jones signing. High profile, big money, and big-time impact. Deion won back-to-back Super Bowls with two different teams and scored a rushing touchdown for the Cowboys. 
Curtis Martin
Before Belichick and Brady, New England had some good years with Parcells and his feature back Martin. Bill Parcells is known for saying, "The best ability is availability." After "The Big Tuna" left New England for the Jets, he heeded his own words when Martin came available via free agency and went out and got him. Martin went on to a Hall of Fame career in New York. 
Priest Holmes
It wasn't the Ravens' fault that Priest Holmes wasn't getting carries. When rookie Jamal Lewis leads you to a Super Bowl with over 1,300 yards, it's hard to justify handing the ball to anyone else. Holmes signed with the Chiefs in the 2001 off-season and went on a rampage for the next three years. He led the league in rushing the first season, then twice in total touchdowns the next two. 
Kurt Warner
Everyone's favorite supermarket stock boy turned arena leaguer turned Super Bowl champ. After leading Dick Vermeil's "Greatest Show on Turf" to a Super Bowl, Warner had a quiet season with the Giants. An off-season signing with the Cardinals and some patience gradually brought the previously floundering team back into contention. Their run culminated in a close Super Bowl loss to the Steelers.  
Charles Woodson
Woodson made pro bowls his first four years in the league as one of the best defensive backs in NFL history. Woodson was talented and tough, known to play through significant injuries up to and including a broken leg. After missing 10 games going into his 9th season, only the contending Packers were interested in his services. It's a good thing because he made four more Pro Bowls, led the league in interceptions twice, and finished his career at second place with 11 pick-sixes. 
Rod Woodson
No relation to Charles. Rod Woodson made six straight Pro Bowls during his prime and was probably the best cornerback in the league throughout that stretch. After a brief stint in San Francisco, Rod signed with Baltimore and quarterbacked the Ravens to a Super Bowl win. He racked up four more Pro Bowl appearances and led the league in interceptions twice. 
Kevin Mawae
Mawae's career in Seattle was mostly quiet. Bill Parcells struck gold when he signed Mawae as his center and Curtis Martin as his running back. With six consecutive Pro Bowl appearances, Mawae is one of the greatest players in Jets history and a first-ballot Hall of Famer. He nailed down two more pro bowls with the Titans before retiring.