Even the NFL Wasn't Safe From Norm Macdonald's Hilarious Jokes
Norm Macdonald never shied away from joking about a wide range of people, from politicians like Bob Dole and Bill Clinton to celebrities and NFL players, no matter how uncomfortable the quips might've made people. In fact, one of Macdonald's favorite targets was O.J. Simpson, the former football star suspected of murdering his wife Nicole Brown Simpson and her friend Ron Goldman.
Though Simpson was never convicted, Macdonald continued to believe the NFL legend was guilty. But O.J. wasn't the only subject of the comedian's quips. In fact, there really wasn't anyone Macdonald wouldn't impersonate or joke about.
Norm Macdonald became a comedy legend on 'SNL'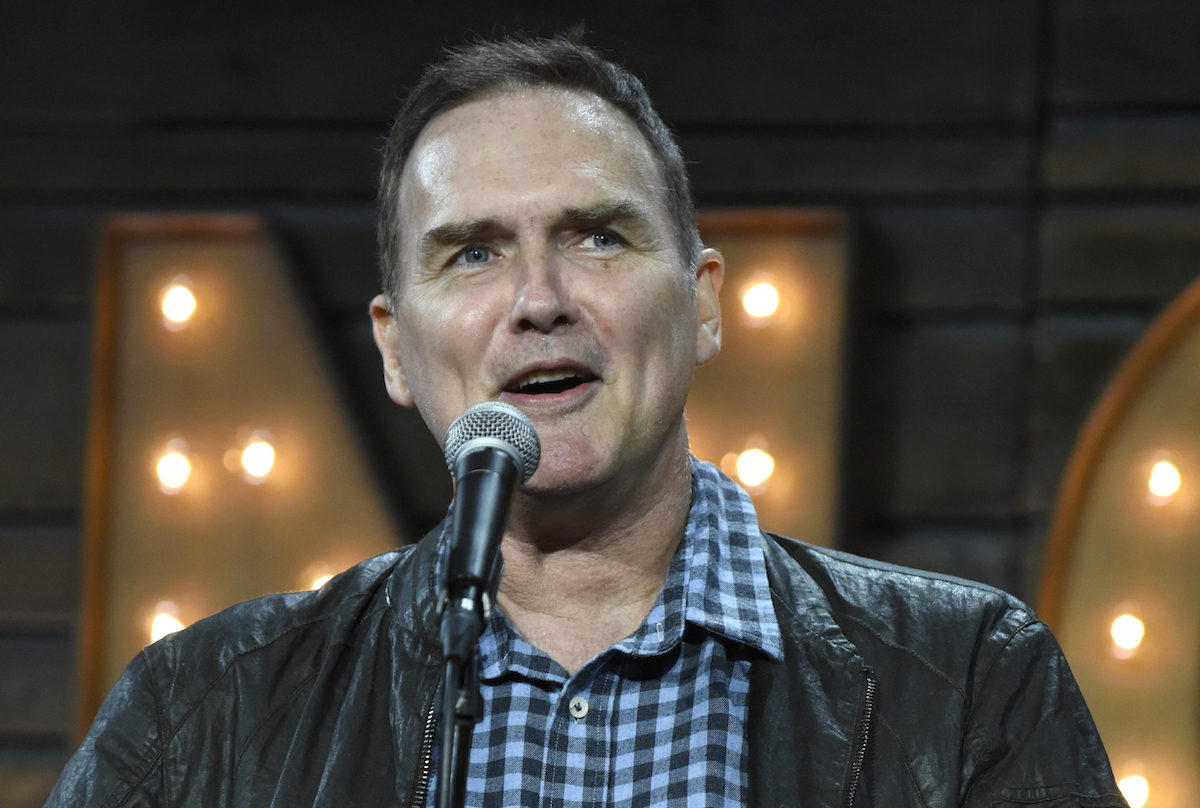 After a private nine-year battle with cancer, Norm Macdonald died this past September 14. Best known for his stint on Saturday Night Live from 1993 to 1998, he anchored Weekend Update, one of the most popular segments.
Macdonald also performed several impressions on SNL. But one of his most popular, and arguably his best, was of Burt Reynolds. The comedian often showcased this character in "Celebrity Jeopardy" skits. Will Ferrell portrayed host Alex Trebek, and Macdonald's Reynolds, also known as Turd Ferguson, made irrelevant and inappropriate comments while wearing a large yellow cowboy hat.
Nobody was safe from Norm Macdonald's roasting at the 1998 ESPY Awards
In 1998, ESPN made a fateful decision to hire Macdonald to host the annual ESPY Awards, the Oscars of the sports world. So, Macdonald did what he did best and eviscerated the audience — metaphorically, of course.
And no athlete, team, or sport was safe, including the NFL. Most of his jokes went over well, but some elicited groans and even boos.
He lobbed his first joke at Dallas Cowboys owner Jerry Jones. Macdonald opened by saying he had been talking to Jones backstage and how good a guy he was, and then he went for the jugular: "Talking about rebuilding the team, you know. And he told me, he says, 'We have to get back to what made us a championship team: strippers and crack.'"
Macdonald later congratulated the Denver Broncos for winning the Super Bowl by beating the Green Bay Packers. He said his favorite thing about Denver fans was that "for one thing, they don't wear food on their heads — that's nice," in a not-so-subtle jab at Packers fans, known as "Cheeseheads" for their iconic cheese hats.
His most brutal and shocking joke, which he saved for last, alluded to Simpson. In the months leading up to the 1998 ESPY Awards, Charles Woodson had become the first defensive player to win the Heisman Trophy. Macdonald congratulated him and offered the following: "That is something that no one can ever take away from you — unless you kill your wife and a waiter — in which case, all bets are off."
The joke drew applause and some frowns.
"Closing with an O.J. Simpson joke is only something Macdonald would have been brave enough to do on that stage," SBNation said, "and it was perfect."
However, Ken Griffey Jr. didn't appear to agree.
Which NFL players and teams did the comedian like best?
According to Golfweek, Macdonald was a huge golf fan, particularly Tiger Woods, whom the comedian interestingly avoided roasting at the 1998 ESPYs. Instead, he said he felt bad for the other two players nominated for Golfer of the Year.
Macdonald was also a big fan of baseball and hockey. Fansided shared stories about his love for the Milwaukee Brewers, including when he and longtime announcer Bob Uecker saw Creedence Clearwater Revival star John Fogerty at a Brewers game.
In addition to fellow comedians such as Adam Sandler, Jon Stewart, and Stephen Colbert sharing tributes on social media, sports teams and athletes have also paid tribute to Macdonald. The official PGA Tour Twitter tweeted, "Norm Macdonald loved golf almost as much as he loved making us laugh. RIP Norm."
Lane Johnson, right tackle for the Philadelphia Eagles, posted on his Twitter feed: "RIP to one of my all-time favorite comedians #NormMacdonald."
And the official Winnipeg Jets Twitter account offered "heartfelt condolences to the family, friends, and fans of legendary comedian Norm Macdonald. He will be greatly missed by all." 
Macdonald had strong feelings about battling cancer. "In the old days, a man could just get sick and die," he said in a routine posted on YouTube courtesy of Comedy Central. "Now, they have to wage a battle … I'm pretty sure, I'm not a doctor, but I'm pretty sure if you die, the cancer dies at the same time. That's not a loss. That's a draw."
Norm fought his cancer to a draw. May he rest in peace.
RELATED: NFL News: Trivia That Will Stump Even the Most Dedicated Fans