NFL Offseason: Davante Adams and the 5 Likely Franchise Tag Candidates
Welcome to the NFL offseason. The Los Angeles Rams are Super Bowl Champions, and now the real fun begins. Before free agency starts comes the franchise tag deadline, and just like every year, this group features a lot of impressive names — with Green Bay Packers wide receiver Davante Adams on top of them all.
So, which players will get the tag and which ones head to free agency to try and land a monster deal? We know Adams is the best available, but here are the five most likely candidates to receive the tag and stay on their respective teams for one more season, at least.
Green Bay Packers wide receiver Davante Adams
Let's get this one out of the way. With all of the reports surrounding Aaron Rodgers, the Packers will likely tag Adams and give Rodgers his primary weapon for one more year.
Of course, Adams wasn't too thrilled about the possibility of being hit with the tag, but he might not have a choice. He could hold out and try to work on a long-term extension, and the Packers would then be forced to give him what he wants. The team has some obstacles to overcome, but they simply can't afford to let Adams walk away — especially if Rodgers does return.
If Adams leaves, he is the No. 1 option in all free agency, and teams wouldn't be afraid to throw close to $100 million toward him. He's worth it, and the Packers know that more than anybody.
Cincinnati Bengals safety Jessie Bates
The Cincinnati Bengals came up just short of a Super Bowl 56 victory, but this team will be sticking around the top of the AFC for quite some time. Jessie Bates is a massive part of their success, also.
All season long, the two sides went back and forth but could not come to an extension. Now, the tag makes sense, and the Bengals need to invest heavily in some offensive line help for Joe Burrow. However, Bates needs to stay in Cincinnati, and his performance in the playoffs can't be forgotten.
Nobody knows why the Bengals are playing hardball with Bates, yet here we are. If he doesn't receive the tag, he heads to the open market as one of — if not the best — at his respective position.
Miami Dolphins tight end Mike Gesicki
The Miami Dolphins are undergoing a new era with Mike McDaniel as the head coach. Furthermore, questions remain about whether or not Stephen Ross sticks around with the ongoing Brian Flores lawsuit.
Nonetheless, the Dolphins need to retain Gesicki, and the tag makes a ton of sense for him. He could leave and try and get a deal elsewhere, and he would have no problem finding a team with interest. But, according to Spotrac, his projected tag value would be $11 million, and he would have a perfect opportunity to head into 2023 with even more statistics to back up his case.
Gesicki had 73 catches for 780 yards, both good for second on the team behind rookie sensation Jaylen Waddle. He was targeted 109 times, just 20 fewer than Travis Kelce.
He is a huge part of the Dolphins offense, and they can't even let him take calls in free agency. If they do, he will leave and never return to Miami. Thus, the franchise tag makes a lot of sense for Gesicki.
Tennessee Titans linebacker Harold Landry
The consensus is clear: The Titans need to re-sign Harold Landry this offseason, one way or another. He led the team in sacks with 12 during the regular season, and the Titans' defense was the main reason they made it to the playoffs as the top seed in the AFC.
With Derrick Henry and AJ Brown missing time, the defense stepped up, and Mike Vrabel's group put together a vaunted pass rush.
The Titans need to keep this core together, but their cap space isn't very favorable (just over $14 million, according to Spotrac).
So, the tag makes sense for Landry, and it is estimated to be north of $18 million for one year. That is a ton of money for Landry, but if he hits the open market, the Titans won't be able to beat out other teams, especially with the dire need for a quality pass-rusher. Giving Landry the franchise tag would also allow the Titans more time to work out a long-term extension, something they want.
Los Angeles Chargers wide receiver Mike Williams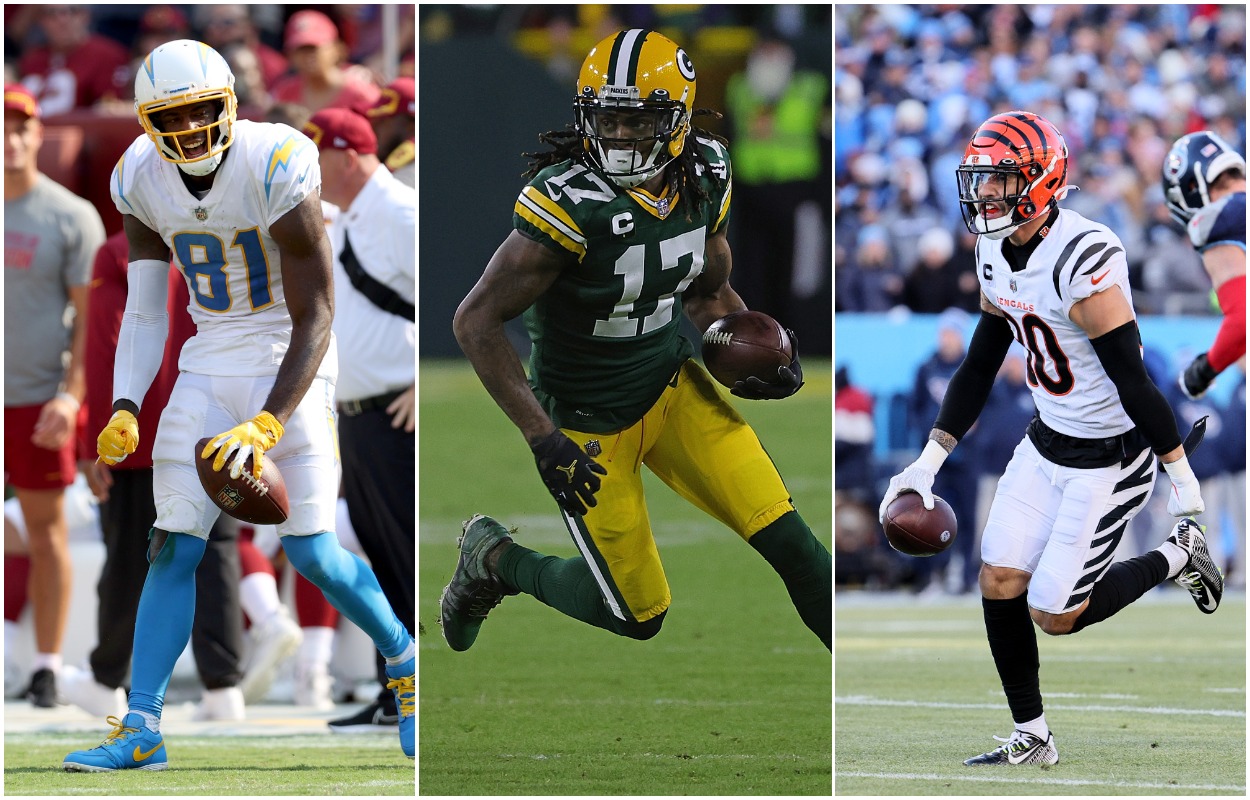 The Los Angeles Chargers have Justin Herbert, Austin Ekeler, and Keenan Allen on offense. They also have more than $70 million in cap space heading into free agency.
Mike Williams wants to stay in LA, but he also wants to get paid. This past season, he led the Chargers with 1,146 yards and nine touchdowns and finished second on the team with 76 grabs.
A flurry of NFL teams will be enamored with Williams' physical attributes, including the Las Vegas Raiders, New York Jets, and Cleveland Browns, to name a few. But, the Chargers placing the tag on him would give him a nice paycheck of around $18 million and allow LA to spend in other areas.
At the same time, they could buy a little more time to work out an extension with Williams and let's not forget that Herbert will need a new contract down the road at some point as well.
If Williams doesn't get the franchise tag, he should easily command $20 million a year, and he is worth every penny when he is healthy.
RELATED: 2022 NFL Free Agents: Ranking the Top 5 Wide Receivers on the Market