NFL: Panthers Linebacker Shaq Thompson's Mother Tragically Died Just Hours After a Win
Some people think that professional athletes have easy lives, but that's not always the case. Sure they have money and fame, which can help them do things that regular people can't, but that's not all that life is about. Pro athletes are not immune to experiencing the same types of tragedy as other people.
That might not be more evident than in the life of Carolina Panthers LB Shaq Thompson. The former first-round draft pick lost his mother last year at the young age of just 57. Even more tragic is she died just hours after he was part of a Panthers win.
Shaq Thompson's NFL career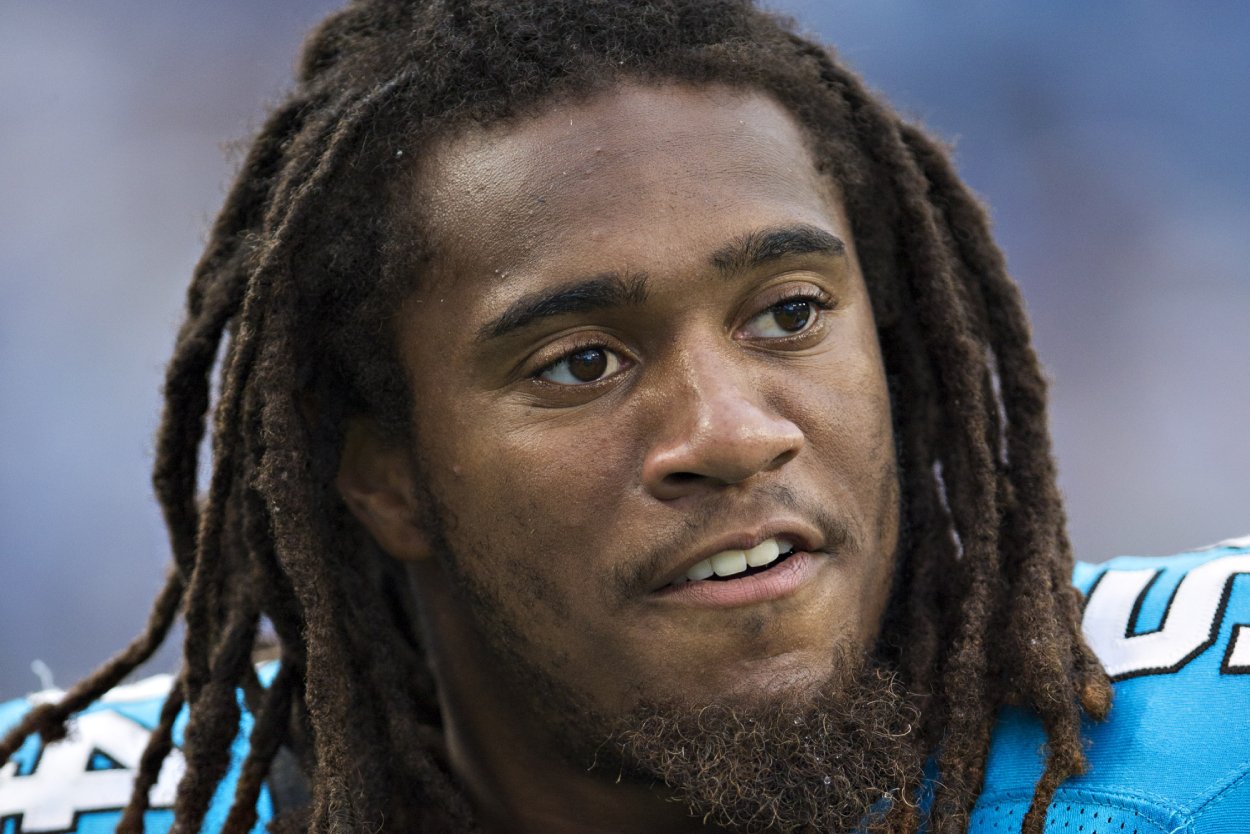 The Panthers took Thompson with the 25th pick in the 2015 NFL draft, and he has played in 14 games in each of his first five seasons in the league.
In his 70 contests, the linebacker has 356 total tackles, including 29 for a loss, and 20 quarterback hits. He has a couple of forced fumbles and two fumble recoveries, one of which he took into the end zone for a touchdown. He also has 9.5 career sacks and an interception.
The death of Shaq Thompson's mother
Thompson's mother, Patty, passed away in her sleep on the night of Oct. 14, 2019 at 57 years old. She was laid to rest a week later in a ceremony attended by hundreds of people.
According to her obituary, the single mother pushed her four sons into sports so they would stay out of trouble, and it led to Shaq and brother Syd'Quan making it to the NFL. The cause of death was never revealed publicly.
Any death is obviously tragic, but especially when the person dies suddenly as Patty did. And to make matters even worse, she passed away just hours after Thompson played a game on another continent.
Thompson and the Panthers played the Buccaneers at Tottenham Stadium in London on October 13. The Panthers won the game, and he accumulated five sacks in the contest.
It should have been reason to celebrate — beating a division rival in a nationally televised game. Thompson and his teammates were enjoying their victory, but the mood turned decidedly more somber just hours later when he got word of his mother's passing. It was a roller coaster of emotions for Thompson, when he was thousands of miles away from his family.
The upcoming 2020 NFL season
Thompson didn't let his mother's death deter him from playing the rest of the season last year, and he will play again this season — assuming conditions allow the NFL season to go on as planned.
Be on the look out for Thomson to be a leader on a Panthers team that is trying to redefine itself under new head coach Matt Rhule.
All stats courtesy of Pro Football Reference