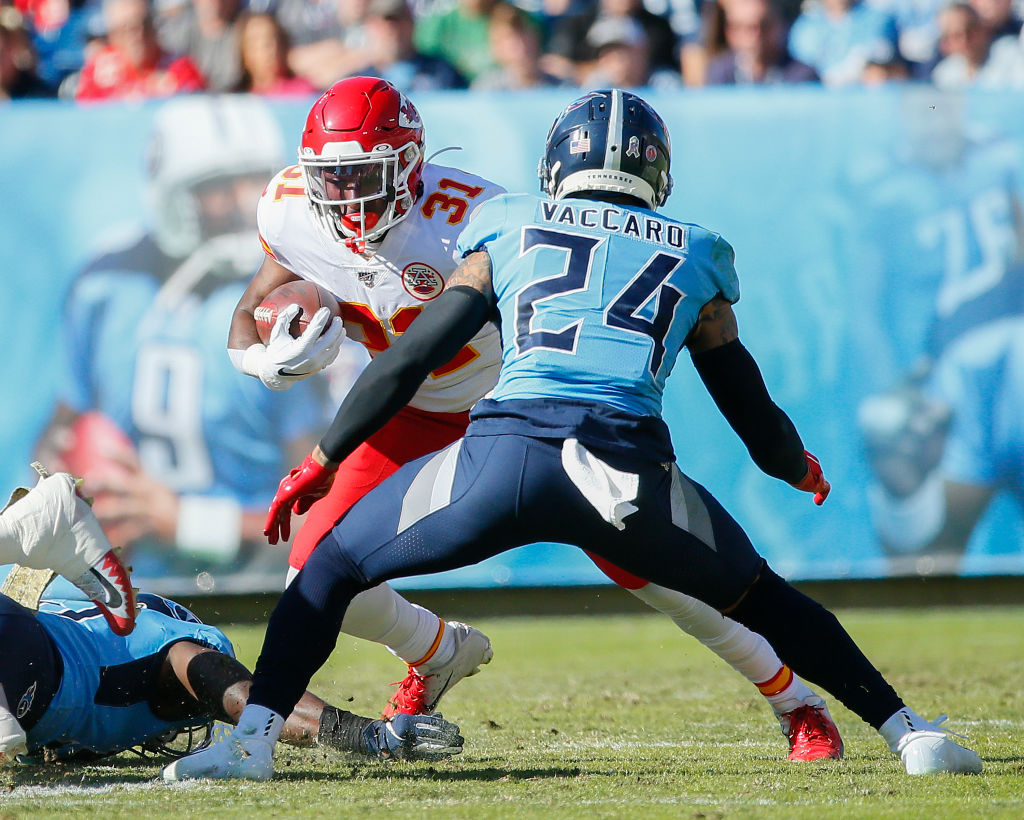 NFL Player Tackles World of ESports
Kenny Vaccaro has made a name for himself as a big-hitting safety for the Tennessee Titans. Now he's making a name in the esports world.
Tennessee Titans safety Kenny Vaccaro never does anything halfway. That determined spirit has allowed him to achieve success in whatever he has pursued in life from his time playing at the University of Texas up to his seven seasons in the NFL. Today, Vaccaro is taking his drive and determination into the world of esports.
An All-American at Texas
Numerous schools vied for the services of Kenny Vaccaro out of high school. The 6-foot-1-inch safety out of Brownwood, Texas received scholarship offers from numerous top-named programs, including Florida, Oklahoma, Stanford, Miami, Texas Tech, and Baylor. In the end, Vaccaro opted to play for the Longhorns and head coach Mack Brown.
After a freshman year in which he saw limited action, Vaccaro impressed the Texas coaching staff during the offseason and, as a result, earned considerably more playing time his sophomore year. That season the safety finished with 42 tackles, three for a loss, and an interception. It was a sign of things to come.
His junior and senior seasons Vaccaro continued to excel in the Texas secondary, where he made a name for himself delivering one highlight-reel hit after another. Those hits, along with his 58 tackles and two interceptions his senior year earned him All-American honors and garnered the attention of numerous NFL organizations. In the 2013 NFL Draft, the New Orleans Saints drafted Vaccaro with the 15th overall pick. 
Life in the NFL
In New Orleans, Vaccaro transitioned to the NFL with relative ease and found himself starting 14 games his rookie season. Entrenched as a starter in the Saints secondary, Vaccaro consistently put up solid numbers his first four seasons in New Orleans. His best season statistically came in 2015 when he finished with 104 tackles, three sacks, and a forced fumble.
After the 2017 season, his fifth in New Orleans, where he had three interceptions, Vaccaro headed to Nashville to play for the Tennessee Titans. 
As a Titan, Vaccaro has remained steady at the safety position for the club in the last two seasons. Last season he started all 16 games and played a key role in the club's overall success, including a critical interception of Lamar Jackson in Tennessee's shocking playoff upset of the No. 1 seed Baltimore Ravens.
From NFL star to esports star
In the offseason, Vaccaro shifts his talent from the football field to the virtual battlefield in the video game Destiny 2. In the online world, Kenny Vaccaro doesn't exist. And he likes it that way.
"I don't want to be known as Kenny Vaccaro, former All-American at Texas, first-round draft pick, Tennessee Titans safety, I wanna be known as SoaR Savage," he told local Austin television station KEYE. 
SoaR Savage is Vaccaro's gamer name. Vaccaro is a content creator and regularly streams in front of a large online audience. Whenever he finishes gaming, he returns to something familiar, and one of the reasons he's been so successful on the football field—he evaluates his performance.

I take the same mentality I have in a football game into Destiny and that made me better. I started watching film. I'd go back and watch my film all the time and be like 'man, I should've made that play right there' or 'man, I shouldn't have pushed right there.'

Kenny Vaccaro
That mindset to constantly improve, which has served him well in football for so many years, is bearing fruit as his online gaming skills have consistently improved. He's become respected in the esports community.
But participating in esports isn't enough for Vaccaro. That's why he recently started hosting monthly tournaments where he awards $5,000 of his own money to the winner.
As he approaches age 29, Vaccaro understands his future in a violent sport like football is uncertain at best. It could all be over in one play. That's why he has committed his time and money to the world of online gaming. He recognizes its potential as a whole and for his life in particular.
If his past experiences are any indication, Vaccaro will likely become a top gamer who disposes of his opponent with big shots just like he has for so many years on the football field.