Even NFL Players Don't Like Booger McFarland Calling Monday Night Football Games
One of the most coveted spots in all of sports broadcasting at one time was to be in the booth covering Monday Night Football. Some of the most legendary names in broadcasting — Howard Cosell, Al Michaels, and Don Meredith — have done it. While the Monday night game may no longer be the league's premiere game, it's still one of only two weekly games not played on Sunday. Last season, former NFL player Booger McFarland joined ESPN's coverage. The reviews have not been favorable, especially among some NFL players.

Booger McFarland's playing career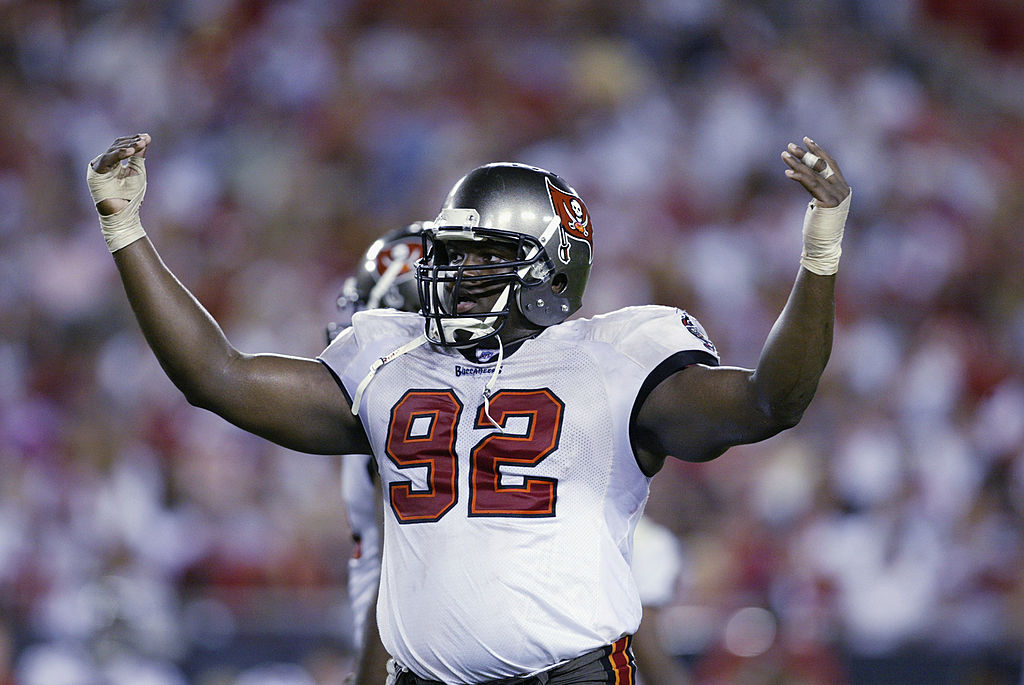 The Tampa Bay Buccaneers selected Anthony "Booger" McFarland with the 15th overall pick in the first round of the 1999 NFL draft. McFarland played collegiately at LSU. He played eight seasons in the NFL, mainly for Tampa, but he spent a little time with the Indianapolis Colts. Here's a summary of what McFarland accomplished during his career:
109 games played
95 games started
One interception
22.5 sacks
Five passes defended
Six fumble recoveries
252 combined tackles
170 solo tackles
49 tackles for loss
Two-time Super Bowl champion
McFarland was a part of five playoff teams. Pro Football Reference has "similarity scores" for each player, comparing them to players with similar outputs for their career. Here were the players who compared favorably to McFarland:
Eric Swann
Chad Bratzke
Daryl Gardener
Manny Fernandez
Pat Holmes
Booger McFarland's transition to broadcasting
Following his retirement from football, McFarland began his broadcasting career covering all sports on a local Tampa sports radio show. After the success of that program, ESPN recruited him for its new SEC Network in 2014. McFarland's work at ESPN consisted of mostly studio work. He called only six games before joining the Monday Night Football crew in 2018.

McFarland came on as the third man in a crew that included play-by-play announcer Joe Tessitore and former (at the time, he's since returned to the NFL) Dallas Cowboys' tight end Jason Witten. McFarland wasn't actually in the booth. He was assigned to a role in which he was more than a sideline reporter, but he was not physically next to the announcing team.
Following last season, Witten returned to the Cowboys. Despite attempting to court Peyton Manning to take the job, ESPN named Booger McFarland the new sole color commentator for Monday Night Football beginning in 2019. He is the first African-American to sit in the Monday Night Football booth since O.J. Simpson in 1983.

NFL players don't think too highly of him on Monday Night Football
McFarland's performance in the Monday Night Football booth has drawn widespread criticism. Wide receiver Davante Adams quoted McFarland in a derisive way. McFarland's quote, "Games in this league are lost more than they're won," may have been McFarland attempting to say that teams do a lot to shoot themselves in the foot during games, causing them to lose. But at its face, it's a nonsensical comment. An equal amount of games are lost and won.

When Adams quoted McFarland, fellow wide receiver Stefon Diggs chimed in to add, "They may as well let me commentate."

Fans have also taken to social media to pile on about McFarland's performance. In an early-season game in which the Pittsburgh Steelers were blowing out the Cincinnati Bengals, McFarland chose to effusively praise Cincinnati. That led to ridicule on social media, as the Bengals looked awful and have continued to look awful.

McFarland is an enthusiastic performer and clearly knows the game. But fans and players alike have noticed he can make bad points from time to time. If he continues this way, it wouldn't be surprising if ESPN opts to replace him with a bigger name this offseason. They may make another call to Manning to see if they can lure him into the booth.