5 NFL Players Who Lost a Step This Season
It is (almost) sad — like watching an old, loyal dog hobble around before he is put down. Again, we will highlight the word "almost," because we agree that it may be somewhat difficult for Joe Six-Pack to sympathize with coddled athletes playing a game for several millions of dollars per year. Still, it does say some things about our own mortality to watch in horror and disbelief as Johnny Unitas ran for his life and tossed up another pick for the San Diego Chargers 30 years before Emmitt Smith got blown up at the line of scrimmage wearing Cardinal Red and Jerry Rice couldn't even make the team.
Production can collapse, literally overnight, in the ultimate game of inches. Losing one step can make all the difference between either exploding into daylight and going for six or getting dropped for a big loss. Aging and atrophy go most noticed at the skill positions and defensive backfield, where speed is at a premium. The following five NFL players have seen better days and may opt to retire shortly — with dignity. If not, expect many of these former all-world athletes to ride the pine, before getting cut and waiting for the phone to ring.
5. Golden Tate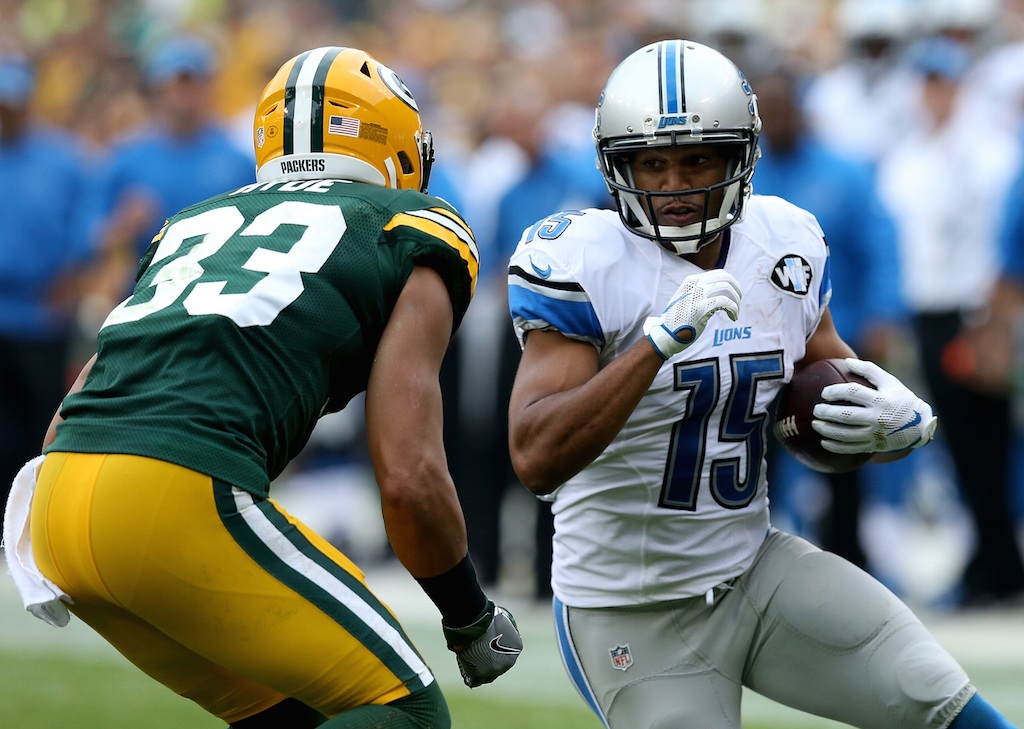 Golden Tate is a relatively young 28, but it does feel as if he suddenly plays like an old man. Between 2007 and 2009, he played pitch-and-catch with the heavily recruited Jimmy Clausen, as the Golden Domer with the Golden Name. At the time, South Bend was even more of a circus, with Charlie Weis on the sideline working to resurrect the Notre Dame Football brand. To close out his junior year, Tate hauled in 93 catches for 1,496 yards and 15 touchdowns to win the Biletnikoff Award.
Tate then declared for the NFL draft. The Seattle Seahawks took him in the second round, as the 60th overall pick in the 2010 draft. Tate's catches and yardage increased dramatically through each of his first five seasons in the league, through improved route running and knowledge of coverage schemes. As a rookie, he came up with 21 catches for 227 yards. By his fourth year in Seattle, Tate was the leading receiver on the team, with 64 catches for 898 yards and five touchdowns. He also handled all punt return duties. That year, the Seahawks rolled to a 43-8 Super Bowl XLVIII beatdown over the Broncos, after various reports circulated that Tate and Percy Harvin came to blows in the locker room.
In 2014, Tate signed on to a five-year, $31 million deal with the Detroit Lions. At that time, people billed him as a real playmaking threat to torch defenses, opposite of Calvin Johnson. Tate experienced a career year, with 99 receptions and 1,331 yards, while Johnson sat out three games due to nagging injuries. For 2015, he returned with 90 catches for 813 yards, with CJ going over the top for 88 receptions and 1,214 yards. Megatron, of course, retired that offseason.
For 2016–17, Tate was supposed to emerge as the top dog in Detroit. Unfortunately, he has been limited to only 17 catches for 126 yards through five games of action. If anything, the 36-year old Anquan Boldin looks sprier, leading the team in touchdown receptions. Tate is simply getting no separation at his release and out of his breaks. At this rate, the bench will have his name on it by the Week 10 bye.
4. Antonio Cromartie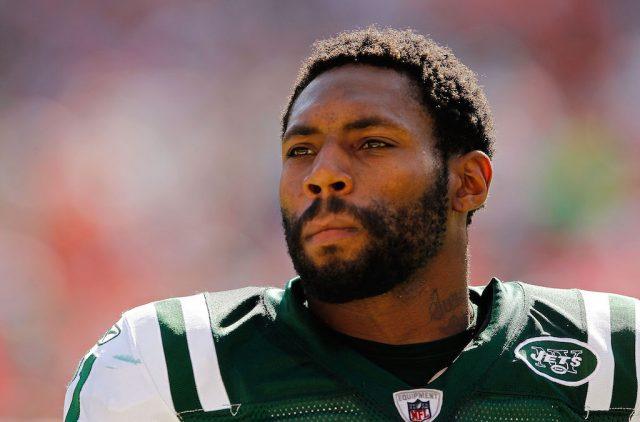 A young Antonio Cromartie was one of the more exciting athletes in the NFL at one time. On top of his blazing, 4.34/40 blazing speed, he stood at a rangy 6-foot-2 and weighed in at 210 pounds. Cro was the prototypical cornerback who could jam his man at the line of scrimmage, recover quickly, and make a play on the football. For run support, he had the frame to hold the edge and make tackles in space. In his second year, Cromartie led the NFL in interceptions with 10.
In 2007, he took in a missed field goal at the back line of the end zone, veered off to his right, and scored a 109-yard return touchdown in Minnesota — the longest play ever made in the history of the NFL. On that day, Cromartie and Adrian Peterson were clearly the most electric performers on the field. In retrospect, Cromartie's historical return overshadowed AP's 296 yards on 30 carries through this matchup. The following week, at home against Indianapolis, he picked off Peyton Manning three times. Still, in 2010, the Chargers dealt him to the New York Jets for a second-round draft pick.
As a Jet, Cromartie hauled in 13 interceptions through four seasons before being released and signing with the Arizona Cardinals. He made three straight Pro Bowls during this stretch, between 2012 and 2014, as a Jet and Card. This offseason, however, the Jets released the 32-year-old. The Indianapolis Colts came calling to have Cromartie fill in for the injured Vontae Davis.
Throughout his career, Cro was a big-time gambler who switched off his own man to make plays on the football. With age, this strategy results in botched, humiliating coverage breakdowns instead of highlight reel plays. In Week 4, the Colts benched him after he gave up an easy touchdown to Allen Robinson and the Jags. Before the plane even returned from London, the Jets cut Cromartie.
3. Chris Johnson
In 2008, Chris Johnson ran a 4.24-second 40-yard dash, a record that stood tall for the next eight years. These results convinced the Tennessee Titans to take a flyer on this then-relatively-unknown prospect out of East Carolina. As a rookie, Johnson established himself as a home-run hitter, with 1,228 rushing yards off 4.9 yards per carry. The following year, he broke the 2,000-yard barrier. For a time, CJ2K was one of the more dynamic characters in the NFL, with his flowing dreadlocks, gold teeth, and raw speed.
Johnson threatened to go the distance on any play, both on carries and swing passes out of the backfield. As a Titan, he racked up 9,968 yards from scrimmage and 58 total touchdowns through six years of action. In 2013, however, Johnson was a casualty of the salary cap, cut at age 28. He signed on with the New York Jets, who awkwardly shoehorned him into a backup role. That year, 2014, CJ split carries with Chris Ivory and came up with a then career-low 663 yards on the ground. The 155 carries in New York were the fewest of his career at that point. The Jets parted ways with Johnson after the season, clearing the way for Ivory as the featured back.
In Arizona, Johnson enjoyed a new lease on life and turned back the clock with fellow graybeards Carson Palmer and Larry Fitzgerald. Johnson was actually third in the league in rushing yards (814) before he broke his leg in Week 12 of 2015. This year, he has barely been able to stay on the field, due to a series of nagging injuries and the emergence of upstart David Johnson. Chris has suddenly become an afterthought, with only 95 yards rushing through four games. At 31 years old, the man fell quickly from CJ2K to CJ 2.8 YPC.
2. Antonio Gates
Tony Gonzalez, Antonio Gates, Julius Thomas, and Jimmy Graham pioneered the power-forward-to-tight-end revolution that took the NFL by storm in recent years. In 2003, Gates showed up at a San Diego workout, without ever playing one snap of college football. Still, the Chargers were impressed by how his basketball skills translated into boxing defenders out in space to come up with the football. They offered him a contract on this potential. As a rookie, Gates hauled in 24 catches for 389 yards and two touchdowns, primarily as a backup.
By his sophomore season, Gates earned the starting job and notched 81 catches for 964 yards and 13 touchdowns. As a matchup nightmare, he was too fast for linebackers to keep up with in space, and too big for defensive backs to grapple with. To mix things up, the Chargers would motion Gates out wide of the formation for fade routes against overmatched cornerbacks. He made eight consecutive Pro Bowls between 2004 and 2011, while emerging as the preferred security blanket for both Drew Brees and Philip Rivers.
In all, Gates has came up with 850 receptions for 10,679 yards and 105 touchdowns over the course of 14 seasons, which are staggering statistics only matched and exceeded by the great Gonzalez. Gates is now 36 years old and hampered by a hamstring injury that has kept him out of much of this year's action. For the year, he has latched on to a mere six receptions for 35 yards. Father Time always wins.
1. Darrelle Revis
For years, Darrelle Revis wore the crown as the best cornerback in the NFL. As a Jet, in his prime, all comers disappeared on Revis Island, buried beneath physical bumps at the line of scrimmage, raw close-out speed, and textbook knowledge of various offensive playbooks and routes. Revis was also a willing tackler who would come up with stops on toss plays, sweeps, and screens. To mix things up, he would also blitz off the slot to drop the QB. In 2009, Revis had six interceptions and one return touchdown; few athletes challenged his side of the field. That season, the Jets defense ranked first, in terms of passing yards given up.
Like Deion Sanders before him, Revis did become something of a hired gun; he signed mega deals with Tampa Bay and New England, and then returned to the Jets between 2013 and 2015. As a Patriot, he won one Super Bowl ring as the ultimate wild card within Bill Belichick schemes. Revis showed signs of slowing down last year, when DeAndre Hopkins came up with five receptions for 118 yards and two touchdowns. For this, he got an earful out of Brandon Marshall, which resulted in punches being thrown in practice. Still, Revis closed out 2015 with five picks and earned his seventh trip to the Pro Bowl.
This year, the 31-year-old has gotten torched repeatedly in pass coverage. In Week 1, A.J. Green hauled in 12 receptions for 180 yards and one touchdown. The following week, in Buffalo, speedster Marquise Goodwin ran right past Revis for an 88-yard touchdown pass. Revis, like Rod Woodson and Charles Woodson before him, may eventually slide over to safety to prolong his NFL career. If not, this future Hall-of-Famer will get "Mossed" with no lifeboat in sight to his own deserted Revis Island.
Statistics courtesy of ESPN and Pro-Football-Reference.