6 NFL Players who Might be Demoted for Rookies in 2019
One unfortunate aspect in the careers of NFL players that we don't often think about is that with every new player who comes into the league, another one loses his job. While players like Marshawn Lynch get to retire before their job is taken, far more players survive on a year-to-year basis. For some, it signals the end when a young player takes their job; they are older shells of once great players. For others, it is not so much a swan song as it is a demotion; they ride the bench for the foreseeable future.

This year is no different, as many players who have previously held safe jobs, made waves, or even reached superstar levels will be demoted just like many others. They are former stars, reliable position players, and aging veterans. Some have been a long time coming, while others may be surprised when the day finally comes. Professional sports is an unforgiving space with a finite number of spots for just a handful of people every single year. These veteran NFL players could soon be out of the league or coming off the bench as promising rookies take their jobs.

Alex Smith, Washington Redskins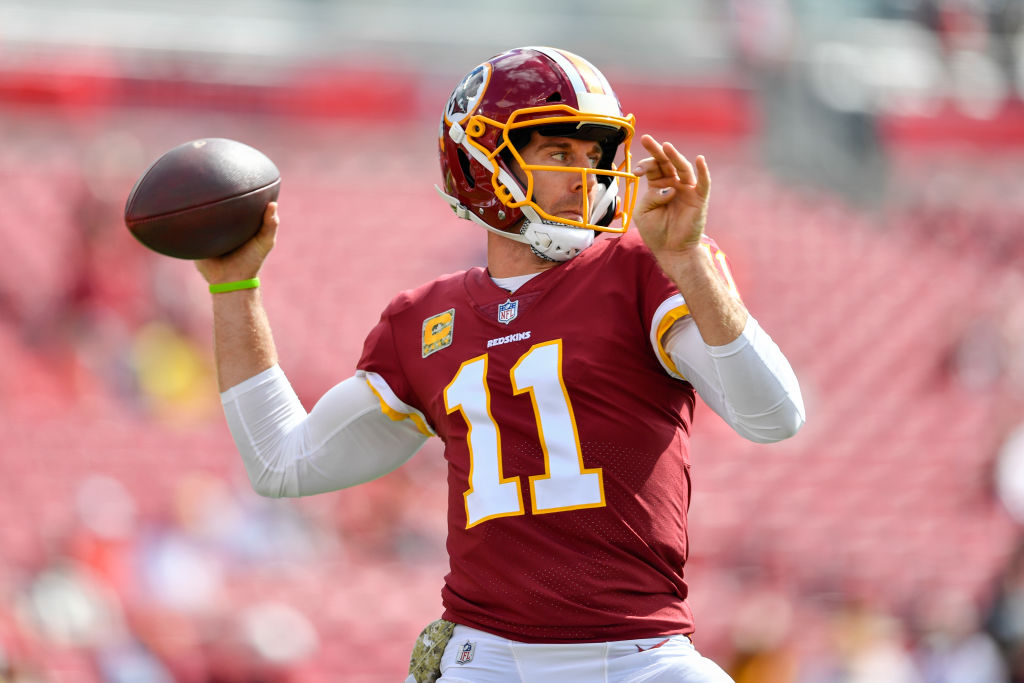 Alex Smith is no stranger to losing his job for younger talents. He was, after all, shipped out of San Francisco after Colin Kaepernick's breakout season which ended with a loss at the Super Bowl. Smith is older now, and his devastating injury in 2018  is a legitimate concern for both him and the Washington Redskins. With rookie quarterback Dwayne Haskins, who was a first-round pick in the 2019 NFL draft, Smith could be seeing things from the sideline again.
It's not just Smith who needs to be looking over his shoulder. Haskins could unseat three veteran NFL players to take the starting role since the other two quarterbacks on the roster are the underwhelming Colt McCoy and Case Keenum.
Solomon Thomas, San Francisco 49ers
While many of the NFL players on our list are older and slowing down, Thomas is only a third-year player. These other guys might be fighting for their careers, but Thomas is more of a question within his team. After drafting Nick Bosa, the Niners have said that they plan on keeping Thomas in rotation, but if Bosa breaks out, Thomas could soon be either on the bench or with another team.

Brian Hoyer, New England Patriots
Being the backup for a forty-something quarterback would typically be a prime position to take over the starting spot in the near future. However, when Tom Brady is that quarterback, this position gets a little murkier. At 33, Hoyer isn't particularly young himself, so he's not really a long-term option. Plus, the Patriots used a late-round pick on quarterback Jarrett Stidham in the 2019 NFL draft (a la Tom Brady), and the team might be more inclined to give the younger QB the spare minutes that Brady doesn't play. That means a demotion or possibly a release for Hoyer.

LeSean McCoy, Buffalo Bills
Things may be looking shady for LeSean McCoy. He declined sharply with the Bills last year with his worst season since his rookie year, and at 30 years old, it may be time for Buffalo to look elsewhere. Sharp declines like McCoy's are never a great sign, and with other aging running backs nearby, the Bills could look to get younger sooner rather than later.

Frank Gore, Buffalo Bills
Another Buffalo running back in danger of being replaced by a rookie? It's hard to believe, but it's true.

Gore and LeSean McCoy side-by-side make for one of the oldest running back duos in the NFL. Because of this, the Bills may quickly look toward the future if their season doesn't start with great success. Gore is 35 years old, and while he is still effective at his position, many NFL players, especially running backs, survive that long. It is hard to see him or McCoy surviving any possibility of a youth movement in Buffalo. The only saving grace for McCoy and Gore? Buffalo didn't really address running back during the draft, so they might get the benefit of the doubt to start the season.

Kyle Rudolph, Minnesota Vikings
Despite his sizable contract, Rudolph has been struggling to live up to the expectations he set with his earlier play. On the final year of his deal, the Vikings have no reason to keep him happy if he begins to struggle this year, and with more options at tight end this year, his position is far from guaranteed. It seems Minnesota is already preparing for life without Rudolph. The Vikings drafted Alabama tight end Irv Smith Jr. in the second round of the 2019 NFL draft. With the future replacement already in the house, we wouldn't be surprised if Kyle Rudolph is one of the NFL players who get demoted for rookies.