They Do What? The Oddest Offseason Hobbies, Habits, and Jobs of NFL Players
There are nearly 1,700 NFL players on active rosters, and those players come from places as far-flung as Texas to Tonga and New York to Nigeria. So it stands to reason their offseason activities would reflect that diversity. Some NFL stars begin enterprises as the foundation of a career after football, while others look for ways to clear their head and relax in preparation of next season's grind. Here are a few of the NFL's most surprising offseason habits and secondary gigs.
Von Miller, LB, Denver Broncos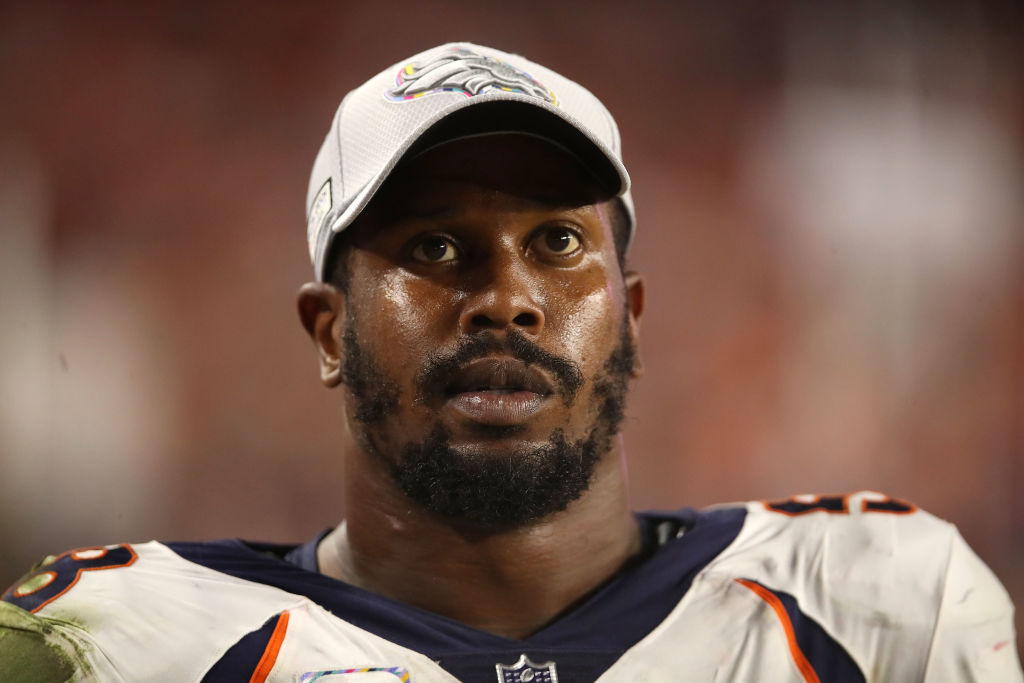 Few opposing teams would dare call this MVP-caliber pass rusher chicken, but this Texas A&M alum is eager to crow about his chicken ranch back in Texas. He recently donned an apron and served up some of his pasture-raised, certified organic, non-GMO, and Certified Humane birds to hungry festival-goers at Coachella.

Justin Tucker, K, Baltimore Ravens
Former Dallas Cowboy QB Don Meredith often said from the MNF broadcast booth, "It ain't over til the fat lady sings," in reference to the closing acts of an opera. Sports fans know about the anguish of a kicker missing that final kick. As one of the NFL's most accurate kickers, that is something perennial All-Pro Justin Tucker rarely does. What Tucker does, however, is belt out Operatic solos on a world class level which has led to invite from the Baltimore Symphony Orchestra as well as the New York Opera. As far as off-the-field hobbies go, Tucker's is one of the most unique among NFL players.

Terrell Suggs, LB, Arizona Cardinals
A former teammate of Tucker's in Baltimore, Suggs recently moved to Arizona in free agency. Possibly to be closer to Hollywood, where Suggs has a vested interest as both an experienced actor in Ballers (2015), Commitment (2010), and The League (2009), and as a producer. Suggs founded independent film company, Team Sizzle Worldwide, in 2008 and has co-written two films. The way things are going, Suggs will soon be one of the best athletes-turned-actors we've ever seen.

Andrew Luck, QB, Indianapolis Colts
An avid reader and advocate for literacy, Luck was once dubbed the NFL's unofficial librarian by the Wall Street Journal. Combining that reputation with his passion for reading, the star quarterback launched the Andrew Luck Book Club. Along with making monthly selections for both rookie readers and veterans, Luck hosts a podcast where he discusses books and interviews authors. All NFL players need to be able to read a playbook; Luck chooses to take it a step further.
Julio Jones, WR, Atlanta Falcons
When he isn't hauling in passes on Sunday, Jones is out on the water catching his second favorite thing — fish. And unlike his lone trip to the Super Bowl, it appears Julio's angling prowess has kept the big one from getting away.
Laurent Duvernay-Tardif, G, Kansas City Chiefs
The name Duvernay-Tardif is not quite as well known as the others on this list, but his offseason work is nothing to sneeze at. We've heard of NFL players visiting the doctor, but the big lineman is the NFL's first licensed MD. He spread his last year of medical school over four successful seasons protecting Chiefs' quarterbacks.
Russell Wilson, QB, Seattle Seahawks
The diminutive signal-caller might not stand as tall as some of his QB brethren, but Wilson is certainly flying high with his new, record-breaking contract which answered the question of whether he is regarded as one of the elite QBs. Wilson's passion for going above and beyond has led him to become a helicopter pilot. No doubt the view from up there is just fine.
Aaron Donald, DT, Los Angeles Rams
Not since Forrest Gump has anyone made ping pong look cool. Until Aaron Donald picked up the paddle during Hard Knocks and showed the world that he can take control of a table as well as he takes control of the line of scrimmage. But it turns out ping pong is one of Donald's passions, and he has been honing his skills for years.
NFL players are also restaurateurs, fashionistas, and cattleman, but those pursuits are probably not as far beyond expectations as the cases listed above.

The players of today will no doubt continue to amaze us on the field and surprise us during their time off. The list of varied occupations and pursuits is even more diverse for those who have hung up the cleats. So while it is easy to stereotype athletes, it is never wise to discount the many accomplishments these driven individuals can achieve.