NFL: 3 Players Who Returned to School to Finish Their Degrees
For college football players with dreams of pay dirt and the playoffs, leaving college before graduation day is the ultimate risk-reward exercise. In the most recent NFL draft, a record 107 young men gave up their remaining college eligibility to enter the draft, a gamble that fell flat for about 30 hopefuls.
While those who waved goodbye to their college gridiron years can certainly go back to class and get their diplomas, playing football is out. The majority of these hopefuls will elect to find a spot on a pro team's taxi squad or play in the Canadian Football or Arena Leagues. There is always the dream that the next call is from the GM of the Bengals, Bills, or Dolphins with a tryout invite.
Many NFL players fell short of the full academic requirements needed to receive a diploma; they land somewhere between those who leave school early and pro athletes with four-year degrees. In many cases, these aforementioned athletes are only a handful of credits short of graduating, but decide their dreams of playing in the Super Bowl are far more important than a date with a cap and gown.
1. Ben Roethlisberger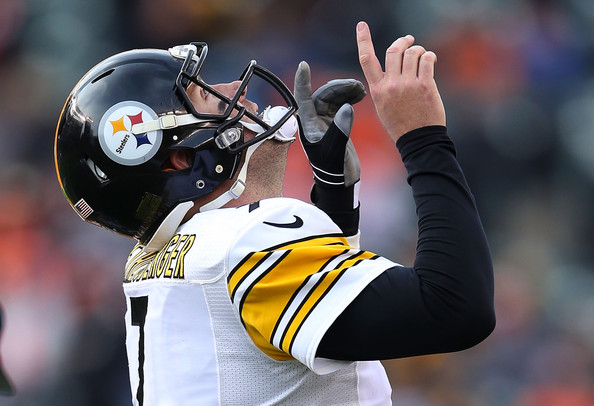 The good news is that at some point, some athletes decide there's more to life than fame and fortune, and they decide to finish school. The decision is often personal but it can be a good PR move as well. Take Ben Roethlisberger, for example.
Looking to repair his image after some lapses in off-field judgement, Roethlisberger completed his coursework at Miami (Ohio) University in 2012, and received his degree in education. It was part of a campaign for the Steelers quarterback who wanted (or was coaxed) to prove that he was more than a football player with a great arm and lousy character.
Roethlisberger, a native of Lima, Ohio, was in a serious motorcycle accident in 2006. Then, in 2008 and 2010, he faced sexual assault charges. For the latter issues, Ben received as six-game suspension from the NFL.
In addition to attaining his college degree, the future Hall of Famer got married in 2011 and started a foundation to raise money for K9 training for police and fire departments. Kudos to his agent and inner circle of spin doctors.
2. Troy Polamalu
Big Ben is not the only Steeler to return to college for his diploma. Another future Hall of Famer, Troy Polamalu, a USC standout, finished his coursework in 2011 and walked with more than 1,000 fellow Trojans.
Drafted in 2003, Polamalu was anxious to enter the pros and show off his skills, which made him one of the top defensive backs in NFL history, as well as the owner of some of the coolest hair in the league. At the time of the graduation, Troy wrote this on his blog:
The majority of top picks in the NFL get drafted before they complete their college education. I truly love football and it's such an immense blessing and privilege as an athlete to be given the rare opportunity to use those talents at the highest professional level, but it's certainly not a replacement for an education.

So I decided to finish what I started and walked that stage today not only because it was very important to me personally, but because I want to emphasize the importance of education, and that nothing should supersede it.
The strong safety, a native of Garden Grove, Calif., retired after the 2015 season. He will be eligible for Canton enshrinement five years after he turned in his playbook.
3. Bo Jackson
In 1990, at the height of his two-sport career, Bo Jackson returned to Auburn to finish coursework for his college degree. With more than 20 credits left, the All-Star football and baseball player did not just shoot for a Mickey Mouse degree; his aim was to receive his diploma from the Department of Family and Child Development, a program that focuses on individual development and human relationships.
When Jackson returned to school, the press asked him what advice he would give others who gave up on finishing their college degrees. Here is what the Heisman trophy-winner said:
I would encourage them to go back to school to try to finish up because the money that you make out there isn't going to last a lifetime. It's going to be gone at some point. And you can't get rid of a degree. It's something you will always have. Something you will always cherish. And it's something that, once you get out of the sports world, which will sometime, they have to do something to provide for themselves and their families.
Jackson finished his degree in 1995. One of Jackson's goals was to be able to work with his wife, Linda, a clinical psychologist.
Statistics courtesy of ESPN.com and Pro-Football-Reference.com.