O.J. Simpson and 4 Other NFL Players Who Had Serious Problems With the Law
Michael Vick. JaMarcus Russell. Johnny Manziel. Ryan Leaf. Rae Carruth. Aaron Hernandez. What do they all have in common? They were all NFL players who ruined their careers in one way or another. Manziel partied too much. Russell and Leaf didn't work hard enough, which sent them off track, but the other players mentioned above had serious legal issues. And we didn't even discuss O.J. Simpson, whose low-speed white Ford Bronco chase, murder trial, and botched burglary in Las Vegas all came after his playing days.

Michael Vick is one of the most hated NFL players of all time because of his guilty plea in a federal court in association with a vicious dog-fighting ring. For now, let's look at four other NFL players who sabotaged their careers with troubling legal issues. There's no excusing Vick's crimes, but we're not including him on this list because he resurrected his career after serving his time.

Rae Carruth murder charges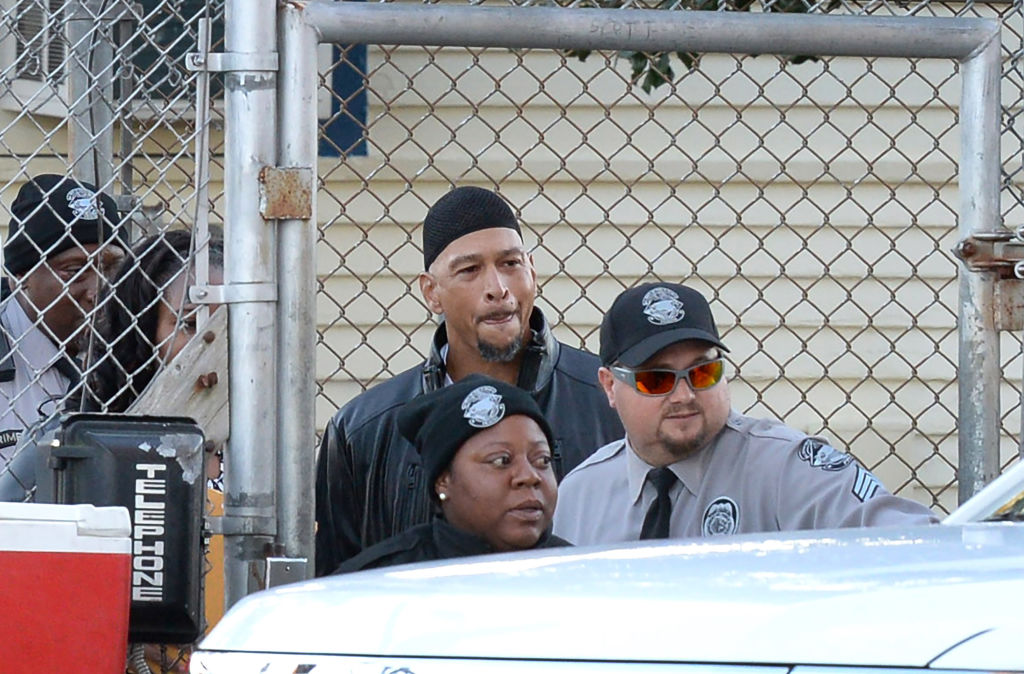 After serving 18 years and 11 months in a conspiracy that led to the death of his pregnant ex-girlfriend, former Carolina Panther Rae Carruth was released from the Sampson Correctional Institution in North Carolina in 2018.

A third-year receiver at the time, Carruth paid $6,000 for a gunman to shoot Cherica Adams to prevent her from giving birth to his son. The FBI tracked down Carruth and found him hiding inside the trunk of a car at a Best Western hotel in Tennessee in November of 1999.

Although Adams died as a result of her injuries, Carruth's son unexpectedly survived the ordeal, but he has cerebral palsy and permanent brain damage as a result.
Sam Hurd, aspiring drug kingpin
While playing for the Chicago Bears in 2011, wide receiver Sam Hurd got wrapped up in a drug distribution scheme ending a potentially bright future for this player.

Facing a minimum of ten years and a maximum sentence of life behind bars, Hurd pled guilty in a Dallas courtroom in 2013 on one count of attempting to buy and distribute large amounts of cocaine and marijuana. Hurd received a 15-year sentence from U.S. District Judge Jorge Solis, which was far less than the recommended 27 to 34 years according to federal sentencing guidelines. The judge noted the case against Hurd centered on "a lot of agreements" to buy and sell the drugs rather than their actual sales and distribution.

Needless to say, Hurd is likely never to play football again, which makes him one of the NFL players whose legal problems destroyed their careers.

Cierre Wood faces charges
Cierre Wood isn't a household name, but he is among the NFL players who ran afoul of the law. The former Notre Dame running back is currently facing first-degree child abuse or neglect charges associated with the death of his girlfriend's daughter.

Amy Taylor, the 28-year old mother of a five-year-old who died at a hospital in Las Vegas, is also under arrest and facing similar charges of abuse and neglect. While details are still blurry pending autopsy results, it was enough to warrant attention from the police and prompt authorities to investigate suspicious circumstances surrounding the child's death. It's a disturbing situation, and no matter the outcome Wood likely won't be adding to the five carries in seven games he mustered from 2013-15.

Aaron Hernandez murder charges
As far as NFL players completely ruining their own careers, Aaron Hernandez's fall from grace is one of the worst. Even before he entered the NFL, the former New England Patriots tight end had a long history of violence and run-ins with the law dating back to his time at the University of Florida.

In just his third season in the league in 2012, it all came to a screeching halt when he was arrested and charged with committing first-degree murder (among other charges) for his role in the shooting death of Odin Lloyd, who was once a personal friend of Hernandez's. The jury found him guilty of first-degree murder. While in prions, he faced additional legal issues involving a double murder.
Tragically, prison officials found Hernandez dead in his cell despite his acquittal concerning the double homicide. The NFL community took to Twitter and other media platforms to express their sympathies.