8 NFL Players Who Might Be Traded Before the 2019 Season Starts
There's still a few months to go before training camps begin, which means the 32 NFL teams are far from finalizing their rosters for 2019. There will still be some player movement, especially with the draft ahead of us. There are also likely going to be more trades made this offseason. Here's a look at several NFL players who could change teams before the 2019 season starts.

LeSean McCoy, RB, Buffalo Bills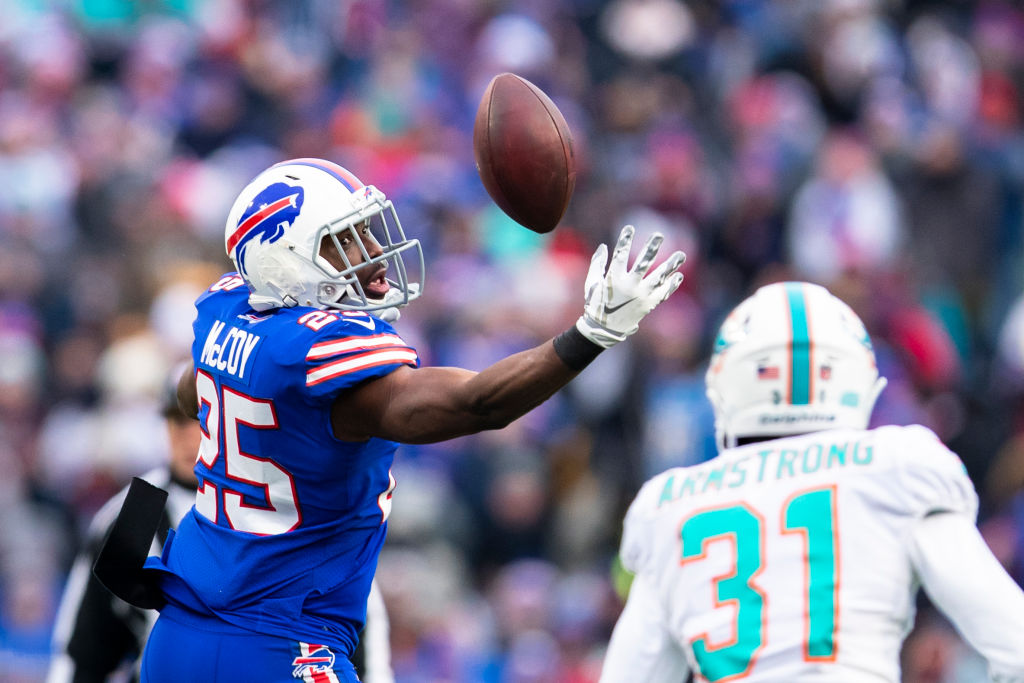 The Bills have a roster full of veteran running backs, with returning Chris Ivory and free agent signing Frank Gore on the depth chart. Where does that leave presumptive starter LeSean McCoy? Possibly on the trading block. He's not a three-down back anymore, and he's slated to count for $9.1 million toward the cap so he could be wearing a different uniform this falls — potentially headed back to his former team, the Eagles.

A.J. Green, WR, Cincinnati Bengals
The Bengals are in rebuilding mode and don't look like they're going to win more than a handful of games in 2019. With that in mind, they may be willing to part ways with veteran WR A.J. Green, who likely has some value on the trade market. If the Bengals deal the 30-year-old pass-catcher, they could get a return similar to what the Steelers received for Antonio Brown. Draft picks are more important to a rebuilding squad than a veteran player who will be past his prime by the time the team is likely going to be competitive for a playoff spot.

Jalen Ramsey, CB, Jacksonville Jaguars
The Jaguars invested heavily in QB Nick Foles this offseason, but they lack reliable pass-catchers around him. After giving Foles that contract, Jacksonville needs to add to the offense to provide him some help on that side of the ball. When a team wants to add to the offense, the best way to do that is to trade away defensive players. For the Jaguars, Jalen Ramsey could be a good trade piece. He is coming off a three-interception season and has a big personality, which doesn't always sit well with team president Tom Coughlin, but he is one of the best cover corners in the game.

Gerald McCoy, DT, Tampa Bay Buccaneers
The Buccaneers aren't expected to be competitive this season, so they're another team that could benefit from trading a veteran for a draft pick or two. Gerald McCoy costs $13 million toward the cap this season and, at 31 years old, he is on the backside of his career. But his six sacks in 2018 indicate that he could still benefit a team that trades for him. If the Buccaneers are looking to go into full-on rebuild mode, McCoy may be one of the NFL players on the move before the 2019 season starts.

Nelson Agholor, WR, Philadelphia Eagles
The Eagles traded for WR DeSean Jackson in March, making him their second best receiver behind Alshon Jeffery. That may make Nelson Agholor expendable. The Eagles could keep him and use him out of the slot, but he is going to make more than $9 million this season, which is a lot of money to pay a slot receiver of Agholor's skill level. But he's still just 25 years old, so another team may be interested in acquiring him and giving him a bigger role in their offense than the Eagles will be able to give him.

Janoris Jenkins, CB, New York Giants
The Giants could be one of the worst teams in the league this season after trading star WR Odell Beckham to the Browns and letting S Landon Collins walk in free agency. Again, getting draft picks is key to getting back into a competitive situation during a rebuild. At 30, Jenkins is still a capable starter at the cornerback position who another team may be willing to give up a pick to acquire. It doesn't make a ton of sense for the Giants to keep him, which is why he is likely to be one of the NFL players wearing a new uniform in 2019.

Xavien Howard, CB, Miami Dolphins
Xavien Howard had a breakout season last year, recording 35 tackles and a league-high seven interceptions. Coming off a Pro Bowl season and just 25 years old, Howard would improve the defense of most of the teams in the league. So this is another case of a rebuilding team looking to add to their stash of draft picks to help improve the roster as quickly as possible.

Duke Johnson, RB, Cleveland Browns
Duke Johnson has reportedly asked the Browns to trade him because he doesn't appear to be in line for a big workload this season — especially in the second half of the season, when RB Kareem Hunt, who the Browns signed in free agency, returns from his eight-game suspension.

Even without Hunt on the roster, Johnson will take a backseat to starting RB Nick Chubb. Johnson is a 25-year-old pass-catching threat out of the backfield who could improve some running back depth charts. The Browns are listening to offers and have heard from the Jets, Texans, and Eagles about possibly acquiring Johnson. We won't be shocked if Johnson is among the NFL players suiting up for a new team this season.