NFL Playoffs: 3 Quarterbacks With the Most to Prove
The NFL playoffs are where men, quarterbacks, and legends are made. At the top of the order, the "greatest quarterback of all time" debate largely revolves around Tom Brady, Joe Montana, and the number of Super Bowl rings that each signal caller owns. At a slight cut beneath the GOATs, both Eli Manning and Joe Namath are noted legends in their own rights, after bringing home a total of three Super Bowls to the Big Apple, despite average, if not poor, regular season statistics and winning percentages. Postseason success can make or break a career.
In today's game, Tom Brady has already established himself as the leading man, while a newfound love affair with Cam Newton will continue with a likely league MVP award. From here, in the postseason, two quarterbacks will battle to further separate their careers from the dreaded "game manager" label, and one living legend is out to prove he still has something left in the tank.
3. Alex Smith
In 2005, the San Francisco 49ers made the somewhat curious decision to take Alex Smith as the first overall pick in the draft, with homegrown quarterback Aaron Rodgers waiting to be picked up out of Cal. This move set off a dramatic chain of events, with Rodgers falling to 24th in the draft, where he was taken by Green Bay. As young quarterbacks, Smith took sacks and throwing picks, while Rodgers rode the pine and carried a clipboard behind Brett Favre for three years. With time, the latter QB grew into one of the best pure passers in the game and a Super Bowl champion, while Smith was often dismissed as a game manager and system quarterback.
In 2012, a rapidly improving Smith had his 49ers at 6-2-1 before being knocked out of the St. Louis Rams game with a concussion. At that time, Smith was having his best season yet, completing 70% of his passes for 1,737 yards and 13 touchdowns, before Colin Kaepernick took over. From there, Jim Harbaugh and the 49ers ultimately handed the keys to the franchise over to Kaepernick, and dealt Smith to Kansas City in 2013 for two second-round picks.
In Kansas City, Smith, Andy Reid, and the West Coast offense all found new leases on life. In 2013, Smith made his first Pro Bowl, after throwing for 3,313 yards and 23 touchdowns. In 2015, the deceptively fast Smith picked up 498 yards on the ground while completing 65% of his passes for 3,486 yards and 20 touchdowns through the air. The white-hot Chiefs have now ripped off 10 straight wins after coming off a wild-card beatdown on the road in Houston, 30-0.
Smith is now poised for a showdown against Brady, former sixth-round pick, in Foxborough, Massachusetts. Ironically, Brady was also written off as a "game manager" when he came on for first overall pick, Drew Bledsoe, way back in 2001. With a win, Smith may finally earn respect as a leader and franchise quarterback. With a loss, he will rank as a solid but unspectacular starter, alongside the likes of Andy Dalton and Matthew Stafford.
2. Russell Wilson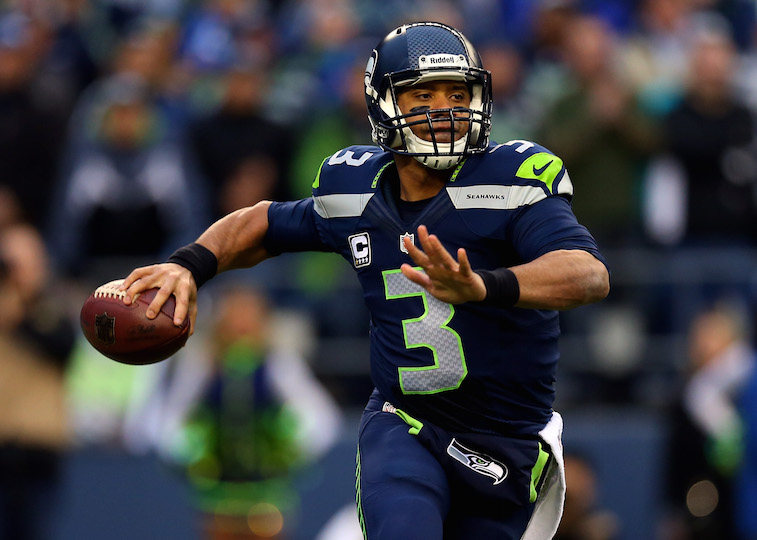 Last season, in Super Bowl XLIX, the Seahawks were on the march and at the one-yard line, when offensive coordinator Darrell Bevell signaled in a quick slant. At the snap of the football, Russell Wilson took his three-step drop and fired a bullet at the direction of wide receiver Ricardo Lockette. Instead of hitting Lockette, Malcolm Butler jumped the route, and picked off the pass in the end zone. Moments later, Brady ran the victory formation to close out the 28-24 game and his fourth Super Bowl title.
The Seahawks traded for Jimmy Graham and the remainder of his four-year, $40 million contract this past offseason, intending to add another dimension to a shotgun spread attack that already featured Russell Wilson in Marshawn Lynch. Graham, for his part, hauled in 48 receptions for 605 yards through 11 games before going down with a season-ending knee injury. Meanwhile, workhorse back Lynch has been in and out of the lineup all year with a nagging sports hernia. Last week, Lynch did not even make the trip to Minnesota for Seattle's wild-card win.
Russell Wilson, without the benefits of his primary weapons, has been tasked with carrying the load for the Seattle offense for several weeks. He answered the call, going over the top for 4,024 yards, 34 touchdowns, and a career-high passer rating at 110. In Week 16, Wilson went for an efficient 68% passing and three touchdowns in a 36-6 road blowout over NFC West rival, Arizona, for yet another signature win.
This late-season surge has worked to set up a Divisional Playoff showdown between Wilson and Newton in Carolina. Wilson, despite his championship hardware, is now the forgotten man beside Newton, who has ran, thrown, danced, and dabbed his way to a 15-1 regular season record. In 2012, Wilson fell to the third round in the draft, after the likes of Robert Griffin III and Brandon Weeden were taken off the board. Certainly, Wilson is now out for payback and can join the ranks of the elite in leading this depleted roster through another deep postseason run.
1. Peyton Manning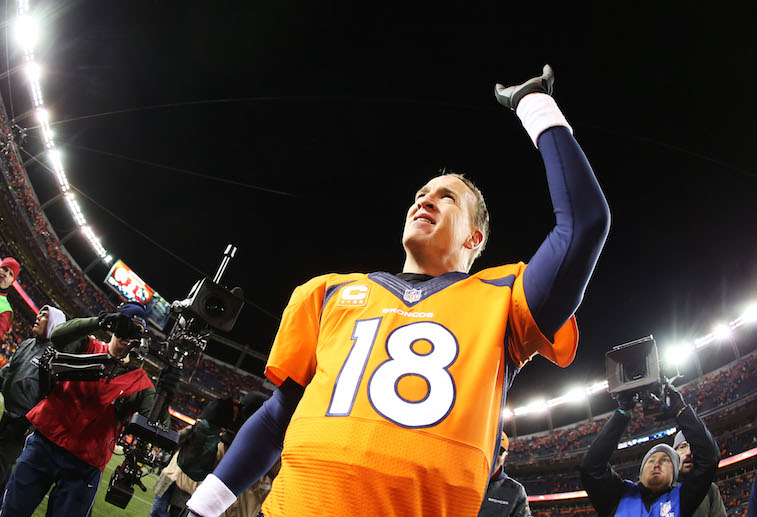 Peyton Manning and the Denver Broncos appear to be reinventing themselves on the fly and in short order. The Broncos were in Super Bowl XLVIII as recently as 2013, after going 13-3 through the regular season. That season, Peyton was at his best, airing out the football for a league-leading 5,477 yards and a record 55 touchdown passes. As recently as last season, Peyton completed 66% of his passes for 4,727 yards and 39 touchdowns before taking a home loss to Andrew Luck and the Indianapolis Colts in the Divisional Playoffs.
In response, John Elway and the Broncos brought in former backup quarterback Gary Kubiak, who pledged support for the aging QB in the form of a ground-and-pound attack and stout defense. For once in his career, Peyton was tasked with handing off the football, limiting his mistakes, and managing the game. The Kubiak system had mixed results, with Peyton going 7-2 as the starter despite giving up 17 interceptions. At times, he's looked his 39 years of age, taking brutal hits behind the line of scrimmage and floating ducks into the secondary.
Enter Brock Osweiler, who apparently took command of the franchise, with Peyton being waylaid in the training room and fielding interrogations over HGH. Osweiler, for his part, went 5-2, and rapidly improved with every passing week. Still, Kubiak returned to Peyton to close out a Week 16 win over the lowly San Diego Chargers. From there, Kubiak reinstalled Peyton as the playoff starter.
With these 2016 NFL Playoffs, Peyton must prove that Kubiak made the right choice in going back to this graybeard. In the grander scheme of things, No. 18 has one last shot to prove his mettle as a real gamer, instead of a natural passer who simply racks up staggering regular season statistics only to self-destruct in primetime playoff football. Certainly, Broncos fans are hopeful that Peyton can go out as a winner, instead of a stubborn old man who simply held on too long, until the game had long since passed him by.
Statistics courtesy of Pro-Football-Reference.com.