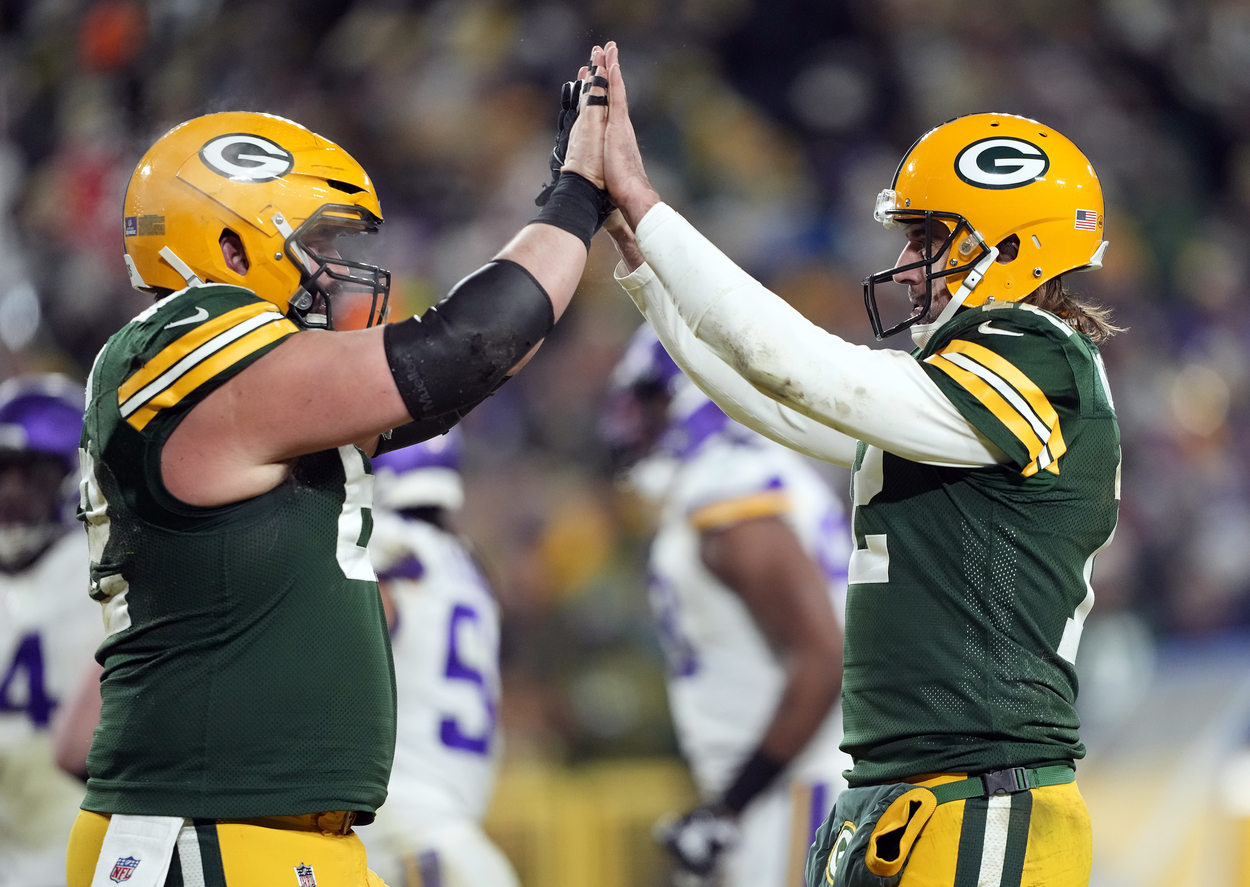 NFL Playoffs: Ranking the Biggest Threats to Aaron Rodgers and the Packers' Super Bowl 56 Chances
Aaron Rodgers and the Green Bay Packers can win Super Bowl 56 if, and only if, they avoid or work through these potential threats.
After months of drama and retirement rumors, Green Bay Packers quarterback Aaron Rodgers began the 2021 season with two interceptions in a 35-point loss to the New Orleans Saints. At least for one afternoon, the three-time NFL MVP looked human and, dare we say it, old.
Well, that shows what we know. Rodgers threw two total interceptions in his next 14 games, and the Packers earned the NFC's No. 1 seed with a 13-4 record. The drama never went away, especially after the three-time NFL MVP tested positive for COVID-19 in November and used his platform on Pat McAfee's show to spread misinformation, but all went fine on the field.
Now, the Packers can fully focus on trying to win their first Super Bowl in 11 seasons. Now feels like the perfect time to rank the biggest threats to Rodgers' chances of finally holding the Lombardi Trophy again.
For this list, we tried focusing only on tangible and specific outcomes. Although COVID-19 outbreaks or suspensions are obviously possible, those are far more generic than, say, a particular matchup or road game. We also limited ourselves to applying the COVID/injury hypothetical to only one player.
Based on consideration of the aforementioned prerequisites, the Packers' most significant Super Bowl threats rank as follows:
4. The Deebo Samuel show
In case you've been out of the loop, San Francisco 49ers receiver Deebo Samuel is, shall we say, dangerous. The third-year wideout totaled 77 catches, 1,405 yards, and six touchdowns in 16 games this season. The first-team All-Pro selection also rushed for 365 yards and eight touchdowns on 6.2 yards per carry.
Although Samuel only had three catches for 38 yards in the 49ers' Wild Card Round victory over the Dallas Cowboys, he rushed for 72 yards and a touchdown. Dan Quinn's defense didn't complete the job, and the South Carolina product took full advantage in San Francisco's 23-17 win.
With respect to 49ers quarterback Jimmy Garoppolo and pass-rusher Nick Bosa, Samuel represents the team's biggest hope of taking down the Packers in the Divisional Round.
3. Putting too much faith in Jaire Alexander and the recovering Packers
Although the Tennessee Titans' Mike Vrabel and Cincinnati Bengals' Zac Taylor are front-runners for NFL Coach of the Year, Packers head coach Matt LaFleur is perhaps most deserving of the honor. Not only did he keep his team afloat amid Rodgers' constant drama, but he won a third straight NFC North title while lacking All-Pro left tackle David Bakhtiari, pass-rusher Za'Darius Smith (back), and cornerback Jaire Alexander (shoulder) throughout the season.
Although the Packers made it this far without them, they won't be facing the lackluster Chicago Bears and Minnesota Vikings in the postseason. Green Bay cannot rely too heavily on any of those three and risk exposing them to setbacks, especially in the case of Smith, who hasn't played since Week 1.
2. Matt LaFleur trying to play things too safely
Sorry, Packers fans, but it's time to bring up that field goal again. LaFleur elected to kick a field goal from the Tampa Bay Buccaneers' 8-yard line while trailing by eight with just over two minutes left in the 2020 NFC Championship Game. Tampa Bay held on and won, 31-26.
LaFleur defended the call at the time and said a different discussion would have occurred if the Packers faced 4th-and-goal from the Buccaneers' 5-yard line. We'll see how aggressive the third-year head coach approaches certain situations this postseason, especially if a game is close in the final minutes.
1. Aaron Rodgers testing positive for COVID-19 once again
When Rodgers tested positive in November, he entered a 90-day window where he wouldn't need to test again. That window expires the week before the Super Bowl, meaning he theoretically could test positive and miss the Big Game.
Very few teams can win a Super Bowl with their backup quarterback, and the 2021 Packers are likely not among them. Jordan Love didn't look impressive in his 131 offensive snaps this season, and the idea of him facing the Buffalo Bills' secondary or the Bengals' pass-rush isn't an exciting prospect for Packers fans.
As we all expected, the Packers' Super Bowl hopes come down to Rodgers' health, which definitely means Love is destined to win Super Bowl MVP.
Like Sportscasting on Facebook. Follow us on Twitter @sportscasting19.