NFL Playoffs: Teams Most Likely to Win AFC Wild Card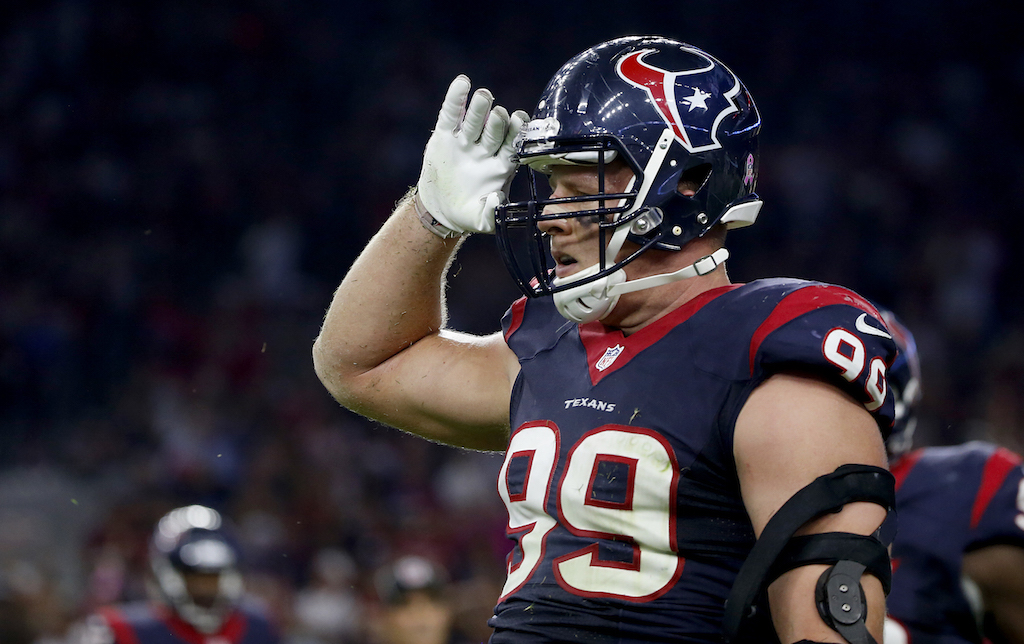 In the AFC, only one thing is clear: The three best teams are easy to identify. The Cincinnati Bengals, Denver Broncos, and New England Patriots have created a wide gap between themselves and the rest of the conference. All three teams own 10-2 records heading into the final four-game stretch of the regular season, which is a record that's three games better than the next best team in the conference. While that creates a bit of an imbalance of power, it also creates what should be a mad dash to see who receives the other three playoff spots in the AFC.
For those three spots — one will belong to the AFC South champion — six teams are legitimate contenders (within one game of a wild card spot). All of these squads have strong characteristics that could fuel a surge down the stretch, yet they all have inconsistencies that could cost them greatly. With that, we break down each team and rate their playoff odds based on remaining schedules and current momentum.
Houston Texans
Houston is currently tied with the Indianapolis Colts atop the AFC South, so you could make a case for the Texans as division champs. Even if they are beat out in that race, they would still have a shot at a wild card berth, as their record of 6-6 puts them one game out in that race. Houston's defense carries this team, with J.J. Watt chasing another 20-sack season (he currently leads the NFL with 13.5 sacks).
While their defense is solid, the Texans offense leaves much to be desired. DeAndre Hopkins can be an explosive receiver, but quarterback Brian Hoyer limits the unit's potential. With a huge loss to fellow playoff contender Buffalo in Week 13 and tough games against the Patriots and the division rival Colts on the horizon, we think 8-8 is the outlook for Houston, which won't be enough to get them into the postseason.
Playoff likelihood: 20%
New York Jets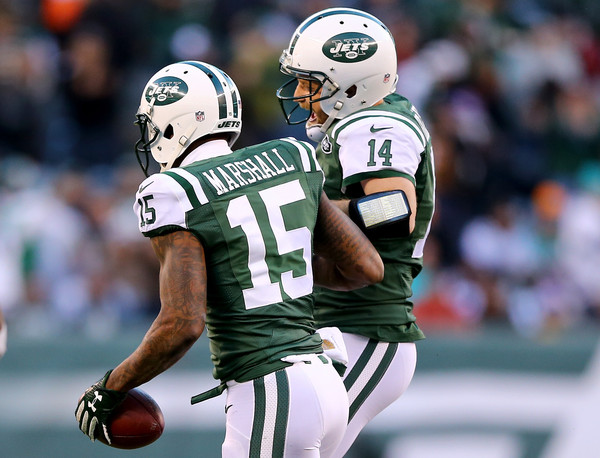 Right now, things are looking pretty good for the New York Jets. They just beat the rival Giants in Week 13, they are currently 7-5 following last year's dreadful campaign, and if the season ended today, they would actually be in the playoff as a wild card team. At QB, Ryan Fitzpatrick is as good as you can ask for concerning their offense. Brandon Marshall proves to be a great addition at receiver, and Chris Ivory is running it well out of the backfield.
Of course, the Jets' defense is doing well, ranking fifth in total yards allowed. Sounds like a playoff team, doesn't it? Well, with a schedule that pits them against the Patriots and the Bills (on the road) to end the season, we think 9-7 is what New York will end up with, which leaves them just short of a postseason berth.
Playoff likelihood: 35%
Buffalo Bills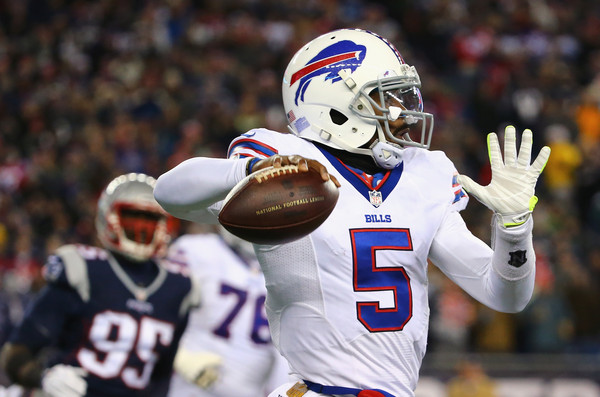 The Bills have all the potential in the world. With talented players like Sammy Watkins, LeSean McCoy, and the emerging Tyrod Taylor on offense, this team should have a better record than just 6-6. Throw in their talented defense, and this team should be contending for the AFC East title. Instead, it's been an inconsistent rollercoaster ride of a season in Buffalo, leaving the team in need of a perfect finish to make the playoffs.
They are coming off a strong win over Houston in Week 13, which could be a sign that they are ready to make that run. They do play three games against the NFC East before finishing up the year against the New York Jets, which isn't the most difficult of four-game stretches in the NFL. Yet, we think the Bills will slip up against one of those NFC East squads, receiving the crucial blow that they can ill afford at this point. Buffalo should fall just short of the postseason for a 16th consecutive season.
Playoff likelihood: 40%
3. Indianapolis Colts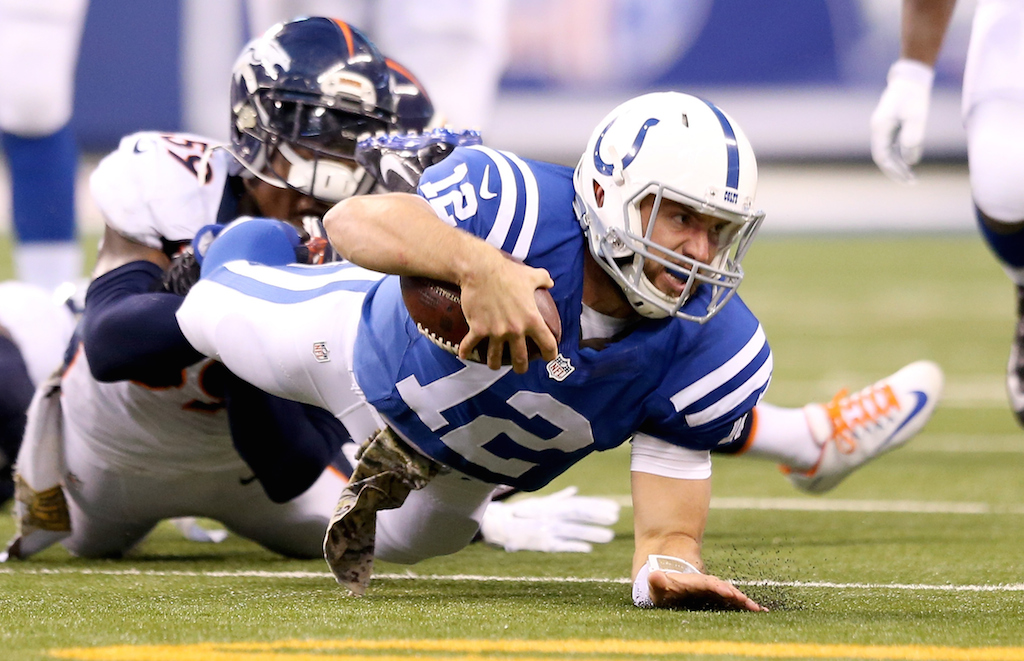 Yes, we pick the Indianapolis Colts to qualify for the postseason as AFC South champions. It's really more by default than anything. Sure, Houston will give them a run for their money when they play each other in a couple of weeks. We still think that Indianapolis is just slightly better than the Texans at this point. Plus, the Colts should have Andrew Luck back in the mix by the time that game rolls around, which helps greatly.
In reality, a 4-0 finish isn't out of the question for the Colts, as they play the Jaguars, Titans, and Dolphins in their other three remaining games. However, with the season they've had, expecting them to win out is likely a stretch. Still, even if they finish 8-8 with a tie-breaking win over Houston, it'll be enough. We think this will happen at the very least, sending the Colts back to the playoffs.
Playoff likelihood: 45%
2. Pittsburgh Steelers
With one of the most (if not the most) talented offensive units in the league, it would be a shock to the NFL world if Pittsburgh wasn't in the postseason. Ben Roethlisberger has played some of the best football of his career this season, throwing to Martavis Bryant, Markus Wheaton, and (of course) Antonio Brown. DeAngelo Williams is also a bright spot, playing in place of the injured Le'Veon Bell. Even with a fairly difficult schedule down the stretch, where they will face the Bengals and Broncos, we think Pittsburgh will finish 3-1 to get their record to 10-6, which should be enough to earn one of those wild card spots.
Playoff likelihood: 70%
1. Kansas City Chiefs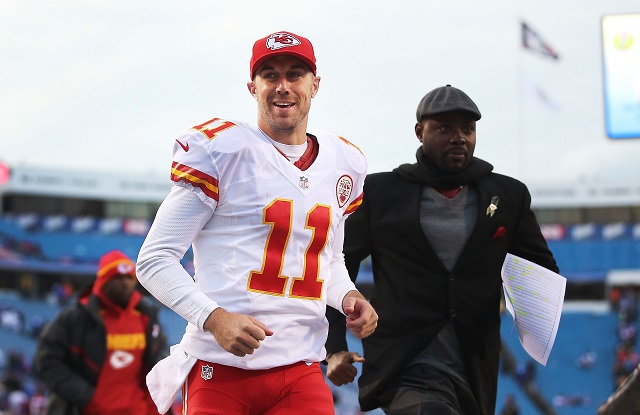 What a turnaround it's been for Kansas City. After starting 1-5, the team rebounded to win its last six ballgames, putting themselves in a prime position to make the playoffs. They've been excellent at taking care of the ball during that stretch and, at the same time, have been great at generating turnovers. Alex Smith is efficient (for lack of a better word) and Jeremy Maclin is a solid addition, helping to make up for the loss of Jamaal Charles earlier this year. With a favorable schedule down the stretch, we think the Chiefs have the best odds out of all the wild card contenders to make the playoffs — and they will be a threat if they get there, too.
Playoff likelihood: 82%
All statistics courtesy of ESPN.go.com and Pro-Football Reference.com.