NFL
2016 NFL Power Rankings: Week 1 Edition
It's the second week in September, which means one thing: Football is finally back. After a wild offseason in the National Football League, which included some heavy spending during free agency, a made-for-primetime NFL draft, a notable suspension being reinstated, and a preseason that was full of several highly intriguing storylines, it's time to play the games that actually matter. All 32 teams around the league will trim their rosters down to 53 players over the next couple of days, but we already have a pretty good idea as to which teams will be the strongest in 2016. Here are our power rankings heading into Week 1.
32. Cleveland Browns
The reality of the situation in Cleveland is that the Browns have holes all over their roster — despite having 14 picks in the 2016 NFL Draft — and they are still a long way from being competitive in the AFC North. Quarterback Robert Griffin III showed signs of improvement during the preseason, but we still expect to see things get worse before they get better for the Browns in 2016.
31. San Francisco 49ers
When you truly think about it, it's shocking how far the 49ers fell over the last two seasons. In case you missed it, they went from being one of the premier franchises in the league with one of the best head coaches in the business (Jim Harbaugh) on their sidelines, to being arguably the worst team in the NFL with one of the most controversial coaches (Chip Kelly) in the game running the show. Now they are dealing with a quarterback who can't seem to keep his name out of the headlines for non-football reasons. Needless to say, it will be several years before we see the Niners competing for another Super Bowl title.
30. Chicago Bears
The Bears are a popular pick among NFL experts to turn things around in 2016, but we just don't see it. Their defense is still ill-equipped to stop a playoff-caliber offense, and it's hard to expect a step back from quarterback Jay Cutler now that Adam Gase is the head coach of the Miami Dolphins. Even if Cutler is at the top of his game, Chicago has one of the worst offensive lines in the league protecting him. Expect 2016 to be a long year for the Bears.
29. Detroit Lions
Losing a future Hall of Famer in Calvin Johnson to retirement stings, but that is far from the Lions' only issue going forward. Quarterback Matthew Stafford's career is at a proverbial crossroads; their offensive line play left something to be desired during the preseason; and their defense, which took a major step backward last year, gave up 30 or more points in all four of their preseason games. This team is capable of surprising some people, but we just don't see it happening.
28. Tennessee Titans
The Titans have done well for themselves in the past two drafts, but still aren't quite ready to contend in the AFC South. On the bright side, their commitment to improving their rushing attack seems to have paid off, and the addition of offensive tackle Jack Conklin should help them keep second-year quarterback Marcus Mariota upright. On top of that, the Titans are armed with loads of draft picks next year. The future looks bright in Tennessee.
27. San Diego Chargers
On offense, the Chargers have a legitimate franchise quarterback in Philip Rivers, and a quartet of nice targets (wide receivers Keenan Allen, tight end Antonio Gates, and running back Danny Woodhead) for him to throw to. On defense, Jason Verrett is a rising star, but beyond that, there isn't much to write about here. This team is officially in rebuild mode.
26. New Orleans Saints
Based on what we saw last year and during the 2016 preseason, future Hall of Fame quarterback Drew Brees is in a battle with Father Time, and the Saints defense, which was laughably bad in 2015, will still be one of the worst units in the league. As usual, New Orleans should score plenty of points, but we just can't see any scenario where they will win more than eight or nine games this year.
25. Miami Dolphins
There is no arguing that the Dolphins have a fair amount of talent. If they ever truly gel, there is a good chance that this could be a playoff team in 2016. With that being said, we just don't see them ending their seven-year postseason drought based on what we saw during their four preseason games.
24. Baltimore Ravens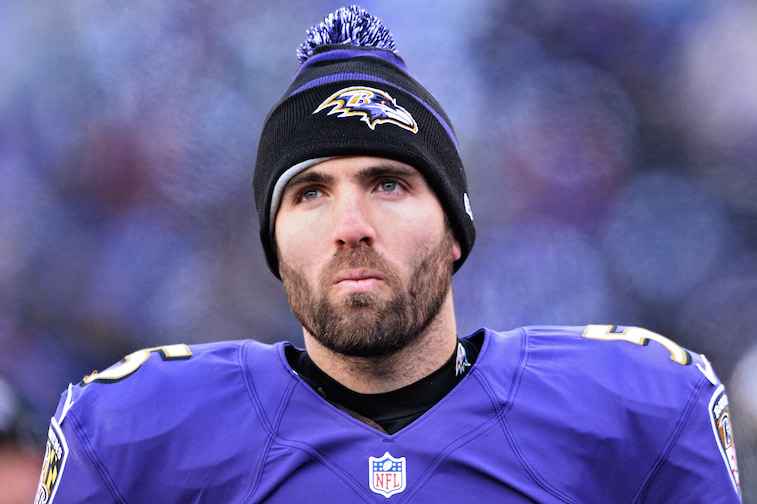 The Ravens had a disastrous season in 2015, and we just don't see things getting much better in 2016. Even with his outstanding play during the 2012 season, we aren't sold on Joe Flacco being a legitimate franchise quarterback. We also have serious concerns about the Ravens' rapidly aging defense. We don't doubt that Ozzie Newsome, who is one of the best General Managers in the league, will turn things around in Baltimore, but it won't happen in 2016.
23. Philadelphia Eagles
By all accounts, the Eagles are committed to giving their first-round draft pick, quarterback Carson Wentz, a redshirt season in 2016. The fact that they aren't going to rush his development leads us to believe that the folks in Philadelphia are content with building for the future. That said, the NFC East is wide open, and the Eagles are talented enough (they have one of the best defensive front sevens in the league) to make a surprise run if things go well for them this season.
22. Los Angeles Rams
We knew Jared Goff was raw, but we didn't expect him to start the season as the Rams' No. 3 quarterback. It looks as though Los Angeles is going with Case Keenum as their starter in 2016, and even with an All-Pro caliber running back in Todd Gurley, and one of the best defenses in the league, this team looks like a long-shot to make it to the NFC postseason.
21. Atlanta Falcons
After failing to adequately address their defensive issues this offseason, the 2016 Falcons likely won't be a much different than they were in 2015. They should have no problems lighting up the scoreboard with an offense that is full of firepower (we expect a huge season out of wide reiceiver Julio Jones), but it will be hard for the Falcons to win games if they continue to struggle on the defensive side of the ball — especially with one of the most difficult schedules in the league.
20. Minnesota Vikings
The Vikings had everything in place to contend in the NFC in 2016. Then the unthinkable happened and they lost quarterback Teddy Bridgewater for the entire season with a gruesome knee injury. It looks as though the Vikings will head into the season with journeyman veteran Shaun Hill as their starter, which means they may end up running Adrian Peterson into the ground. This team is talented, but with major questions at the quarterback position, we just don't see them winning more than eight or nine games (probably less) in 2016.
19. Buffalo Bills
The Bills have talent all over the field, but will they gel, stay healthy, and put together a complete season in 2016? Only time will tell, and a lot of their success is dependent on the play of quarterback Tyrod Taylor, but our initial suspicion is that their postseason drought will continue.
18. Indianapolis Colts
The Colts will only go as far as quarterback Andrew Luck carries them. And for Luck to find success in 2016, he will need his teammates to stay healthy and his offensive line to do a better job of protecting him (adding center Ryan Kelly should help). The Colts will still have issues on the defensive side of the ball, but if Luck returns to the All-Pro form he flashed in 2014, this team will contend for a division title and playoff spot in the AFC.
17. Oakland Raiders
The Raiders had an excellent offseason. They have a rebuilt defense and an offense that looks like a future juggernaut. On paper, the Raiders now look like a team that could contend for the AFC West title in 2016, but we need to see their offseason success translate to on-field success before we truly buy in.
16. Tampa Bay Buccaneers
The Buccaneers have a young roster full of talent and potential. Their offense will give opposing defensive coordinators headaches if quarterback Jameis Winston takes the next step in his development. Based on his performance this preseason, it looks like he will. They were able to drastically improve their defense this offseason, which leads us to believe that if things go well in Tampa Bay, the Buccaneers could prove to be a surprise postseason contender in 2016.
15. Jacksonville Jaguars
The Jaguars are in a similar situation to the Oakland Raiders. They have a roster full of young talent — aided by their stellar 2016 draft class. If they play up to their potential, the Jaguars are fully capable of winning the AFC South in 2016.
14. Dallas Cowboys
The Cowboys will enter the season with a rookie fourth-round pick (Dak Prescott) as their starting quarterback until Tony Romo returns from his latest serious back injury. While Prescott was nothing short of outstanding during the preseason, he still must prove he can shine when the games matter. Regardless, Dallas should have one of the premier rushing attacks in the NFL, and their defense will likely be quite mediocre. When it comes down to it, the Cowboys will be one of the better teams in the NFC is Prescott plays well. If not, they will likely end up with a top-10 pick in the 2017 NFL Draft.
13. Houston Texans
The Texans went all-in on quarterback Brock Osweiler, and as long as the 25-year-old signal caller proves to be an above-average player, the Texans will be tough. They should have a top-five defense if Jadeveon Clowney finally puts it together and stays healthy, and running back Lamar Miller, who was signed this offseason, could be a surprise contender for the NFL rushing title. Of course, DeAndre Hopkins is one of the most explosive playmakers in the game. Nonetheless, if Osweiler struggles, even J.J. Watt won't be able to save the Texans in 2016.
12. Kansas City Chiefs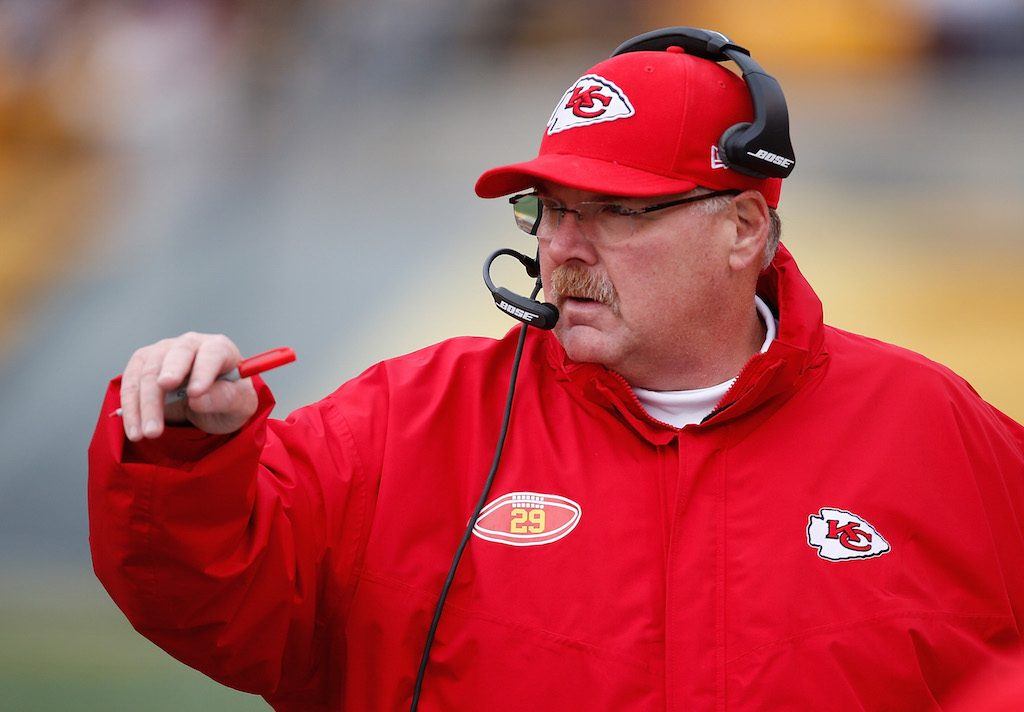 The Chiefs are talented and experienced, but in our eyes, they didn't do nearly enough to close the gap between them and the other top contenders in the AFC this offseason. They will benefit from having running back Jamaal Charles back in their lineup, but if All-Pro pass rusher Justin Houston misses an extended period of time, their defense will suffer. We won't be surprised if the Chiefs end up making a return trip to the playoffs, but we will be surprised if they make it past wild card weekend.
11. New York Jets
The Jets have a top-notch defense, and everything in place to be successful on offense now that Ryan Fitzpatrick is back under center. Expect to see this team have a double-digit win total in 2016.
10. New York Giants
The Giants spent huge money this offseason, and we are confident that their financial risks will reward them on the field in 2016. In a wide-open NFC East race, the Giants are the team with the best quarterback (in our opinion), and they should be vastly improved on the defensive side of the ball this season. If they stay healthy and gel on the defensive side of the ball, the Giants could be one of the better teams in the NFC in 2016.
9. Washington Redskins
The Redskins surprised everyone on their way to winning the 2015 NFC East title. After their impressive offseason, they should be even better in 2016. As we previously mentioned, the NFC East will be wide open this year, but this time around the Redskins won't sneak up on their opponents. Don't be shocked if the Redskins have one the most explosive offenses in the league this year.
8. Cincinnati Bengals
Will this be the year that the Bengals finally get over the hump and win a playoff game? They have everything in place to be one of the top teams in the AFC (again), but it will be all for naught if they make a sixth-straight early playoff exit in 2016 (again). If they fail to win a playoff game this year, don't be surprised if the Bengals part ways with head coach Marvin Lewis.
7. Pittsburgh Steelers
The Steelers may have the best offense in the league when they are at full strength, which should be enough to keep them in every game they play this season. They will lack running back Le'Veon Bell for the first three weeks of the season, which will hurt, but their No. 2 running back, DeAngelo Williams, is still one of the better runners in the league. All said, if their defense comes together, the Steelers could be a Super Bowl-caliber team.
6. New England Patriots
This ranking reflects the Patriots with Jimmy Garoppolo at quarterback rather than Tom Brady. With Brady in their lineup, the Patriots would climb to No. 1 in our rankings. In fact, we expect New England to make yet another Super Bowl appearance in 2016.
5. Carolina Panthers
The Panthers will again be one of the top teams in the league, but we actually see them taking a small step back in 2016. Here's why. They lost All-Pro cornerback Josh Norman and failed to adequately replace him, and they did little to improve their lackluster offensive line. They do still have the reigning NFL MVP in quarterback Cam Newton, and their defensive front seven is ridiculously talented. If Kelvin Benjamin returns to his rookie form, this team should again be one of the top contenders in the NFC.
4. Arizona Cardinals
When it comes down to it, the Cardinals may actually have the most complete roster in the league. In 2015, they proved that they can play with and beat anybody, but they will have to stay healthy to do so in 2016. If Carson Palmer plays at a Pro Bowl level, this team is a legitimate Super Bowl contender.
3. Denver Broncos
The Broncos are the first team in NFL history to win a Super Bowl and then open the next season with a quarterback (Trevor Siemian) that has never attempted a pass in a regular-season game. While this is a major cause for concern, the reality of the situation is that the Broncos' quarterback play in 2015 was nothing short of disastrous and even that wasn't enough to keep them from winning the Super Bowl.
Despite losing Malik Jackson and Danny Trevathan, the Broncos should have one of the best defenses in the game again, and according to them, they will be even better than last year. As they proved in 2015, all they need to compete for a world championship is a dominant defense.
2. Green Bay Packers
The Packers had a great offseason, and as a result, they will be one of the top contenders to represent the NFC in Super Bowl LI next February. They should be much better on defense now that Clay Matthews has moved back to outside linebacker, and the return of wide receiver Jordy Nelson will definitely boost their offense. Of course, they still have the best offensive player in the game in quarterback Aaron Rodgers.
1. Seattle Seahawks
As long as the Seahawks can keep their nucleus (Russell Wilson, Richard Sherman, Earl Thomas, Michael Bennett, Bobby Wagner, Jimmy Graham, and Kam Chancellor) intact during the prime of their respective careers, they will be legitimate Super Bowl contenders. As of now, the Seahawks are the team to beat in the NFC, and the best overall team in the league (until Tom Brady's suspension comes to an end).
Statistics courtesy of Pro-Football-Reference. Salary and contract data courtesy of Spotrac.