NFL Prediction: 5 New Starting Running Backs in 2015
Each year in the NFL multiple running backs get their chance to leave their first imprint on the league. For these backs, it's their first real shot at being a starter in the NFL, and for many of them, there's a chance it may be one of their few shots. Whether it's an opening from a running back leaving the team, which has left a glaring hole on the roster, or a rookie who was drafted and is going to be thrown right into the fire.
Regardless, these new starting running backs are getting their opportunity. The question is, which of them will be able to grab the opportunity and not look back? Let's get into some predictions for these new backs in 2015.
1. Joseph Randle, Dallas Cowboys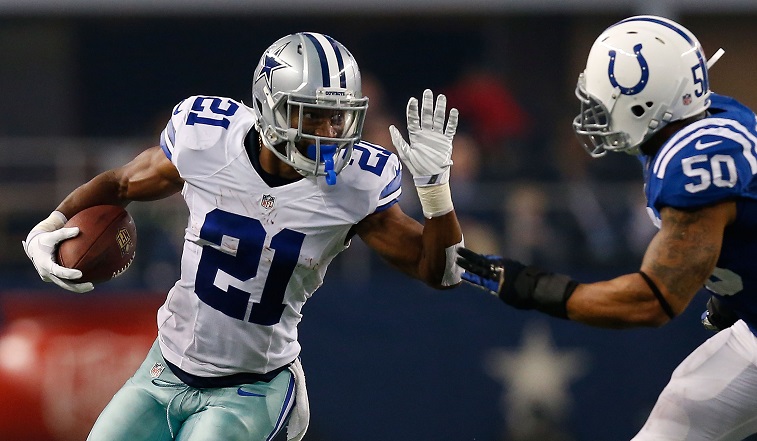 Who better to start with than the (presumed) starting running back for the Dallas Cowboys? It may have been put best by Rick Gosselin of The Dallas Morning News, who stated that it's time to "start warming up to Joseph Randle." While Darren McFadden may be ready to push Randle for the starting job, don't expect the third-year back to hand over the job without a major fight.
Randle's probably one of the most intriguing new starting running backs out of the group, and he's walking into an amazing situation. The Cowboys are sitting with one of the best offensive lines in the NFL, which helped lead former starter DeMarco Murray to an incredible 1,845 yards and 13 scores in 2014. Now, Randle gets his chance to be the lead man in Dallas, but can he take advantage?
After a slow start during his rookie year, where he rushed 54 times for 164 yards and two scores, he showed massive strides last season. In 2014, Randle rushed 51 times for 343 yards and three touchdowns, and we expect him to grab the opportunity and make the most of it this year — it's not out of the question that he'll be the most successful of the new starting backs.
Projection: 295 carries, 1,275 yards, 8 touchdowns
2. Latavius Murray, Oakland Raiders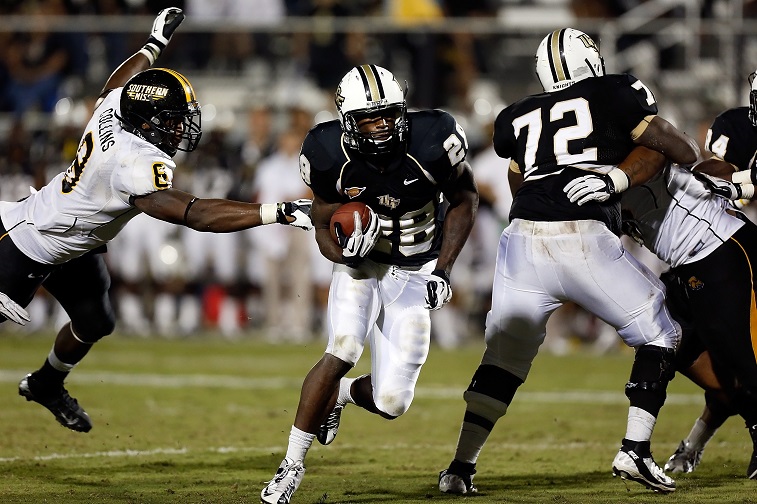 When the Raiders parted ways with Darren McFadden, it opened a massive door for the intriguing Murray. While Oakland's running backs have struggled in recent years, Murray was the exception in 2014, rushing 82 times for 424 yards and two scores last year, while also catching 17 passes for 143 yards. If that's what he can do as a backup, then Murray has a golden opportunity to do something we haven't seen done since 2010 in Oakland, which is top 1,000 yards on the ground. (McFadden was the last to do it, rushing for 1,157 yards that year).
No, the Raiders aren't sitting with the best offensive line in the league, but the expected growth of quarterback Derek Carr is going to help Murray out as well. He should quietly put up some impressive numbers and lead the Raiders to a season that not many believe this team is capable of.
Projection: 275 carries, 1,100 yards, 7 touchdowns
3. Melvin Gordon, San Diego Chargers
The Chargers drafted Gordon to take over this backfield right out of the gate. Gordon put up a ridiculous 2,587 yards and 29 scores during his final year with the Wisconsin Badgers, but let's not get too crazy with his early expectations. While Gordon is a talented back, he's going to go through a few bumps along the way. Even with that acknowledged, Gordon should still prove to be the lead back in San Diego and will help to ease some pressure off Philip Rivers and the passing game.
While the Chargers struggled to find a healthy running back, or a consistent presence in the run game last year, it was an obvious concern this offseason. To top it all off, the Chargers parted ways with Ryan Mathews, and the top back for the team in 2014 was Branden Oliver, who rushed for only 582 yards.
Gordon will be asked to carry the load, but it would be unrealistic to expect him to finish with numbers like Randle or Murray.
Projection: 225 carries, 950 yards, 6 touchdowns
4. Carlos Hyde, San Francisco 49ers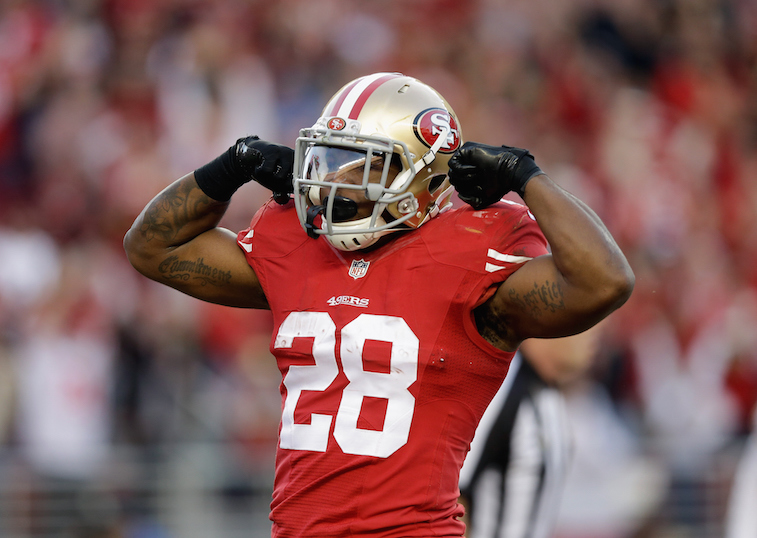 With Frank Gore now in Indianapolis, it's going to be the Carlos Hyde show in San Francisco. Unfortunately, things seem to be coming apart at the seams for the 49ers this offseason. Will it have a majorly negative impact on Hyde? Only time will tell, but the second-year running back  should still be expected to make the most of the opportunity in front of him.
If the 49ers want to have any success in 2015, they're going to need to take tons of pressure off Colin Kaepernick, and Hyde is going to be the man tasked to do it. Yes, the team brought in Reggie Bush this offseason, but this is still Hyde's backfield, no question about it. On 83 carries last season, Hyde tallied 333 yards and four touchdowns. Expect him to face a heavy workload this season, especially since Gore saw 255 carries last year.
Projection: 250 carries, 1,150 yards, 8 touchdowns
5. Todd Gurley, St. Louis Rams
Well, we can probably go ahead and call Todd Gurley the starter for the Rams. With that said, though, fans should temper their expectations for Gurley in 2015. Ian Rapoport of NFL.com reported that the Rams expect Gurley to miss the "first couple of games" of the regular season. In turn, this makes projecting Gurley's production this season nearly impossible to do.
So, hey, let's make some projections.
These projections for Gurley aren't based as much on what we saw from him in college, but instead what we saw from the Rams running backs in 2014. Tre Mason paced the team last year with 179 carries for 765 yards and four scores. After him, we saw two running backs, Zac Stacy and Benny Cunningham finish with 293 yards and 246 yards, respectively. Tavon Austin also tallied 224 yards, but he's a wide out, so we won't tack on those carries.
In total, the Rams had 328 carries from running backs, according to ESPN. So, how many should Gurley realistically expect next season? To put it kindly, while we believe the 2015 first-round pick is a better all-around back than any of those names from the Rams backfield in 2014, we also don't think the Rams will run Gurley into the ground during his rookie year, especially when he's coming off an injury. Expect Gurley to get somewhere around 150-175 carries in 2015.
Projection: 160 carries, 725 yards, 4 touchdowns