NFL
NFL: Proof That the 2016 Draft Class was 1 of the Worst
In 2011, the NFL reworked rookie contracts so that all first-round draft picks sign four-year contracts with fifth-year team options. The value of that team option is tied to the highest salary cap hits at the player's position across the league. The option gives the team leverage when negotiating a long-term contract or an extra cost-controlled year to evaluate the player's performance before deciding on his long-term future with the franchise. Fifth-round options for first-round picks in the 2016 draft were due recently, and they tell a story that the first round of that year's draft was one of the worst in NFL history.

Fifth-year options from 2011-2015
In the first five years of the fifth-year option, from 2011-2015, teams picked up the options for 99 of the 160 eligible players, or 62%. There are different reasons why a player's option may not be picked up. Some players — like Cleveland Browns QB Johnny Manziel — were cut before their team even had to make the decision, while a guy like WR Kevin White was injured so much that the Bears didn't see enough of him in game action to have enough data with which to decide to exercise the option.

Fifth-year options for the 2016 draft
Of the 31 first-round picks in the 2016 draft (the Patriots lost their first-rounder due to Deflategate), 17 had their fifth-year options exercised, representing approximately 55% of the class. That is about 7% below the percentage for the first five years of the fifth-year option, and off the pace of the recent trend.

In each of the last two years, 20 of the fifth-year options were picked up, and each of the top seven picks had their options picked up. Two players — WR Corey Coleman (No. 15 overall) and QB Paxton Lynch (No. 26 overall) — didn't have a first-year option because the teams that took them in the 2016 draft already released them from their rookie deals.

Many teams around the league had no problem declining the fifth-year option of players from the 2016 draft, which indicates it was one of the worst draft classes in the NFL in recent years.
Five players who had their options picked up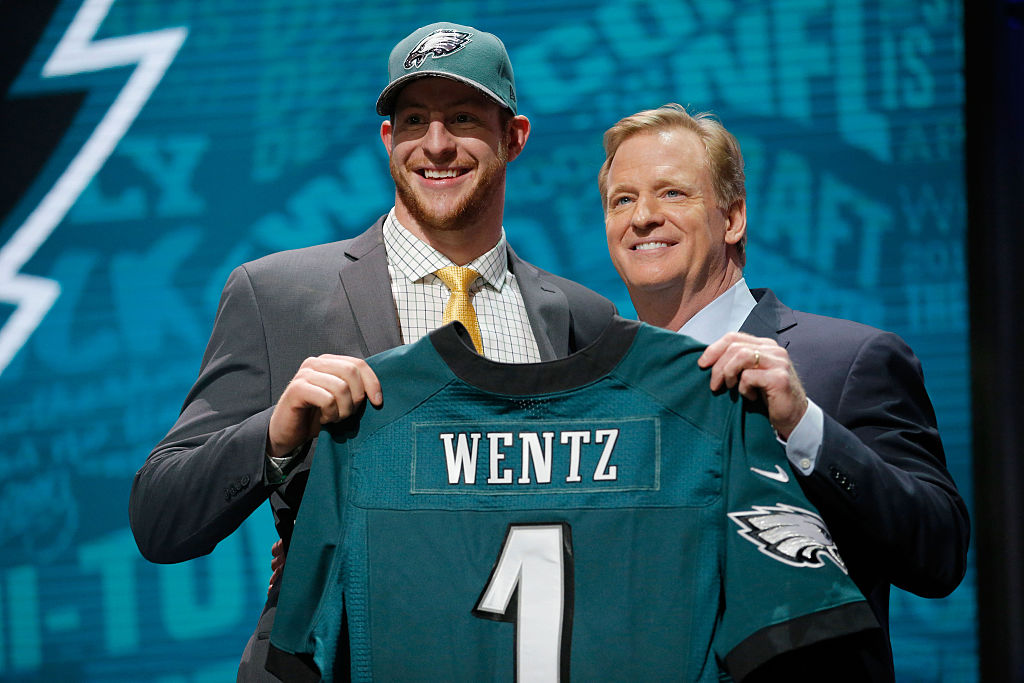 Of the 17 players whose teams said yes to their options, several were likely no-brainers for their respective front offices. Among those players were:

Rams QB Jared Goff (No. 1 overall)

Goff led his team to the Super Bowl in February despite RB Todd Gurley seeing limited playing time late in the regular season and the playoffs.

Eagles QB Carson Wentz (No. 2 overall)

Wentz has missed time with injuries the past two seasons, but the Eagles essentially went all-in on him this offseason by letting QB Nick Foles leave in free agency.

Chargers DE Joey Bosa (No. 3 overall)

Bosa has helped solidify the Chargers defense, and despite being injured for part of last season, his performance led to him having his option picked up.

Texans WR Will Fuller V (No. 21 overall)

Fuller makes a strong 1-2 receiving combo with WR DeAndre Hopkins, and he impresses when he's on the field, but a torn ACL prematurely ended what was shaping up to be a fantastic 2018 season.

Packers DT Kenny Clark (No. 27 overall)

Clark has steadily improved each season since he was drafted to become a good defender for the Packers and a value as a late first-round pick.
Five players who had their options declined
On the flip side of the coin, five players from the 2016 draft who had their fifth-year options declined by their teams are verging on NFL bust territory:
Titans OT Jack Conklin (No. 8 overall)

Conklin is the highest pick in the draft who didn't have his option picked up. He only played nine games last season, so the Titans likely thought his injury risk made exercising his option too much of a gamble.

Saints CB Eli Apple (No. 10 overall)

Apple struggled enough in the early part of his career that the Giants traded him to the Saints during the 2018 season. New Orleans likely wants to see what he does in a full season with the team before deciding on his future.

Bills DE Shaq Lawson (No. 19 overall)

Lawson didn't show the Bills enough to convince them to exercise his option, but he appears to be on an upward trend, so he may still get a long-term deal with the team later on.

Redskins WR Josh Doctson (No. 22 overall)

The Redskins' quarterback situation hasn't been ideal during Doctson's tenure with the team, but he still hasn't put up great numbers to date with Washington. Entering the league, he was looked at as a deep threat, but he has almost as many drops (six) as receptions (nine) on deep passes in his career so far.

Vikings WR Laquon Treadwell

Another disappointing receiver, Treadwell hasn't had a major role in the Vikings' offense and has averaged just 9.2 yards per catch on his first 56 career receptions.