NFL: Is This Proof Ndamukong Suh Plans to Sign With the Giants or Cowboys?
Ndamukong Suh is one of the best remaining NFL free agents, and almost any team would be smart to add him. Entering his 10th season, there are lots of reasons for the defensive tackle to garner the attention of many teams. Despite being older than the average NFL player, Suh has shown no signs of regression, having only missed two games, both of which occurred during his second season, for his entire career. He's sure to sign a new contract before the 2019 season, but does Ndamukong Suh have a short list of favorites? Let's find out.

Suh hints at his future?
Suh made waves recently when he visited a Nike office in New York City. He posted a photo on Twitter of him in both a Dallas Cowboys jersey and a New York Giants jersey.

Should he put on either of the jerseys he modeled, he would prove to be a valuable addition to whoever signed him.

The Cowboys have a roster that's ready to contend right now. They had one of the best defenses in the NFL in 2018, and adding Suh could make them the best.

After trading Odell Beckham and losing a handful of free agents, the Giants are in full rebuild mode. However, Suh would be a valuable veteran presence in the locker room. If being a mentor to younger players is important to him, then signing with New York might be the way to go if he's interested in playing only for Dallas or New York.

Beginnings
Suh has enjoyed a fascinating career, and even though his antics can occasionally gain headlines for the wrong reasons, he has consistently been one of the best tackles in the game since his college days.

Suh played for the Nebraska Cornhuskers football team from 2005-09. Although he only played in one game during his freshman season, he became a bigger force in each progressing year following a medical redshirt. He broke out slightly in his second year, amassing 12 tackles throughout the season. Over the next three seasons, Suh improved every year, culminating in a senior year that included 52 solo tackles and 33 assists. His tough defense propelled him to the national scale, and Suh was the second pick in the 2010 NFL draft.

Detroit Lions
After going to the Detroit Lions in the draft, Suh's impact was immediately felt. Quarterbacks knew that they weren't safe when Suh was on the field, and opposing linemen knew they had their hands full. Sometimes, that meant playing within the means of the game, but other times, Suh had a reputation for going above and beyond and turning defensive tactics into physical attacks.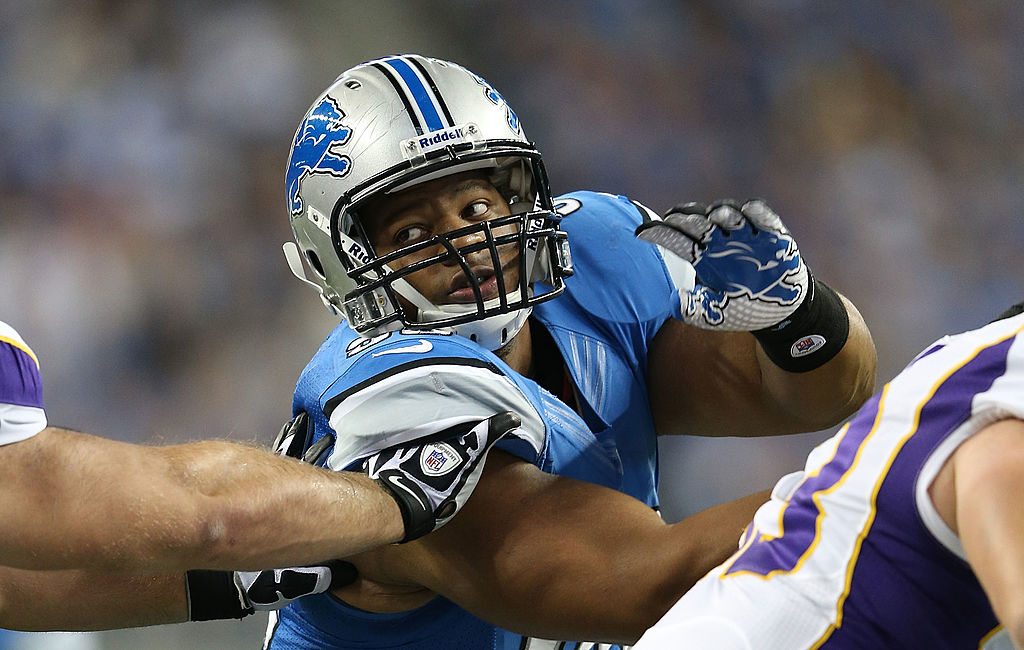 Some called Suh's style gritty, while others called him dirty. It's a reputation which continues to haunt him to this day. It was not, however an indictment on his talent. Whether opponents liked his style of play or not, Suh consistently brought it to the field, and during his five-year stint with the Lions, he amassed 239 total tackles. He earned a giant contract in the process.
Miami Dolphins
Eventually, the Lions moved on from the controversial tackle, and he went to Miami. Over the next three seasons, Suh elevated his game and enjoyed three of his best seasons to date. Suh's already ferocious defense got even better. The Dolphins struggled to make much noise in wins and losses, but Suh's defense helped elevate the team on one side of the field, and their struggles were not on his shoulders.

The reputation for dirty play followed Suh, however. Incidents such as when he knocked the helmet off of Alfred Morris while he was still on the ground added to the fodder for those who were already iffy on if he could prove himself without the extra antics. His reputation as a dirty player took another hit when many believed he tried to choke Baltimore's Ryan Mallett, a play which Suh claimed was self-defense.

L.A. Rams and beyond
With the Los Angeles Rams, Suh sought a new beginning. In his only season there (to date), he showed he could be a valuable member of a great team and do so without amassing extracurricular headlines in the process. With 59 tackles, Suh helped the Rams reached the 2019 Super Bowl, the first of his career.

Suh is an enigma. At the top of his game, he is inarguably valuable to his team. However, when a team takes him on, they know that there may be other things to deal with. As he chooses his next chapter, the team he finally signs with will be taking a risk, but that risk could be a reward if everything turns out right.