NFL: Redskins QB Alex Smith's Leg Injury is Worse than You Realize
Occasionally, you get an injury in the NFL that is so gruesome that people don't want to watch the replay. Perhaps the most famous happened to former Redskins QB Joe Theismann in 1985. More than 30 years later, another Redskins quarterback suffered a similar — but not as devastating — injury. Last November, Alex Smith suffered a broken leg in the Redskins' Week 11 contest with the Texans, and he has been on the shelf ever since with no expectation of playing this season. You could tell from the footage of the injury that it is bad, but Smith's leg injury might be even worse than you realize.

Alex Smith's gruesome injury
During the game with the Texans at FedEx Field, defenders Kareem Jackson and J.J. Watt sacked Smith, and he suffered a compound and spiral fracture to the tibia and fibula in his right leg.

The injury occurred on November 18 — 33 years to the day that Theismann suffered his injury, which forced him to retire. Theismann was at the game the night of Smith's injury, and he recalls turning to his wife after seeing the play from the camera angle behind Smith and telling her that Smith's injury is "exactly like mine."

Smith's injury got even worse after it happened
In October 2019, Alex Smith spoke about the injury and his recovery from it in front of a group of medical professionals at a sports medicine conference in Iowa. He revealed that he underwent a total of 17 surgeries since suffering the injury — which is significantly more than initially thought, with the previously reported number being six.

There was an audible gasp from the crowd after Smith revealed the number of his surgeries. The six surgeries that were originally reported were intended to remove tissue after Smith developed infections following the initial procedures to repair his leg. It is unknown if all the follow-up operations were related to the infections. If they were, that is an indication that the infections were severe. Smith was in a wheelchair with his leg covered the first time he appeared in public following the surgeries, and he was later seen at a Wizards game wearing a medieval-looking device called an external fixator.

Will Alex Smith play again?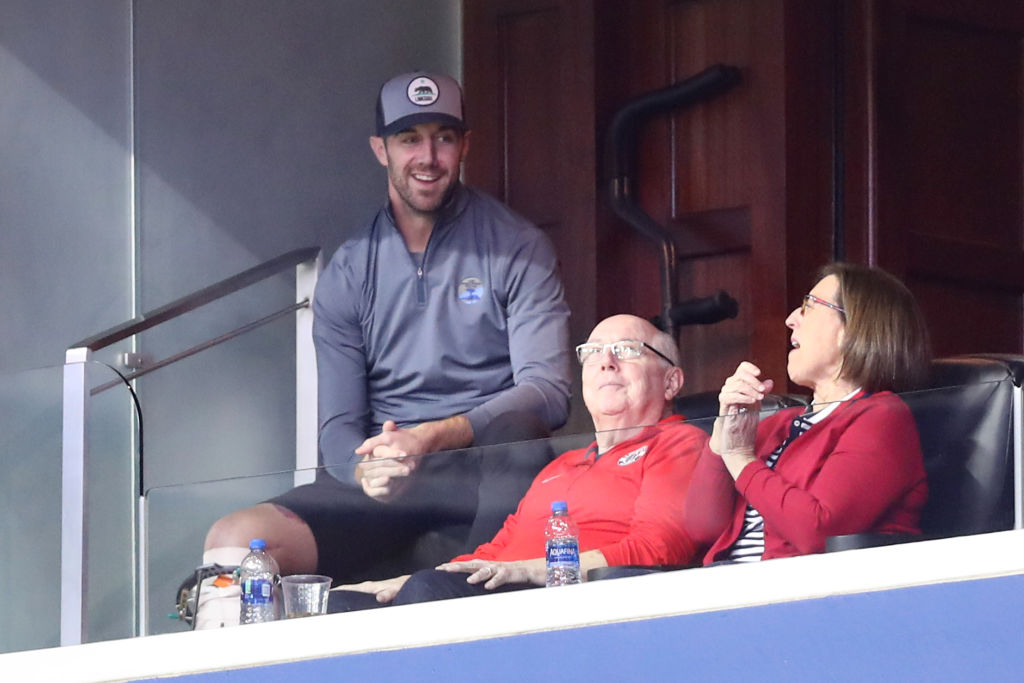 The injury happened just 10 games into Smith's tenure with the Redskins, who acquired him from the Chiefs via trade in March 2018. They subsequently signed him to a four-year, $94 million extension.
The big question is, will this injury be career-ending like it was for Theismann?

With Smith being 35 and missing a quarter of last season and likely all of this season, it wouldn't surprise many experts if he doesn't play another down in the NFL. Smith is determined to play again, telling the crowd at the medical conference, "I still feel like I'm young at heart and got a lot left ahead of me. I want to take that on."

Smith recently returned to the practice field and is ramping up his throwing.
Even in the unlikely event that Smith can eventually return to an NFL field, it probably won't be in a Redskins uniform. Assuming that Smith was lost for this season, the team used its first-round pick in this year's draft on Ohio State QB Dwayne Haskins, who could be the franchise quarterback for the future.

If Alex Smith's NFL career is over, he will go down as a game manager who put up decent stats that never really made anyone say "wow" with his play on the field. He led the 49ers to the NFC Championship in 2011, but they lost to the Giants in a game in which Smith threw two touchdowns and no interceptions. That was just one of three seasons in his 13-year career in which Smith started all of his team's 16 games.