5 NFL Quarterbacks Who Might Have to Settle for Less Money on Their Next Contracts
With salary caps in place and plenty of competition in free agency, some of today's NFL quarterbacks with soon-to-expire contracts might be settling for less money. Whether it is due to concerns over their ability to perform or they simply haven't been measuring up to the competition, some of these five quarterbacks may be cashing smaller paychecks very soon.

NFL quarterbacks make a fortune
Quarterback is one of the most demanding positions in sports, and the people who line up under center make a ton of money. The three highest paid players in the NFL leading into the upcoming season all play quarterback:
Russell Wilson, QB Seattle Seahawks $35 million per year
Aaron Rodgers, QB Green Bay Packers $33.5 million per year
Matt Ryan, QB Atlanta Falcons $30 million per year
5. Carson Wentz, Philadelphia Eagles
As one of the clear leaders of quarterback pack available in the 2016 NFL draft, Philadelphia picked the young QB after the Rams chose Jared Goff No. 1 overall. With any draft decision, the choice is almost always questioned by fans, but Wentz has performed well when healthy. It's the when healthy part that hurts his reputation. Wentz missed time at the end of both the 2017 and 2018 seasons, so his durability is still a question among some onlookers.

Philadelphia picked up the fifth-year option on his rookie contract, and Wentz will make more than $22 million in 2020, but if he can't stay on the field, he might have to settle for less on his next contract.
4. Jameis Winston, Tampa Bay Buccaneers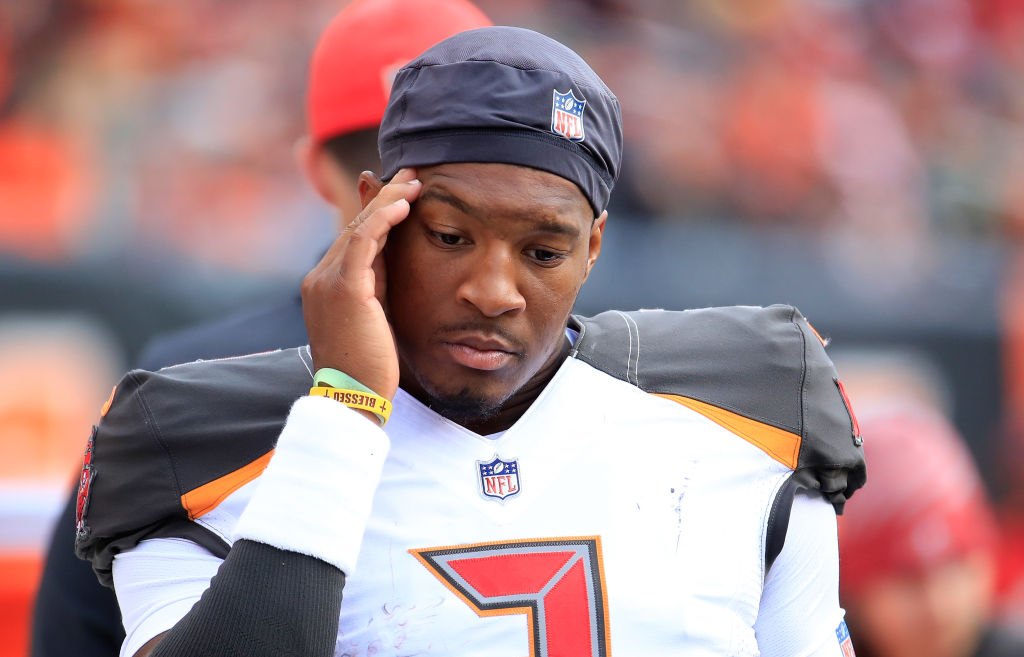 Tampa Bay coach Bruce Arians' expectations for quarterback Jameis Winston in 2019 season are simple — stop throwing it to the other team. Given a request like this, the coach was not only trending on social media following his remark, but he also made it crystal clear he was disappointed by Winston's 2018 performance.

At one time, Winston was considered to be a shoo-in for Rookie of the Year along with Marcus Mariota playing in Tennessee, but instead, the honor went to Dak Prescott of the Cowboys. If Winston doesn't cut down on his interceptions, he might be playing for a lot less than the $20.9 million he'll make in 2019.

3. Andy Dalton, Cincinnati Bengals
If you find yourself asking the question Andy who, you're not alone as he's been one of the least relevant players on a team that was ranked second worst in the NFL near the end of the 2018 season. Followers of the 2019 draft watched the Bengals pick up a potential replacement for Dalton in choosing QB Ryan Finley from North Carolina State. At the very least, Andy may be questioning his future in Cincinnati playing as a quarterback in the shadow of this choice. Even though he's on the low end of the pay scale for NFL quarterbacks ($16.2 million in 2019 and $17.7 million in 2020), Dalton's next contract might not be as large.

2. Jared Goff, Los Angeles Rams
Many predicted the Rams would snag Jared Goff in the first round of the 2016 draft over Carson Wentz. During the 2019 draft, Goff may have breathed a sigh of relief after Rams' execs chose to add players mostly to the offensive side of the field without picking up a quarterback replacement. Like Wentz, Goff had his fifth-year rookie contract option picked up by the Rams, so he seems to be on solid ground. However, critics of his poor playoff performances, including during Super Bowl LII, point to ways Goff could have improved on his passing game and took home the title for his team.

1. Cam Newton, Carolina Panthers
Also selected first overall in the Draft back in 2011, Cam Newton was already a hot-shot out of Auburn and is well-known for his stylish fashion choices off the field. He'll make an average of $20.7 million in 2019 and 2020 with his current contract, and while that may seem like a serious chunk of change, that figure ranks him 15th in the league for the highest paid quarterbacks behind the likes of Derek Carr.
Unfortunately for Newton, recurring issues with his right shoulder led to surgery in January 2019, and his future is looking a little fuzzy because of those problems. He's a star player, so he's almost guaranteed to sign another big-money contract, but if he doesn't return to form, then he might join the other NFL quarterbacks who have to settle for less money.