NFL: Rams Fans Might not Recognize Jared Goff This Season
After last season's tough Super Bowl loss, the Los Angeles Rams are putting together the pieces in the offseason and looking great doing it. Case in point: QB Jared Goff, who has completed his transformation from a skinny first-round pick to an almost unrecognizable bulked-up form.
The transformation is real. After several years of NFL observers fretting over whether Goff's thin frame could stand up to the rigors of NFL-level play, suddenly the fresh-faced QB cuts an ideal football player silhouette.

How Jared Goff changed his offseason routine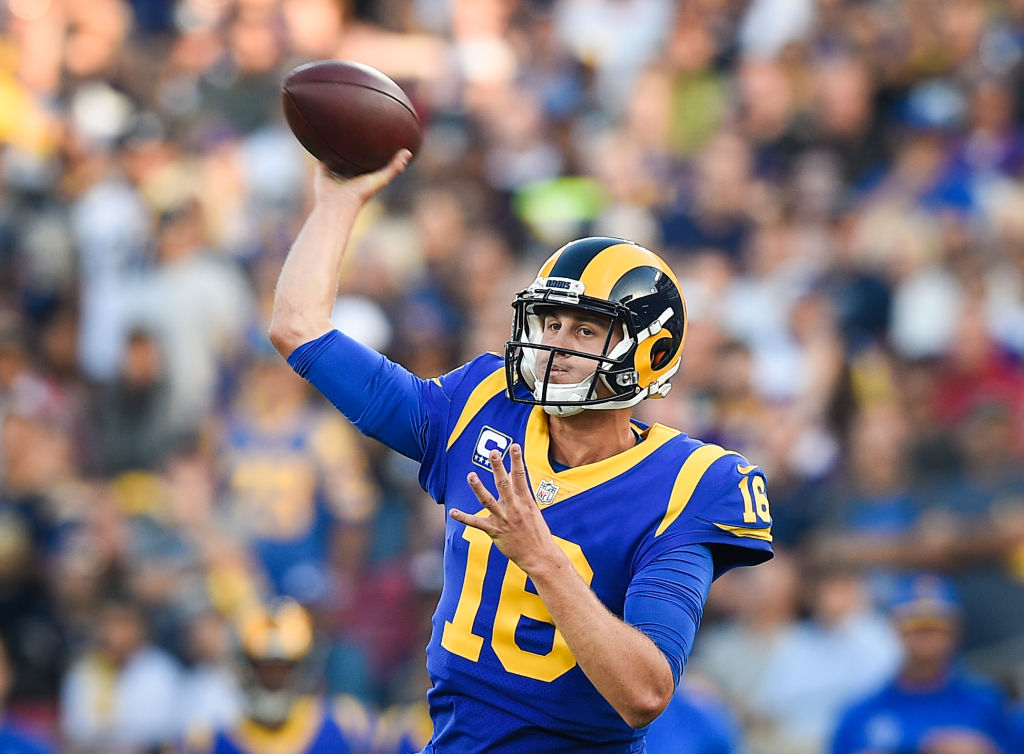 We can't change our genetics, but Goff's transformation is a great example of how we can make the best of what we have. Technology can't do anything to address his relatively small hands, but the size of his frame has major effects on his ability to take hits and run the ball.

Goff himself is shy about revealing his routine, or even acknowledging how unrecognizable his newfound bulk makes him. Rams RB Todd Gurley happily does the talking for him. "Nah, he definitely was getting after it in the weight room," Gurley said, beaming with pride at his teammate's hard work.

Gurley's nagging knee issues are one of the more pressing issues for the Rams alongside Goff's need to improve, so fans should be pleased to see both players fixated on improving their bodies in the offseason.

In the same interview, Jared Goff credits DT Aaron Donald for the inspiration to keep going. Goff said, "I see him working out every single day on Instagram. I'm like, man, I gotta get my butt in the weight room." A glance at Donald's Instagram really drives that point home.

Key observers like what they see from Goff
Goff's new muscled-up body obviously makes a lot of sense for keeping up with the demands of the NFL, so it's worth getting excited about. Savvy football fans demand more from players than pure size increases, of course.
The question has to be asked: Is Goff's newfound training discipline really capable of changing his game? Training camp observers have great things to report on his improvements. He's shortening his windup to the unnoticeable quick motion common to elite quarterbacks. His larger upper body nonetheless appears to be rotating and reacting with greater flexibility than before. And his rookie experience is finally delivering a more polished mental product, with Goff contributing directly to offensive concepts rather than playing a passive role.

These are key developments that point to major improvements for a QB who already helped the Rams finish with a 13-3 record and make it to the Super Bowl. Can Jared Goff and his teammates make it back to the big game to cap off their 2019-20 season?

Vegas odds are a vote of confidence for the Rams and Goff
One of the best ways to measure whether a team has a realistic chance to improve is to see what Vegas odds say. After all, nothing quite brings out the unbiased truth like having to put money on the line.

Before training camp, Jared Goff's odds to level up his game enough to take the NFL MVP award this year were a cool 60-1. That put him behind 42-year-old Tom Brady's upcoming potential improvement. After his training camp debut gave us the first sustained public look at his progress, Vegas took note and bumped him up to a much safer 30-1.

Journalists, coaches, Vegas bookies, and Rams fans all like what they see. Whether Goff's physical and mental upgrades will be the ingredients that give the Rams another attempt at the Lombardi trophy is up in the air, but the odds look good.