NFL: Ranking the Super Bowl MVP Defenders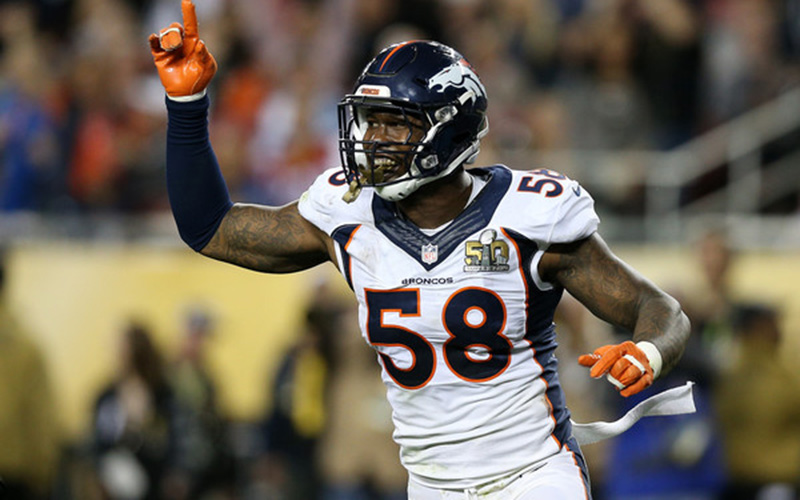 In the game of football, fans love to see offensive players make big plays that produce touchdowns. Seeing insanely athletic human beings jump, run, and dive to make spectacular catches and rip off unbelievable runs is what generally sells tickets and keeps the NFL exciting. Knowing that, it's no surprise that a majority of Super Bowl MVPs in league history have come on the offensive side of the ball. Even a somewhat average performance by an elite quarterback in the big game has overshadowed some great performances on the defensive side of the ball on Super Sunday.
As with most things in life though, there are a few exceptions where defenders have defied the odds to win Super Bowl MVP. Super Bowl 50 provided one of those rare occasions in which a defender took home the game's most valuable player honors, as star linebacker Von Miller was recognized for the champion Denver Broncos. Miller is just the 10th defender to win the award, and seeing as there are so few Super Bowl MVP-winning defenders in NFL history, we decided to rank them all based on their performances in their respective Super Bowls.
10. Chuck Howley, Super Bowl V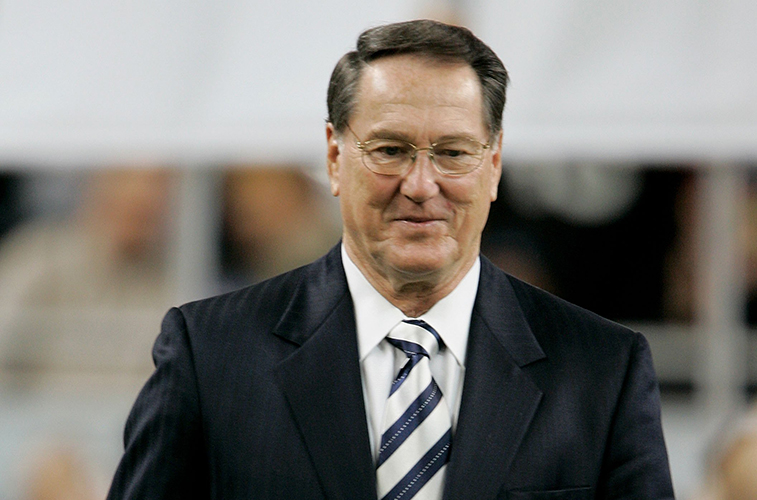 Not only was Chuck Howley the first defender to take home Super Bowl MVP honors, but he was also the first (and still only) player to win the award despite playing on the losing team — an honor no player may ever share with him. Super Bowl V was likely the ugliest Super Bowl ever, as the Baltimore Colts and Dallas Cowboys combined for 11 turnovers in a 16-13 win for Baltimore. Howley, playing for Dallas, captured two interceptions in the game to win the MVP at linebacker. In his 13-year career, Howley was selected to six Pro Bowls and five first-team All-Pro teams, but in terms of Super Bowl MVP defenders, the fact that his team was on the losing side ranks him 10th on our list.
9. Randy White, Super Bowl XII
Four of the defenders on this list are former Dallas Cowboys, who have more Super Bowl MVPs than any team in NFL history. In Super Bowl XII, Dallas actually produced two of those MVP defenders, including this guy right here, Randy White. White was part of a defense that crushed the Denver Broncos back in 1978, as Dallas forced a Super Bowl record eight turnovers to win the franchise's second title by a score of 27-10. White contributed a sack to the Cowboys' cause to earn co-MVP honors with teammate Harvey Martin (more on him later). In his Hall of Fame career, White went to nine Pro Bowls and was selected to seven All-Pro teams, but he didn't have as large of an impact as some of the other defenders on this list.
8. Ray Lewis, Super Bowl XXXV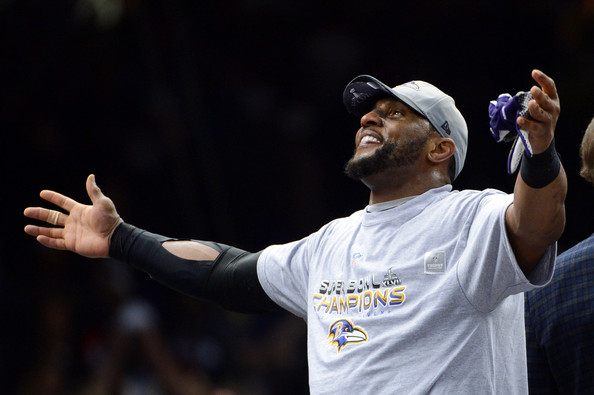 Ray Lewis was the leader, heart, and soul of one of the best defenses in NFL history, under the Baltimore Ravens back in the 2000 season. The Ravens completed a great season by destroying the New York Giants in Super Bowl XXXV — and Lewis was a big reason why. While his stats weren't notable, just three tackles and four passes defended, Lewis was recognized for the leadership he provided to his team as he won MVP. Of course, Lewis had the stats throughout his career, earning 13 Pro Bowl selections and seven All-Pro selections during his time in the NFL. He was also the Defensive Player of the Year twice, including that 2000 season.
7. Dexter Jackson , Super Bowl XXXVII
Dexter Jackson is definitely one of the more surprising and unexpected Super Bowl MVPs of all time, as the award could have gone to a few different Tampa Bay Buccaneers in their dominating Super Bowl XXXVII victory over the Oakland Raiders. Jackson did have two picks in the game, but so did his teammate Dwight Smith — who returned both of his for touchdowns. However, that doesn't take away from the game that Jackson had back in January 2003. As part of a great defense, Jackson manned the middle of the field at safety and was a key in Tampa Bay's success. Of course, this MVP honor was easily the highlight of Jackson's career, as he went on to have a 10-year career with no Pro Bowl selections.
6. Larry Brown, Super Bowl XXX
Back in 1995, the Dallas Cowboys completed a run of three Super Bowl victories in four seasons with a solid victory over the Pittsburgh Steelers in Super Bowl XXX. Dallas was loaded with star players such as Troy Aikman, Emmitt Smith, and Michael Irvin, but it was a somewhat unheralded player who won the MVP in that victory. Cornerback Larry Brown intercepted two passes to help the Cowboys clinch a 27-17 victory. His second pick came late in the game when the Steelers were trying to tie the game, which led to the game-securing score. Brown is another player who played brilliantly on the big stage, as he never earned a Pro Bowl selection in his eight-year career.
5. Jake Scott, Super Bowl VII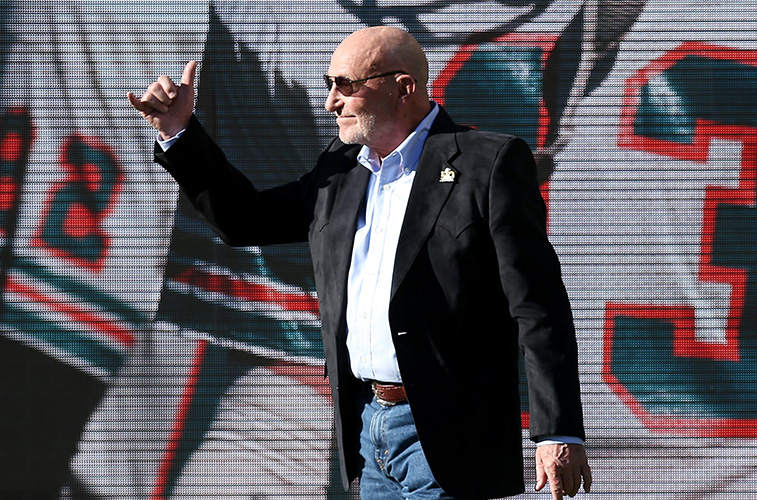 Jake Scott was critical to the Miami Dolphins' success in the 1970s. In the team's first title in Super Bowl VII, Scott — playing safety — had two critical interceptions in Miami's tight 14-7 victory over the Washington Redskins to win the game's MVP award. The win not only gave the Dolphins their first of two straight Super Bowl titles, but it also gave them the only unbeaten season in NFL history (17-0). Scott played nine seasons in the league, earning five Pro Bowl berths and two All-Pro selections, but he will always be remembered for playing a critical role on one of the best teams ever.
4. Harvey Martin, Super Bowl XII
The other half of the Cowboys MVP duo in Super Bowl XII, Martin had an even better game than his teammate who he shared the award with, Randy White. He notched two sacks in Dallas's domination of Denver to help set the tone and keep it going for the length of the game. The game provided the only co-MVPs in Super Bowl history and added to a nice career for Martin, who earned four Pro Bowl selections and one All-Pro team honor during his career.
3. Malcolm Smith, Super Bowl XLVIII
In reality, the Super Bowl MVP could have gone to several different Seattle Seahawks in their convincing victory over the Denver Broncos in Super Bow XLVIII. However, when you look at Malcolm Smith's stat line, you see that it's one of the more impressive lines in the game's history. Smith had six tackles, recovered one fumble, and returned an interception for a touchdown to give Seattle a huge lead over Denver. Nobody saw it coming, as Smith was originally a seventh-round draft pick by the Seahawks, but for one game, he played like the best player on the field. He's now a critical player on an improving Oakland Raiders' team.
2. Richard Dent, Super Bowl XX
Ranking Richard Dent here is more about the team he played on rather than the stats he held in the Chicago Bears' display of dominance over the New England Patriots in Super Bowl XX. Dent did have one-and-a-half sacks though, leading the way for a Bears defense that had seven sacks and forced six turnovers. Of course, many remember that Bears team as one of the best — if not the best — team to ever take the field and Dent was a big reason why. His 15-year career saw him earn four Pro Bowl selections and one All-Pro selection as he notched 137.5 career sacks (good for seventh in NFL history), all reasons why he is a Hall of Fame player.
1. Von Miller, Super Bowl 50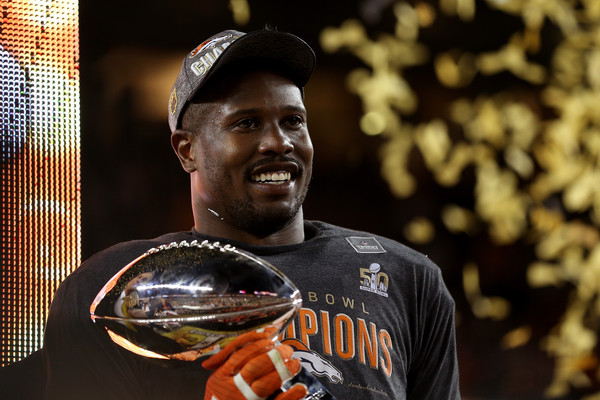 Seeing Von Miller's name at the top of this ranking probably makes you think we are disrespecting past performances from previous Super Bowl MVP defenders. In all honesty though, Miller's Super Bowl 50 performance was one of the best we've seen by any player, regardless of position. He almost won Denver the championship himself by collecting six tackles and two-and-a-half sacks, as well as forcing two fumbles that both led to scores for the Broncos.
Going up against league MVP Cam Newton, Miller stole the show, making his display all the more impressive. When all is said and done, Miller could go down as one of the greatest linebackers in NFL history, but for now, he deserves the best individual performance for a defender in Super Bowl history.
Statistics courtesy of Pro-Football-Reference.com.