NFL Fantasy Football Rankings: The 15 Best Quarterbacks in 2015
With the start of the 2015 NFL season right around the corner, it's time for fantasy football players to start seriously thinking about who they want to target in their league's draft. In this article we have broken down and ranked the top 15 fantasy quarterback's in 2015 to help you in your decision-making process.
Before jumping into our rankings, we wanted to point out that we are advocates of selecting quarterbacks in the first round of fantasy draft. It has to be the right player, but when it comes down to it, we'll take the consistent production of a top-tier quarterback versus the uncertainty of an injury-prone running back any day of the week.
In our rankings, we broke the top 15 quarterbacks down into three tiers. The 'Tier 1' players are guys who we think are worthy of first or second round consideration, the 'Tier 2' players are guys who we believe should be taken in rounds three through five, and the 'Tier 3' players are guys who we think should be taken anywhere from the sixth round and on. Without further delay, here is a look at our rankings of the top 15 fantasy quarterbacks in 2015.
Our analysis was made based on the assumption that a standard scoring format is in place.
Tier 3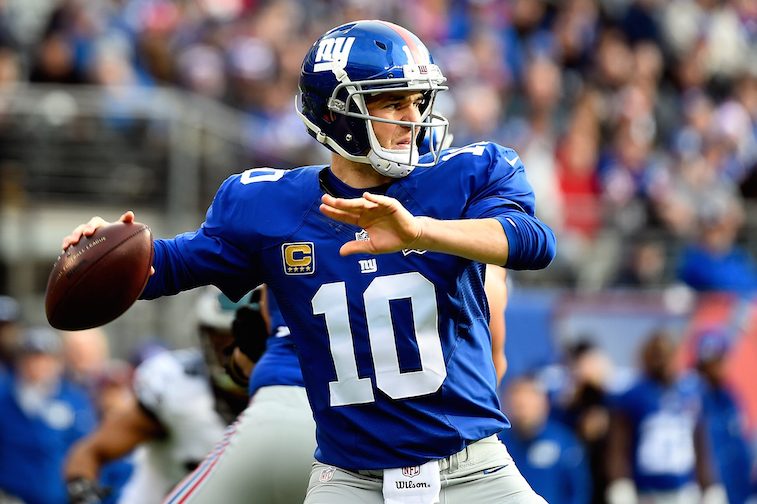 15.  Philip Rivers, San Diego Chargers
– Bye Week:  10
Rivers isn't the type of quarterback you can lean on to win a fantasy football championship. He will, however, give you fairly steady production on a weekly basis and will produce an occasional 300-yard, three touchdown pass performance. If you are stuck looking for a quarterback in the middle-to-late rounds, Rivers could be a good fit.
14.  Sam Bradford, Philadelphia Eagles
– Bye Week:  8
The key to Bradford's season is his health. If he remains injury-free and plays the entire season, he has the potential to flirt with being a top-five fantasy quarterback in Chip Kelly's offensive scheme in 2015.
13.  Joe Flacco, Baltimore Ravens
– Bye Week:  9
Flacco is a guy who could see a major jump in his fantasy production in 2015. His new offensive coordinator, Marc Trestman, is bringing over a very quarterback-friendly offense, and this year happens to be a contract year of sorts for the 30-year-old signal caller, as there is little to no chance that the Ravens let him play the 2016 season on his current contract that calls for a cap hit of $28.6 million. If he can find a way to account for the offseason departures of wide receiver Torrey Smith and tight end Owen Daniels, Flacco could be a steal for fantasy owners in 2015.
12.  Cam Newton, Carolina Panthers
– Bye Week:  5
Newton's fantasy value took a serious hit when the Panthers lost Kelvin Benjamin, their best wide receiver, for the season with a torn ACL. That said, the 26-year-old is one of the few quarterbacks in the league who fantasy owners can count on to score points via rushing yardage and rushing touchdowns.
11.  Eli Manning, New York Giants
– Bye Week:  11
Manning will be playing for a new contract in 2015, and also happens to have the luxury of throwing to one of the best wide receiver duos in the league in Odell Beckham Jr. and Victor Cruz. If he can cut down on the turnovers, he could easily end up being a top-five fantasy quarterback in 2015.
Tier 2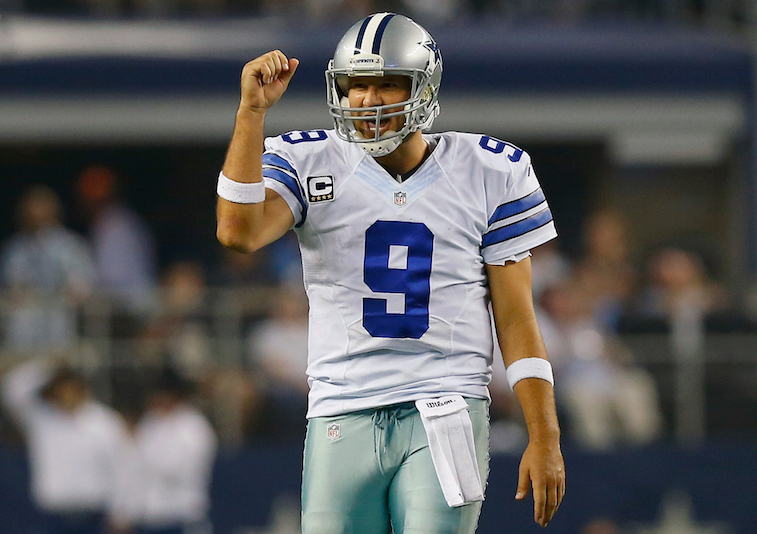 10.  Matt Ryan, Atlanta Falcons
– Bye Week:  10
We are fully expecting Ryan to have the best season of his career – in terms of fantasy football – in 2015. He still has one of the game's best wide receivers at his disposal in Julio Jones and a solid No. 2 option in Roddy White. More importantly, though, an improved offensive line and rushing attack for the Falcons should make him far less prone to turnovers in 2015.
9.  Russell Wilson, Seattle Seahawks
– Bye Week:  9
Wilson has yet to throw for 30 touchdowns in a single season, yet he still remains as one of the best fantasy quarterback options in the league heading into the 2015 campaign. Like Newton, fantasy owners can consistently count on Wilson to score fantasy points via rushing yardage and rushing touchdowns. While the rushing production is a nice little added bonus, we believe that he will have a spike in production through the air. For the first time in his career, he has an elite target to throw to in tight end Jimmy Graham, whose presence alone should drastically increase Wilson's fantasy value in 2015.
8.  Matthew Stafford, Detroit Lions
– Bye Week:  9
Stafford is an excellent fantasy option for the simple fact that he gets to throw the ball to Calvin Johnson. Couple that with the fact that he now has a second No. 1-caliber target in Golden Tate and an emerging young tight end in Eric Ebron, and Stafford has the makings of an elite fantasy quarterback in 2015.
7.  Tom Brady, New England Patriots
– Bye Week:  4
Assuming his suspension does not get reduced, we would actually advise against drafting Brady any earlier than the seventh or eighth round of your draft. Still, when he is in the lineup with a healthy arsenal of weapons, fantasy owners can count on solid production out of the four-time Super Bowl champion. If you can find a decent fill-in for Brady while he serves his suspension, he could be the type of quarterback to lead your team on a late-season run to a fantasy championship.
6.  Tony Romo, Dallas Cowboys
– Bye Week:  6
Romo remains an excellent fantasy quarterback, despite the fact that the Cowboys are now a run-first team offensively. Of course, it certainly helps that he has All-Pro-caliber players to throw the ball to in wide receiver Dez Bryant and tight end Jason Witten. Regardless, owners who draft Romo should rest easy knowing that they have one of the top fantasy quarterbacks in the league for 2015.
Tier 1
5.  Ben Roethlisberger, Pittsburgh Steelers
– Bye Week:  11
Roethlisberger emerged as a truly elite fantasy quarterback option in 2014. He will again have one of the top wide receiver corps in the league, led by Antonio Bryant, at his disposal and a dominating rushing attack, led by Le'Veon Bell, that will aide in opening up the team's playaction and vertical passing games. Expect Big Ben to finish the season with close to 5,000 passing yards and 35-40 touchdown passes.
4.  Drew Brees, New Orleans Saints
– Bye Week:  11
When it comes to the New Orleans Saints' outlook for 2015, there is one thing we can whole-heartedly count on: fantasy owners can to rely on Brees to consistently score points in bunches. Tight end Jimmy Graham may be gone, but Brees still has plenty of targets to throw to in 2015. Furthermore, as long as he is playing in head coach Sean Payton's pass-heavy offense, fantasy owners can expect Brees to be one of the top quarterback options in the league.
3.  Peyton Manning, Denver Broncos
– Bye Week:  7
Many experts are predicting a major drop-off in Manning's fantasy production in 2015. We are not among them. While it is highly doubtful that the 39-year-old signal caller replicates his 2013, or even his 2014 numbers, we still believe Manning will throw for well north of 4,000 yards and another 35-40 touchdown passes. And judging by the draft trends we've seen in 2015, fantasy owners have been able to snag Manning as late as the fourth round in some drafts. If that happens to be the case for you, count your blessings because you just got a steal.
2.  Andrew Luck, Indianapolis Colts
– Bye Week:  10
Luck is primed for a huge fantasy season in 2015. In 2014, the former Stanford quarterback threw for just over 4,700 yards and 40 touchdowns. With an improved receiving corps those numbers could be even higher in 2015. The team added furure Hall of Fame wide receiver Andre Johnson during free agency and Phillip Dorsett, an explosive playmaker out of Miami (FL), with their first round pick in the 2015 NFL Draft. They will combine with their incumbent wideouts, T.Y. Hilton and Donte Moncrief, to give Luck a group of wide receivers that runs no less than four-deep. We are projecting a season of close to 5,000 yards and 40 touchdowns for Luck in 2015, which makes him one of two quarterbacks who we feel should be first round picks in all fantasy drafts regardless of scoring format.
1.  Aaron Rodgers, Green Bay Packers
– Bye Week:  7
Had wide receiver Jordy Nelson not gone down with a season-ending knee injury during the preseason, Rodgers would have been our slam-dunk pick as the No. 1 fantasy quarterback in 2015. He is still our top-rated fantasy signal caller, and we are fully confident that he will produce monster numbers, despite Nelson's absence. The reigning NFL MVP rarely turns the ball over, as his quick release prevents the opposition from sacking him, and his exceptional decision-making ability keeps him from throwing interceptions. All said, if you have the chance to draft Rodgers in your league, we recommend not letting it slip by.
All statistics courtesy of Pro-Football-Reference.