NFL Fantasy Football Rankings: Top 15 Running Backs in 2015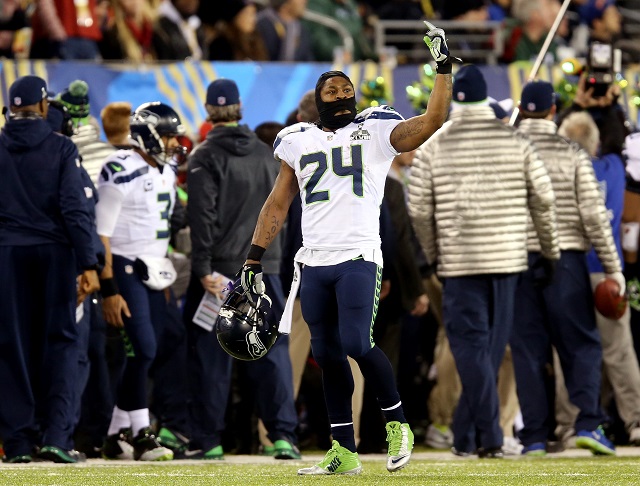 We are rapidly closing in on the kickoff to the 2015 NFL regular season. Rosters are being trimmed, and teams have started to announce the winners of position battles that lasted all offseason. With rosters being finalized and regular season action now just days away, it's time to start seriously thinking about your fantasy football team.
Most fantasy football leagues are set to draft over the next week, and whether you consider yourself to be a casual player, or a highly competitive player, it's always a smart idea to do some draft prep work. We recently gave you our rankings on the top-15 fantasy quarterbacks, and in this article we will give you or rankings of the top-15 running backs.
In our rankings, we broke the top 15 running backs down into three tiers. The 'Tier 1' players are guys who we think are worthy of a top five fantasy draft pick, the 'Tier 2' players are guys who we believe should be taken in the latter half of the first round or early second round, and the 'Tier 3' players are guys who we think should be taken anywhere from the mid-second round and on. With that being said, here is a look at our rankings of the top 15 fantasy running backs in 2015.
Our analysis was made based on the assumption that a standard scoring format is in place.
Tier 3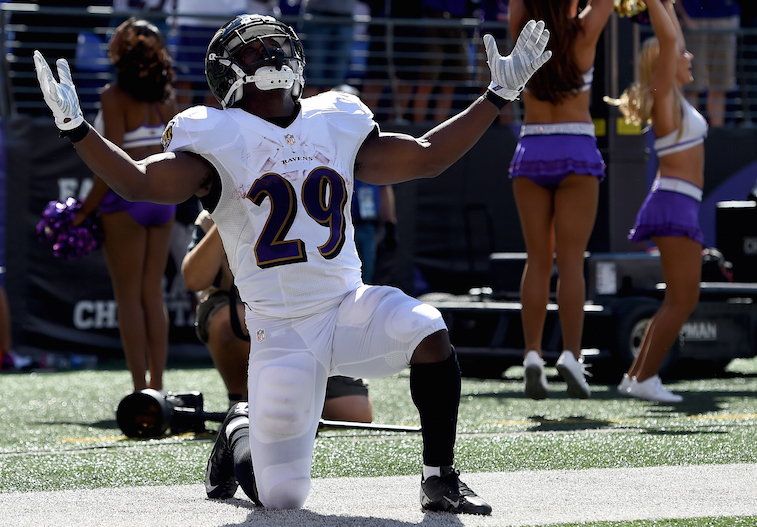 15.  Latavius Murray, Oakland Raiders
– Bye Week:  6
Murray has drawn rave reviews from his teammates and the Raiders' coaching staff during training camp. Not that it means much, but he will enter the season as Oakland's starter and the team fully believes that Murray can emerge as the bellcow running back that they have spent the last decade looking for.
14.  Matt Forte, Chicago Bears
– Bye Week:  7
Forte has been a fantasy stud in each of his seven NFL seasons. He came in this low on our list for the simple fact that he has averaged well over 300 touches per season over the course of his career. Couple that with the fact that the Bears have a subpar offensive line, and you have the makings of a player who we believe will have a noticeable decrease in fantasy production in 2015.
13.  DeMarco Murray, Philadelphia Eagles
– Bye Week:  8
Murray was great in 2014, but the 27-year-old carried the ball 392 times for the Dallas Cowboys in 2014. Why is that something fantasy owners need to know? Well, there has been only one occurrence in NFL history where a running back who carried the ball 370 times or more saw an increase in his number of carries the following year. While we believe Murray still has something left in the tank, he falls into the "buyer beware" category fantasy owners in 2015.
12.  Lamar Miller, Miami Dolphins
– Bye Week:  5
Miller posted the first 1,000-yard season of his career in 2014, and by all accounts the Dolphins are expecting nothing less from the 24-year-old back in 2015. Miami returns a strong offensive line, and with an average-at-best passing game, Miller could be the player who carries their offense. The Dolphins have publically said that they are planning on a heavy workload for Miller this year, and if he can stay healthy, which is a big if, the former Miami Hurricane could have a huge fantasy season in 2015.
11.  Justin Forsett, Baltimore Ravens
– Bye Week:  9
Forsett (pictured above) was one of the biggest fantasy surprises of the 2014 season, but we think he will take a step back in 2015. Out is Gary Kubiak's zone-blocking scheme, which Forsett excelled in, and in is new offensive coordinator Marc Trestman's more pass-heavy offense. We still like Forsett in 2015, but as more of an RB2 option.
Tier 2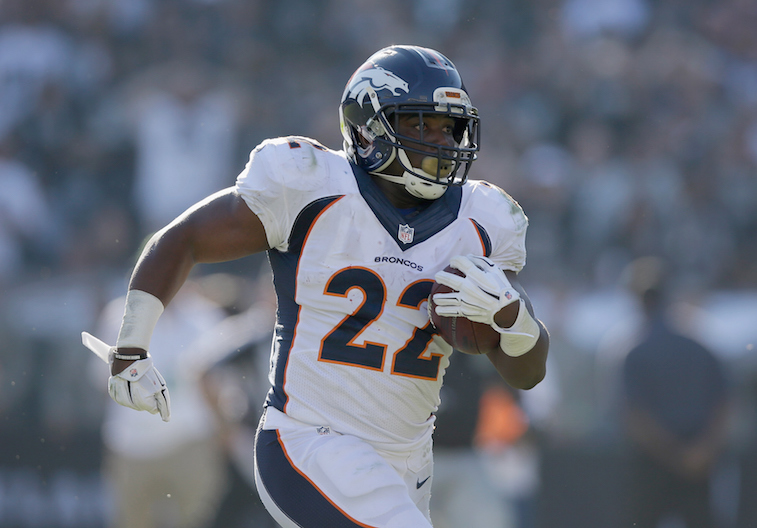 10.  Jonathan Stewart, Carolina Panthers
– Bye Week:  5
Stewart has the potential to have a monster fantasy season in 2015. For starters, he will no longer be competing for carries with DeAngelo Williams. More importantly, the Panthers will likely be forced to rely on their rushing attack far more than they were likely planning on heading into training camp due to wide receiver Kelvin Benjamin's season-ending injury. We are expecting Stewart to have the best season of his NFL career in 2015.
9.  Mark Ingram, New Orleans Saints
– Bye Week:  11
During the latter half of the 2014 season, Ingram finally looked like the player the Saints thought he could be when they traded up to select him in the first round of the 2011 NFL Draft. It helped that the team finally gave the 2010 Heisman Trophy winner a heavy workload on a consistent basis, which is what we fully expect to happen again in 2015.
8.  Jeremy Hill, Cincinnati Bengals
– Bye Week:  7
Hill was nothing short of a fantasy stud as a rookie in 2014. After taking over as the workhorse back in Cincinnati when Giovani Bernard went down, Hill went on to post four games with 145 rushing yards or more in the Bengals' final nine games of the season. As a result, he will begin the 2015 season as the team's unquestioned starter, and with one of the better offensive lines in the league in front of him, Hill should be one of the most consistent fantasy running backs in the league this year.
7.  LeSean McCoy, Buffalo Bills
– Bye Week:  8
The Bills have every intention of putting their offense on the back of McCoy in 2015. That doesn't necessarily mean we like him as a fantasy option as much as we have in past seasons. The reason for our slightly negative outlook is that the Bills have a below average offensive line and McCoy is coming off of back-to-back seasons with 300 or more carries. Nonetheless, expect a heavy workload and solid fantasy production from McCoy as long as he is in the Bills lineup.
6.  C.J. Anderson, Denver Broncos
– Bye Week:  7
By the end of the 2014 season, Anderson (pictured above) had emerged as a top-five fantasy running back. The key for the 24-year-old back in 2015 is staying healthy. If he does, Anderson could be a top-five fantasy running back in the Broncos' new run-first, zone-blocking scheme.
Tier 1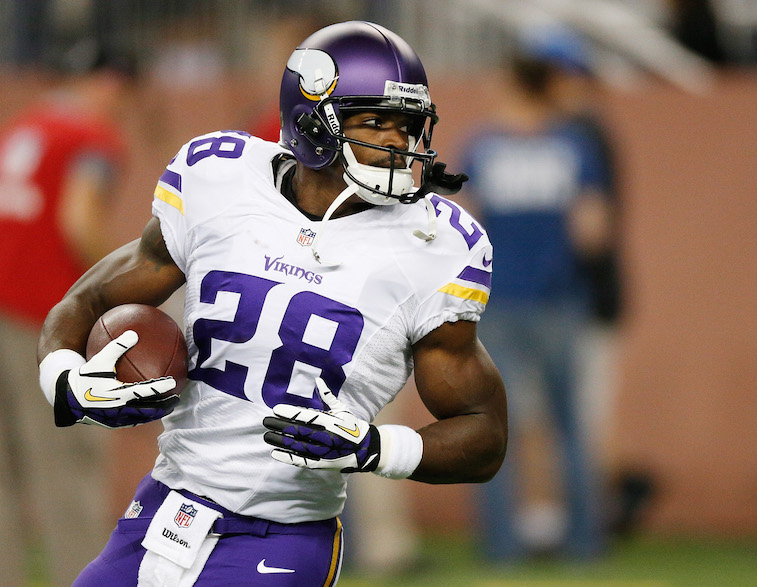 5.  Marshawn Lynch, Seattle Seahawks
– Bye Week:  9
Lynch is a pretty safe pick in any scoring format. In 2015, we expect the 29-year-old back to again have no less than 275 carries and have a yards per carry average north of 4.0 yards. If Lynch falls into your lap early in the first round of your draft, rest easy; you just landed one of the best, most consistent fantasy producers in the league.
4.  Eddie Lacy, Green Bay Packers
– Bye Week:  7
We've liked Lacy as a fantasy option all offseason. We like him even more after All-Pro wide receiver Jordy Nelson suffered a season-ending knee injury during the preseason. With the balance of the Green Bay offense, opposing defenses will be unable to either load up the box to stop the run, or sit back in pass coverage to slow down Aaron Rodgers and the Packers' aerial attack without completely getting shredded. We are forecasting Lacy to post no less than 1,300 rushing yards with a double-digit touchdown total in 2015.
3.  Le'Veon Bell, Pittsburgh Steelers
– Bye Week:  11
Had Bell not been suspended for the first two games of the season, we would have likely considered him for the No. 1 spot on this list. Regardless of his suspension, he is still worthy of a top-five pick in most fantasy drafts. He is, in our opinion, the best young running back in the league. The 23-year-old is a true three-down back, who will likely finish the 2015 season with double-digit rushing touchdowns despite missing two games to start the season. We are extremely high on the potential for the Steelers' offense in 2015, and Bell is one of the main reasons why. If you can find a way around not having him in your lineup to start the season, Bell would be a great pick at the top of the first round.
2.  Jamaal Charles, Kansas City
– Bye Week:  9
Charles may be the most explosive running back in the league. He possesses the rare combination of world-class speed and acceleration, and the ability to run between the tackles. The only thing that has at all slowed Charles during his seven-year NFL career has been injuries, but by all accounts, he is 100-percent healthy heading into the 2015 season. When it comes to fantasy production in 2015, we are fully expecting Charles to be one of the highest-scoring players in the league. In fact, we think so highly of Charles that we would feel totally comfortable recommending him as a player worthy of the No. 1 overall pick in standard scoring format leagues.
1.  Adrian Peterson, Minnesota Vikings
– Bye Week:  5
Opinions on Peterson as a fantasy option in 2015 seem to be split in addition to being somewhat extreme. Some people think he will bust, while others believe he will be dominant. Very few people fall anywhere in between. We happen to be among the group of people who are forecasting Peterson to be a fantasy star in 2015. He may be 31-years-old, but he had almost an entire season to heal rest his body. On top of that, the 2012 NFL MVP has made it clear that he is extremely motivated to both reclaim his spot as the league's premier running back, and break the NFL's single-season and career rushing yardage records. He will benefit from the Vikings having a strong offensive line and the fact that the team finally has a capable passing game to take some of the pressure off of their rushing attack. All said, there might be some risk involved if you draft him, but we believe Peterson will be the best fantasy running back in the league in 2015.
All statistics courtesy of Pro-Football-Reference.