NFL Records: 5 Players With the Most Single-Game Receiving Yards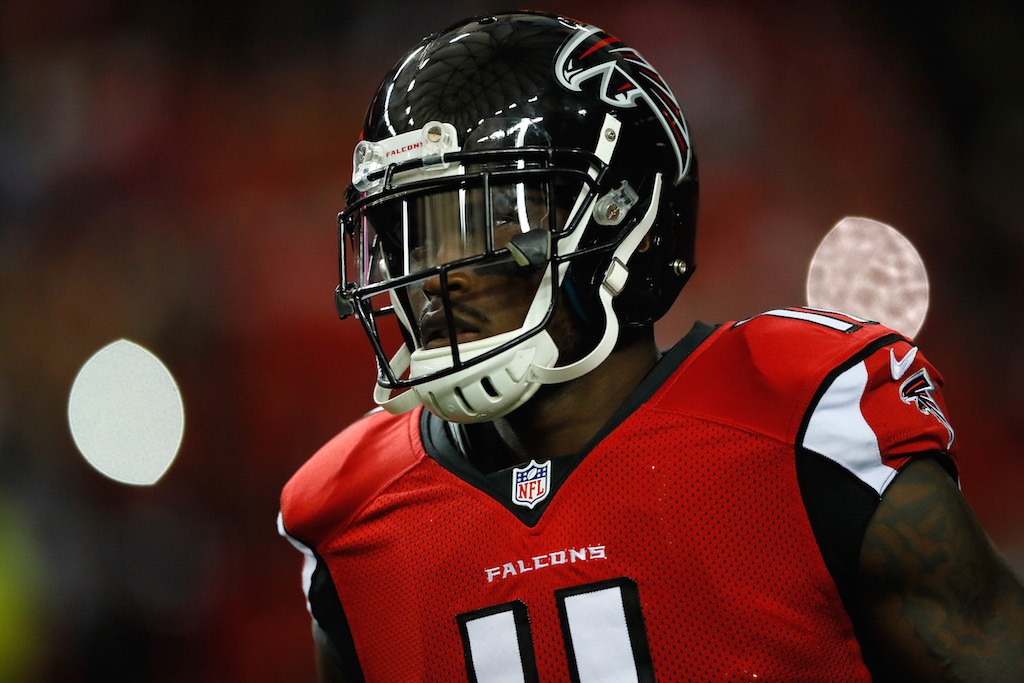 It's easy to look at offensive outbursts in the National Football League, especially during these Fantasy-driven times, and focus solely on which players rack up the most touchdowns, yet that wouldn't be doing the game's biggest superstars justice. While some individuals may not get into the end zone as much as others, that doesn't mean they aren't able to singlehandedly take over the contest. And the way we see it, few individuals manage to do this better than wideout Julio Jones.
During Atlanta's 48-33 dismantling of the Carolina Panthers in Week 4, the Falcons receiver was an absolute one-man wrecking crew, catching 12 passes, including one for a touchdown, while racking up a ridiculous 300 receiving yards. Leave it to Jones, however, to remain beyond humble in the face of his latest outstanding performance: "It's just for my brothers. We have a brotherhood here. We worked the whole offseason to create that. My success today is from them, just being out on the field with them."
As much as we appreciate a player's modesty, we feel the need to brag on Jones' behalf. After all, it's not everyday a player goes for 300-plus yards in a single game. In fact, this is just the sixth time in NFL history that it's been accomplished. You see, this is a big deal.
Of course, it should be noted that while Jones' mark put him in some pretty distinguished company, it wasn't good enough, from a receiving standpoint, to crack the top five of single-game performances. How is that possible? Take a look at the five players with the most single-game receiving yards in NFL history and see for yourself.
5. Cloyce Box, Detroit Lions
Receiving yards: 302
On December 3, 1950, the Detroit Lions went on the road to take on the Baltimore Colts. In this monumentally one-sided affair that saw the visiting Lions come out victorious 45-21, the real star of the game proved to be wide receiver Cloyce Box. On this particular afternoon, the 6-foot-4-inch, 220-pound All-Pro used his massive frame to dominate the Colts to the tune of 12 receptions, 302 receiving yards, and four touchdowns. It's hard to believe a performance that strong only constitutes the fifth-best single-game receiving output in NFL history.
4. Jim Benton, Cleveland Rams
Receiving yards: 303
Cleveland Rams receiver Jim Benton had a field day against the Detroit Lions on November 22, 1945. In a contest that saw the Rams improve to 9-1 following a 28-21 victory, the former Arkansas Razorbacks standout torched the Lions for 303 receiving yards and a touchdown. Interestingly enough, Benton played in just nine games that season, yet he led the league in receiving yards with 1,067.
3. Stephone Paige, Kansas City Chiefs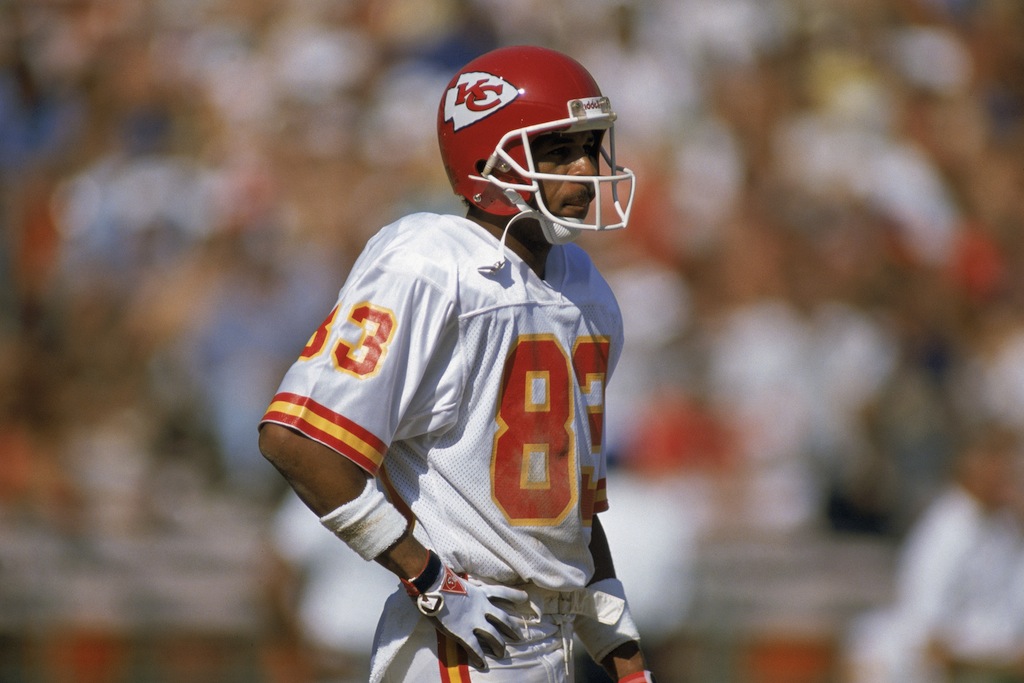 Receiving yards: 309
During a Week 16 clash on December 22, 1985 between the Kansas City Chiefs and the San Diego Chargers, KC wideout Stephone Paige took it upon himself to singlehandedly destroy the opposition. While the final score of the contest would read 38-34 in favor of the Chiefs, the Chargers proved no match for No. 83 who had eight receptions for 309 receiving yards and two touchdowns. Considering that Paige led the NFL that year in yards-per-reception (21.9), we feel like San Diego should've seen this sort of outburst coming.
2. Calvin Johnson, Detroit Lions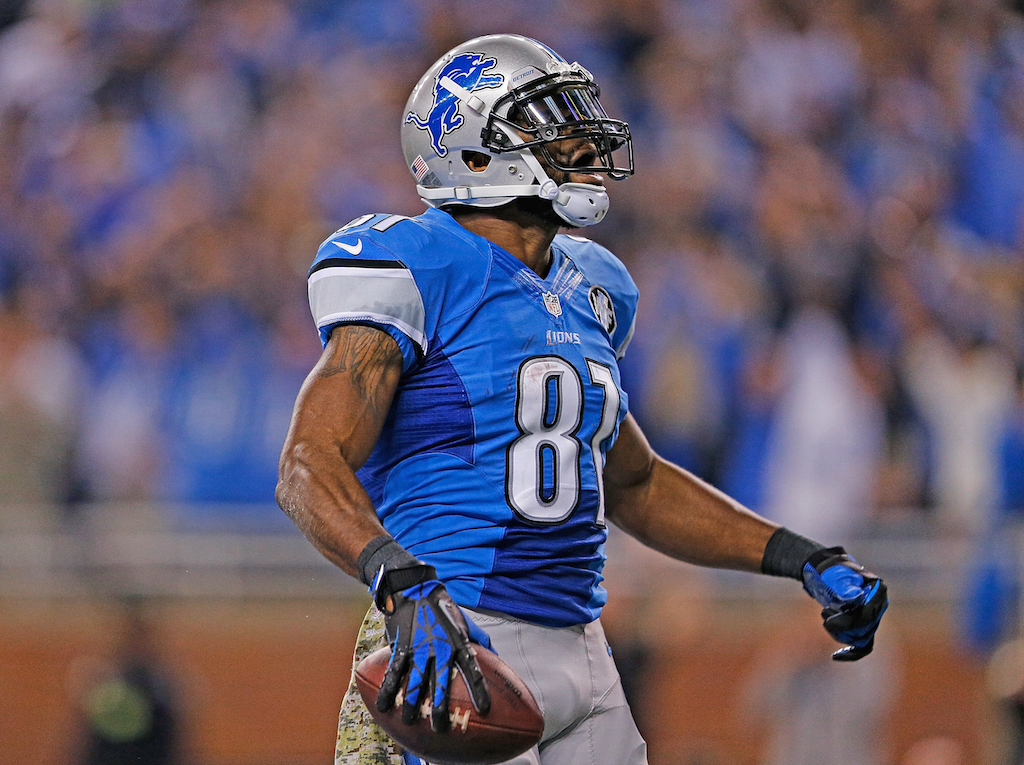 Receiving yards: 329
On October 27, 2013, during a contest against the Dallas Cowboys, wide receiver Calvin Johnson showed the world why he's rightfully nicknamed "Megatron." The Detroit Lions superstar was absolutely unstoppable, torching the Cowboys secondary for 14 catches, 329 receiving yards, and one score. To be fair, Johnson did lose a fumble that the afternoon. However, the Lions still held on to win the game 31-30. We choose to focus on the positives; like Johnson's destruction of Dallas.
1. Flipper Anderson, Los Angeles Rams
Receiving yards: 336
When the Los Angeles Rams traveled to New Orleans on November 26, 1989 to take on the Saints, who could've guessed that receiver Flipper Anderson would put on a show for the ages. The Rams wideout had 15 catches for an NFL single-game record 336 receiving yards and one touchdown. On top of this ridiculous individual performance, the Rams went on to win the game by a score of 20-17. We'd say this was a pretty good day all around for the road team.
Statistics courtesy of Pro-Football-Reference and ESPN.