NFL Records: The 5 Single-Season Receiving Yards Leaders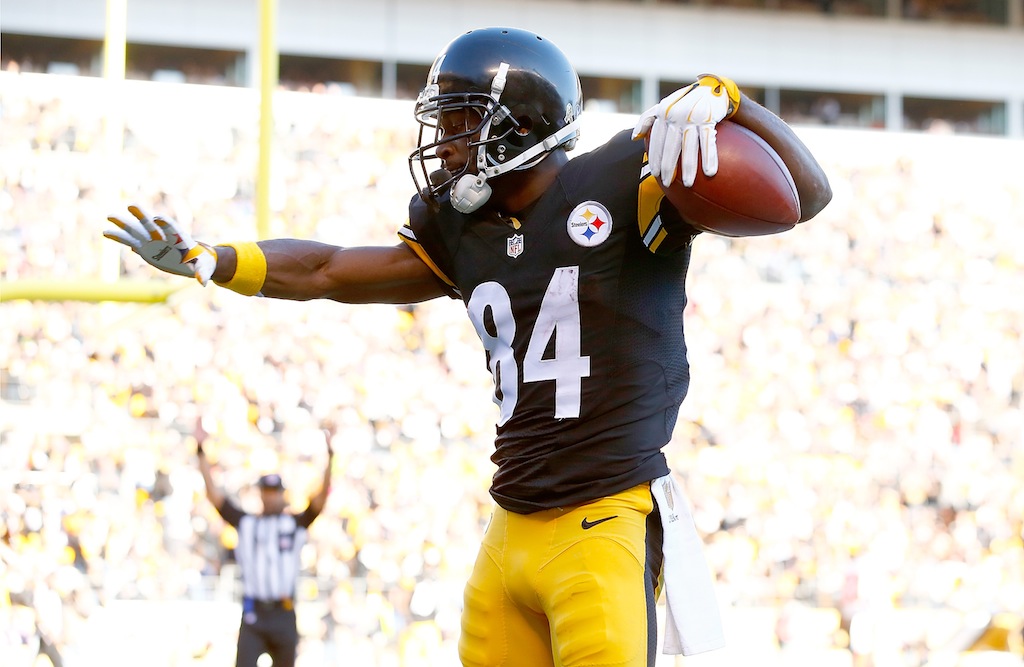 With the rules favoring that of the wide receiver, it's already hard enough to be a defensive back in the National Football League. But when you throw talented wideouts such as Pittsburgh's Antonio Brown and Atlanta's Julio Jones into the mix, the job becomes damn near impossible. And considering that these two juggernauts are taking their respective games to new heights in 2015, we can't help but feel bad for anyone who's tasked with trying to stop them.
In a league filled with a number of talented receivers, Brown and Jones have managed to separate themselves from the rest of their peers. Through 10 weeks, these two individuals find themselves near the top of almost every major statistical receiving category. And while we could easily talk about Jones' league-leading 80 receptions or the fact that Brown is second in the NFL in receiving yards per game with 114.1, we choose to focus on one stand-out stat: total receiving yards.
At this moment in time, Brown and Jones are the NFL's No. 1 and No. 2 leading receivers (1,141 and 1,029 yards, respectively). But what makes this even more interesting is that, according to ESPN's projections, should these two continue at their current pace, both would finish the year among the top five leaders in single-season receiving yards (Brown with 1,826 receiving yards and Jones with 1,829 receiving yards) in league history. Wouldn't that be something?
Of course, we have no idea how the rest of the 2015 season will play out. Still, considering that both of these individuals are playing at historically high levels, it never hurts to look at the players they are currently chasing. As a result, with that in mind, here are the five players with the most single-season receiving yards in NFL history.
5. Marvin Harrison, Indianapolis Colts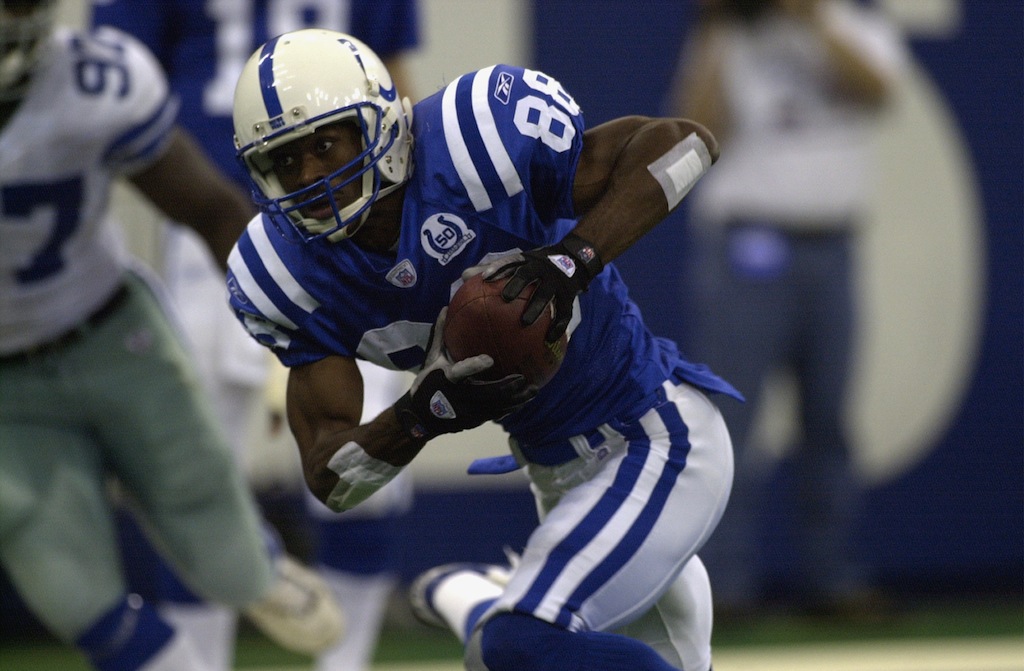 Single-Season Receiving Yards: 1,722
In 2002, at the age of 30, Indianapolis Colts All-Pro Marvin Harrison put together one of the more impressive single seasons by a wide receiver in NFL history. Thanks to his undeniable connection with quarterback Peyton Manning, No. 88 would lead the NFL in receptions (143), receiving yards (1,722), and yards per game (107.6). To this day, Harrison's 1,722 receiving yards remain good enough to keep him at No. 5 on the list of the NFL's leaders in single-season receiving yards.
4. Charley Hennigan, Houston Oilers
Single-Season Receiving Yards: 1,746
Wideout Charley Hennigan may not be a household name, but if you want to talk about receivers who made a living by completely torching opposing secondaries, you'd be wise to include him in the conversation. While he played for the Houston Oilers from 1960-66 — where he became a five-time Pro Bowler and three-time First-Team All-Pro — it was during the 1961 season that Hennigan first made his mark. That year, the 26-year-old caught 82 passes, averaged 124.7 receiving yards per game (first in the league), and caught 12 touchdown passes. Of course, who could forget his 1,747 receiving yards, which still holds up as No. 4 on the all-time list of receiving yards in a single season.
3. Isaac Bruce, St. Louis Rams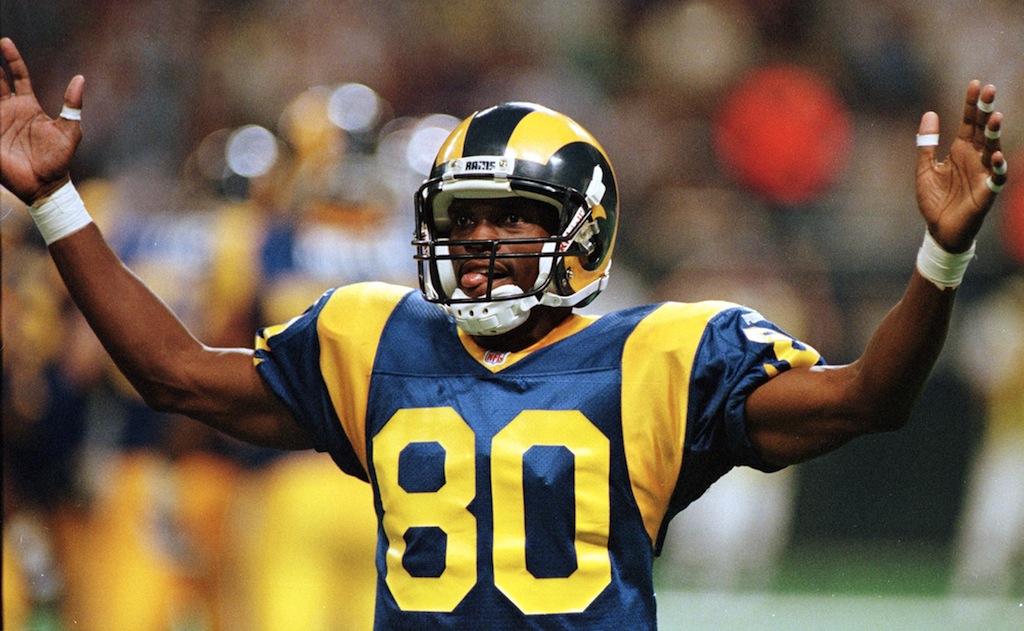 Single-Season Receiving Yards: 1,781
The 1995 St. Louis Rams may have been a lackluster bunch — finishing the season with a 7-9 record — but the same could not be said for superstar wide receiver Isaac Bruce. During that same season, at just 23 years old, Bruce caught 119 passes, 13 touchdown receptions, and averaged 111.3 yards per game. On top of that, No. 80 also racked up 1,781 receiving yards — good for No. 3 on this list. And while it's amazing to think that Bruce pulled off this feat at such a young age, it's worth noting that this number wasn't even the most gained by a receiver that season.
2. Jerry Rice, San Francisco 49ers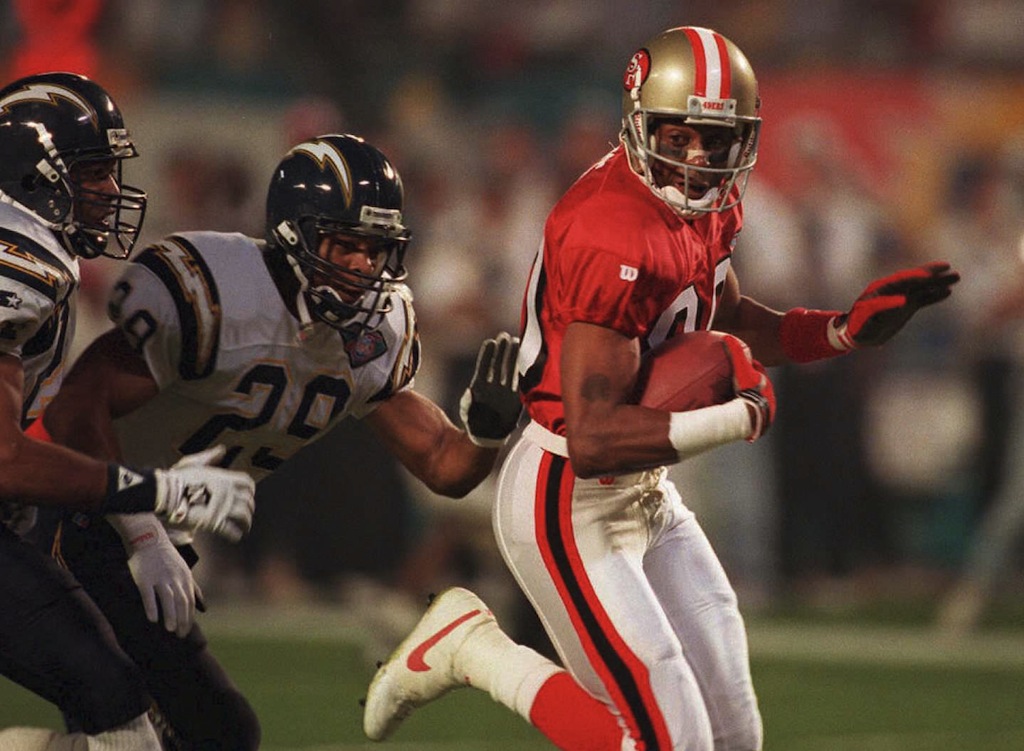 Single-Season Receiving Yards: 1,848
The man who topped Bruce in 1995 was none other than San Francisco 49ers great Jerry Rice. Aside from compiling 122 receptions, catching 15 touchdown passes, and putting up 115.5 yards per contest, the Hall of Famer also managed to lead the NFL in receiving yards with 1,848. As you can imagine, it would essentially take a superhuman effort to eclipse this sort of single-season performance. Then again, No. 1 on this list happens to be more "transformer" than actual human.
1. Calvin Johnson, Detroit Lions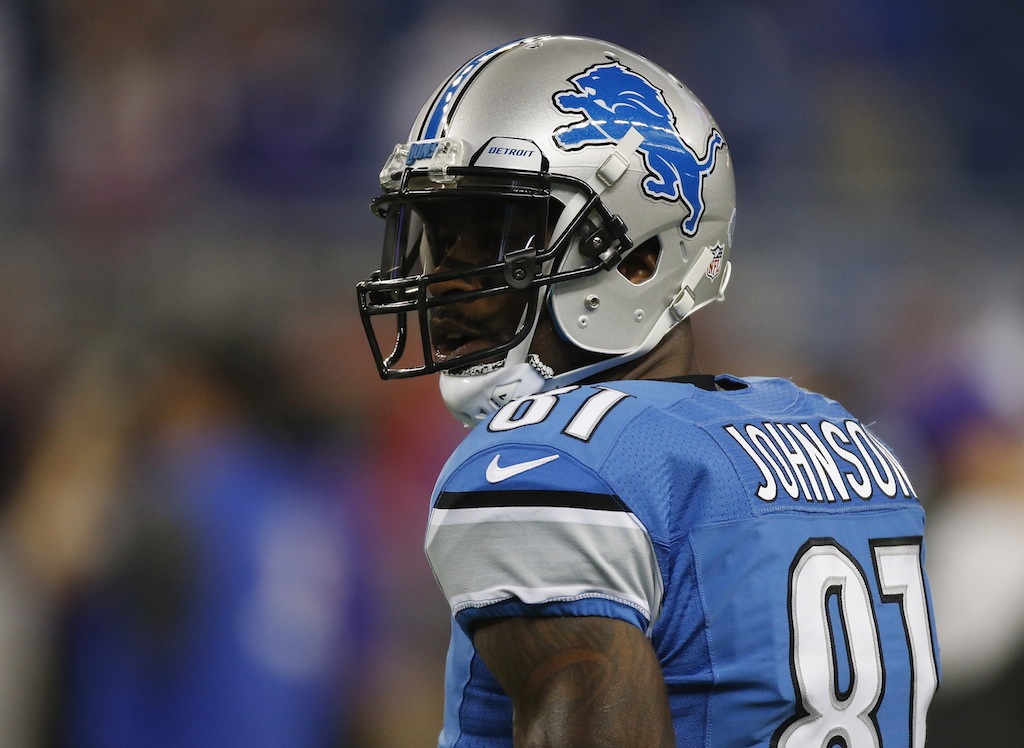 Single-Season Receiving Yards: 1,964
During the 2012 season, Detroit Lions wideout Calvin Johnson took the receiver position to new heights. While he only managed to pull in five touchdown passes, he did dominate the league in receptions (122), yards per game (122.8), and more importantly, receiving yards (1,964) — the most ever by a receiver in NFL history. To be the best, you have to beat the best. And right now, as far as this particular record is concerned, the buck stops with Megatron.
All statistics are courtesy of Pro-Football-Reference.com and ESPN.go.com.