NFL: Richard Sherman's Hypocrisy Claims Are Spot-On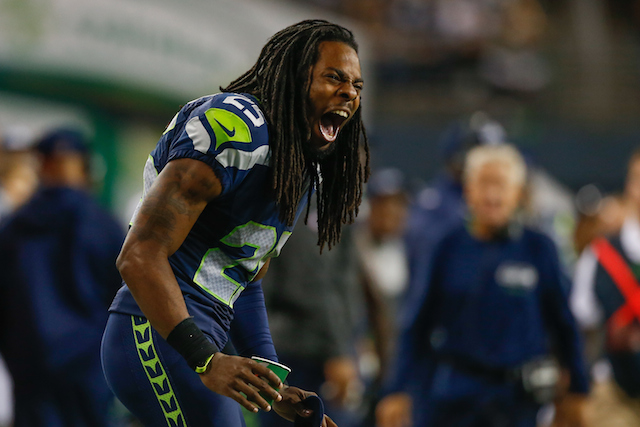 Seattle Seahawks' defensive back Richard Sherman is no stranger to speaking his mind. The brash player has anointed himself as the best cornerback in the game, he has called out nearly every one of his opponents from Michael Crabtree to Tom Brady, and he has once again shown that he is not afraid to challenge the hypocrisy of the National Football League.
Earlier this season, Sherman used a cardboard prop of teammate Doug Baldwin at a press conference to defend another teammate, Marshawn Lynch. The battle between the league and Lynch over the star running back's refusal to talk to the media has been well documented. Here's what Sherman asked the cardboard cutout Baldwin in his mock interview:
"You know the other day Marshawn Lynch got fined $100,000. Did you know that? They wouldn't have even paid him that much if he had talked. Geez, Louise. But you know who does pay me a lot of money? Beats by Dre, the wonderful headphones that I'm wearing. But the league doesn't let me say anything about them. Why is that? That seems a little hypocritical. It seems like we're in a league where they say, 'Players you don't endorse any alcohol. Please don't endorse alcohol, please no DUIs,' but a beer sponsor is their biggest sponsor."
In the same interview, Sherman continued on to call out the NFL for "valuing player safety," yet still making teams play two games in a five-day span.
His latest rant once again revolved around Lynch, and once again proved that his hypocrisy claims against the NFL are completely justified.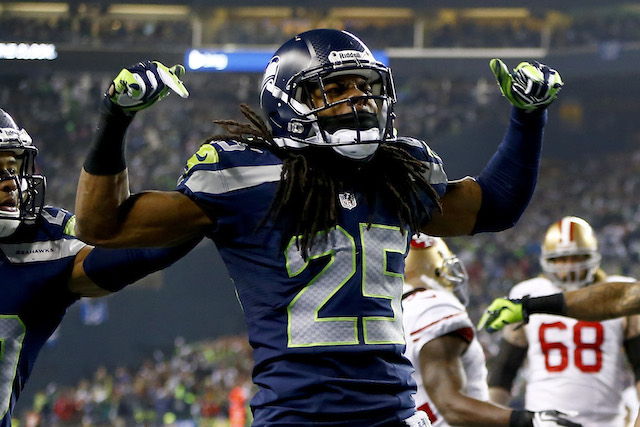 Prior to the NFC Championship Game, Marshawn Lynch hinted that he might wear solid gold shoes for the contest. The NFL responded by threatening to eject Lynch if he even attempted to enter the field wearing said shoes. Needless to say, Lynch chose not to wear the shoes, and he went on to rush for over 150 yards in the Seahawks' win.
On Monday, following the New England Patriots' AFC Championship Game win over the Indianapolis Colts, the latest in a long line of scandals involving the Patriots broke. DeflateGate, as it has come to be known, is the talk of the sports world, and will undoubtedly be one of the biggest storylines during Super Bowl week in Glendale, Ariz. To the surprise of nobody, Sherman has an opinion on the matter.
Sherman is adamant that DeflateGate will have no effect on Super Bowl XLIX. His direct quotes, "nothing will happen" and "nobody is going to get suspended", sum up his feelings pretty well, but it's this quote that should have commissioner Roger Goodell, and the executives of the NFL embarrassed with themselves: "They were trying to suspend Marshawn for gold shoes and that [deflating the ball] really affects the game, you suspend Marshawn for gold shoes, then you've got balls being deflated and that's the issue."
Valid point, Mr. Sherman.