NFL Rising Stars: 5 Offensive Players to Watch in 2015
To be considered a "rising star" in the NFL, you don't need to have recently put up massive numbers, but it doesn't hurt. Simply put, you just need to be in a great position to make a major impact moving forward in your career. The five players we're going to take a look at below find themselves in that exact situation.
While big-time playmakers like Odell Beckham Jr., Antonio Brown and Randall Cobb weren't studs immediately out of the gate, their strong play is what helped them earn that label. Heck, out of those three, even Beckham Jr. and Cobb still need to prove they truly are elite NFL players, rather than just very good ones.
Let's get into the five rising stars who are poised to break out during the 2015 season, and we'll start it off with an interesting prospect who just earned the starting nod in Buffalo.
1. Tyrod Taylor, QB, Buffalo Bills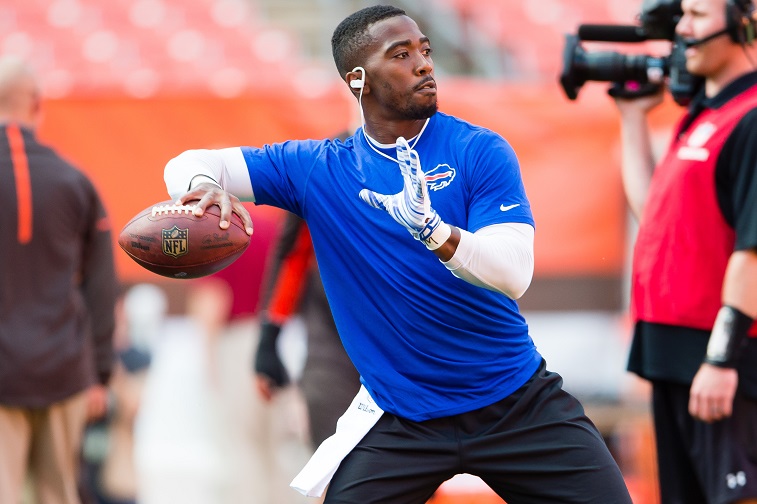 Before we get into anything about Tyrod Taylor, think about what you really know about him — like what you know about him without pulling up Google. This is a tough guy to figure out. He's heading into his fifth season in the NFL, and spent the first four years as a backup for the Baltimore Ravens. So far, we can say that he made one of the best decisions of the offseason by singing with Buffalo.
Why? Because the former Virginia Tech Hokie was recently named the Bills starter in 2015, according to Mike Rodak of ESPN. The Bills are putting their hopes and dreams for 2015 on a quarterback who has thrown a grand total of 35 passes for 199 total yards and two interceptions in his career. He does have one rushing touchdown, and apparently he's done quite a bit right this offseason in Buffalo, but that's all things that have happened before the games start to count.
Taylor is a player to watch this season, but his ability to break down defenses with both his arm and his legs should be a major game changer. If Rex Ryan can help teach Taylor to manage the game, this could be a perfect spot for the young quarterback, and one that could turn him into a silent star in the NFL. He may not be a Pro Bowler, but expect him to shatter expectations this season.
2. Carlos Hyde, RB, San Francisco 49ers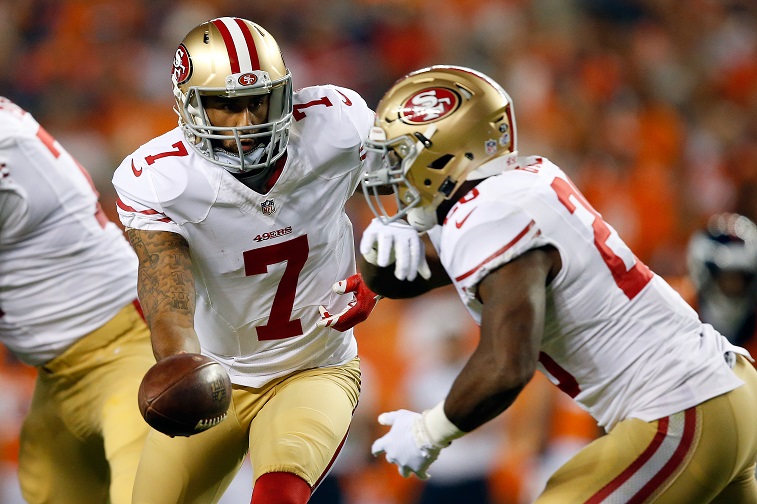 When the San Francisco 49ers chose to part ways with Frank Gore, it meant it was Carlos Hyde's time to shine. Hyde, the second-year running back was solid as a rookie, averaging 4-yards-per-carry, while rushing 83 times for 333 yards and four touchdowns, and that's just scraping the surface of his production.
The most important thing about his situation> If the 49ers want to have any type of success in 2015, they need to rely on their run game, no ifs, ands, or buts about it. Don't be surprised if you see Hyde carry the ball quite a bit this coming season, because the upside he brings to the table could really change the game in San Francisco.
He's young, he's talented and he's motivated. What's not to love about Hyde in 2015? Aside from a 49ers team who just suffered a brutal offseason, things are promising for Hyde. His team may not be great this season, but at least he will be.
3. Joseph Randle, RB, Dallas Cowboys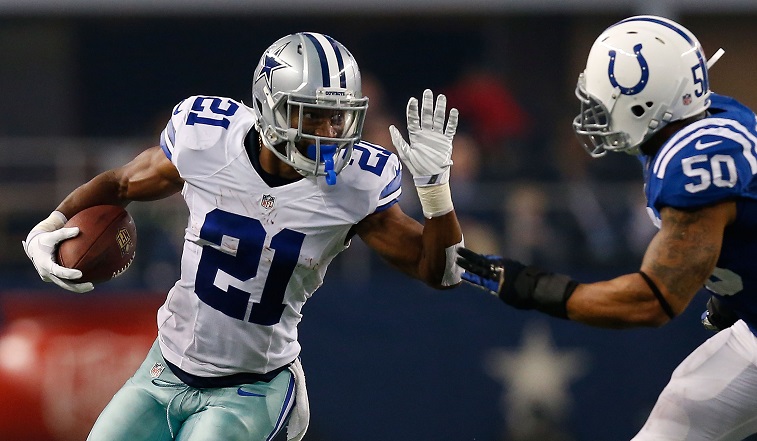 Simply put, Joseph Randle has to replace the massive number of carries that DeMarco Murray left behind. If you want to be exact, it's 392 rushes and 57 receptions that are wide open for the taking by Dallas running backs. While Darren McFadden and Lance Dunbar will also be looking for their piece of the pie, we still believe Randle is going to be the man to watch.
While Randle struggled a bit during his rookie year back in 2013, rushing 54 times for 164 yards and two scores, we saw a different player in 2014. Last year, Randle rumbled 51 times for 343 yards and three scores, an impressive 6.7-yard-per-carry average.
The Cowboys are focused on their run-first offense, which opens things up beautifully for quarterback Tony Romo. Randle is going to be the one to open things up, and as long as he can stay healthy, he can prove to be a big piece of Dallas' future.
4. Allen Robinson, WR, Jacksonville Jaguars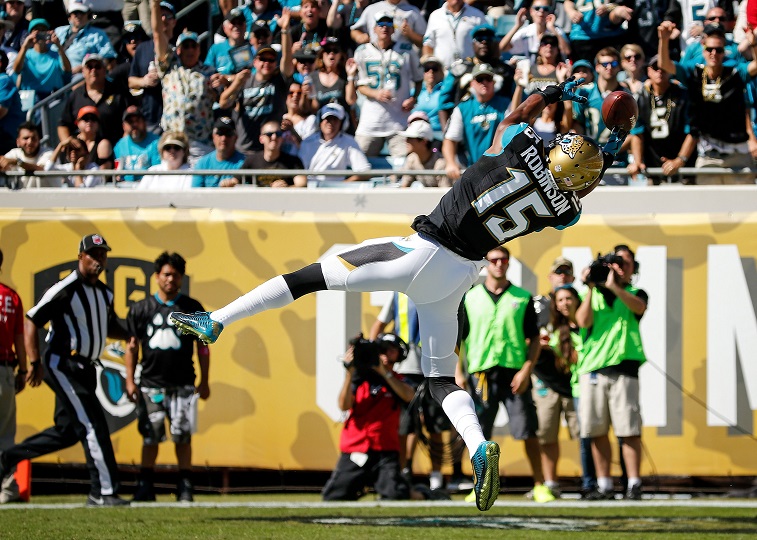 Allen Robinson played only 10 games last season for the Jaguars, but he made his presence felt when he was on the field. Robinson has quickly become a "sleeper" pick for fantasy football players this year, after catching 48 balls for 548 yards and two scores last year. The second-year receiver was able to tally at least four catches in every game except one last season, showing his consistency as well.
If Robinson and quarterback Blake Bortles can continue to grow their rapport going into 2015, this could be a fun duo to watch. Bortles loved targeting Robinson, looking his way 81 times through only 10 games, so there's an obvious reason to believe that he may turn the corner and put up Pro Bowl-caliber numbers this season.
Watch out for Robinson as the Jags's next big thing at wide receiver, and to be a player who may help Jacksonville become relevant again before long.
5. DeAndre Hopkins, WR, Houston Texans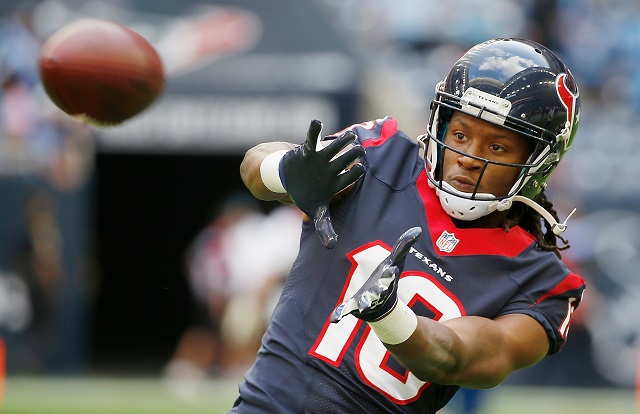 DeAndre Hopkins went from being impressive as a rookie — hauling in 52 balls for 802 yards and two scores — to being great in 2014, catching 76 passes for 1,210 yards and six scores. Basically, Hopkins is pretty much on the fringe of that "star" level, but a big 2015 campaign could truly push him to being one of the most talked about receivers in the NFL.
Hopkins has dealt with his fair share of inconsistency at the quarterback position during his two seasons in the NFL. Now he'll get a QB in Brian Hoyer, who we know can at least manage a game and hit his talented targets on a consistent basis. While Hoyer isn't the greatest thing since sliced bread at the quarterback position, he knows who the stud in Houston is, so don't be surprised to see Hopkins absolutely light the NFL on fire in 2015. A rising star? Hopkins is the definition of one.