NFL
NFL Rumors: 7 Potential Landing Spots for Adrian Peterson
Adrian Peterson is already considered one of the greatest running backs in NFL history — and rightfully so. The 2012 NFL MVP is a lock to enter the Pro Football Hall of Fame — possibly in his first year of eligibility — and still has an outside chance at challenging Emmitt Smith for the NFL's career rushing yardage title.
In his 10 NFL seasons (all with the Minnesota Vikings), Peterson has been selected to seven Pro Bowls and seven All-Pro teams (five were first-team All-Pro selections); he won the 2012 NFL MVP, Offensive Player of the Year, and Comeback Player of the Year awards; he won the 2007 NFL Offensive Rookie of the Year award; he's led the NFL in rushing touchdowns twice (2008 and 2015) and rushing yards three times (2008, 2012, and 2015).
With his impressive career resume, Peterson will undoubtedly go down as one of the greatest (if not the single greatest) players in Vikings history. Regardless, his time with Minnesota has more than likely come to an end, and All Day is officially a free agent. Here is a look at seven potential landing spots for Peterson in 2017.
1. Carolina Panthers
Due to a combination of declining performance, injury concerns, and a bloated contract, we expect the Panthers to part ways with veteran running back Jonathan Stewart this offseason. If that proves to be the case, Peterson would be an excellent replacement option.
Carolina has more than enough salary cap space to offer Peterson a fair contract, and they would give the 2012 NFL MVP an opportunity to win a lot of games. The one major drawback: The Panthers operate mostly out of the shotgun, which Peterson doesn't care for.
2. Seattle Seahawks
When it comes down to it, the Seattle Seahawks are at their best when they have a dominant rushing attack. While Thomas Rawls has flashed glimpses of greatness during his first two seasons in the NFL, he's also missed a total of 10 games due to various injuries. The Seahawks will likely prioritize improving their offensive line this offseason. However, if Peterson becomes available, we could easily see them making a serious run at the 2012 NFL MVP.
3. Indianapolis Colts
The Colts should be considered a dark horse contender to land Peterson this offseason. While we don't see them as Super Bowl contenders, Indianapolis plays in a weak division, and they run an offensive scheme that fits Peterson's skill set. But at the same time, the Colts already have Frank Gore on their roster, and their biggest priority this offseason needs to be improving their porous defense.
4. Green Bay Packers
While we are big fans of Ty Montgomery's versatility, we can't deny that the Packers need help at the running back position. On paper this looks like a near perfect landing spot for Peterson — they have a strong offense and an elite quarterback, and they are championship contenders — but he would have to play against his current team twice a year. Given his feelings toward the Vikings, that may be enough to keep this scenario from happening.
5. New York Giants
Peterson recently singled out the Giants as one of the three franchises he already considered joining if his run with the Vikings ends this offseason. When it comes down to it, the G-Men may actually be the perfect landing spot for the seven-time All-Pro.
The Giants have everything in place to make a Super Bowl run in 2017; they have a major need at the running back position; and Peterson would be a great fit in head coach Ben McAdoo's offensive scheme. If we had to pick right now, we would have to consider the Giants the frontrunners to land Peterson this offseason.
6. Kansas City Chiefs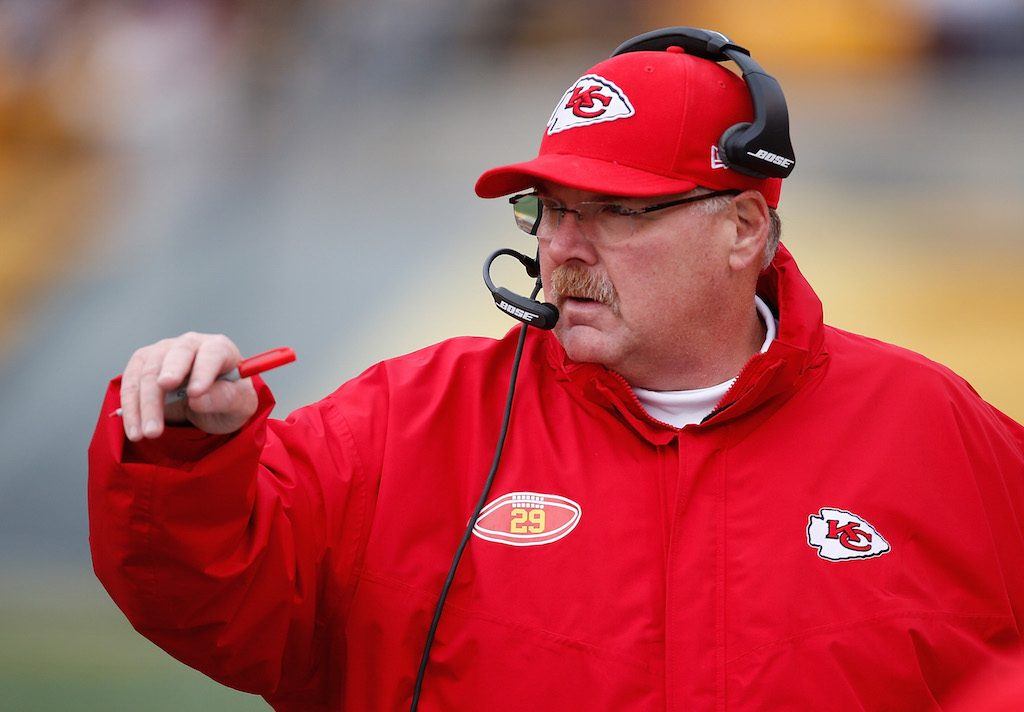 This scenario is an extreme long shot, but if you think about it, Peterson joining the Chiefs makes a lot of sense. At this point it's almost a forgone conclusion that Kansas City will part ways with Jamaal Charles this offseason, which leaves them with Spencer Ware and Charcandrick West as the only running backs on their 2017 roster. While both are solid players, they just aren't on Peterson's level when he is fully healthy.
We do, however, feel compelled to point out that the Kansas City's less–than-stellar salary cap situation could keep this pairing from gaining any momentum.
7. Tampa Bay Buccaneers
The Buccaneers were the third team that Peterson mentioned as a potential landing spot for himself in 2017. And make no mistake about it, Tampa Bay is very much a team on the rise.
The Bucs may end up parting ways with Doug Martin after the 28-year-old running back had all guarantees in his contract voided when the league suspended him for PED use in 2016. This would open up a clear path for Peterson to get the bulk of Tampa Bay's workload in 2017. And with over $84 million in salary cap space to work with, the Buccaneers can afford to give Peterson a hefty contract while adding multiple impact free agents.
Breaking down the Situation:
The former Oklahoma Sooner will soon turn 32 years old. He suffered another serious knee injury that caused him to miss most of the 2015 season. If that weren't enough to cause the Vikings to go in another direction, Peterson was scheduled to have a salary cap hit of $18 million next year. And thanks to 2017 being the final year of his current deal, Minnesota could release the star running back without incurring a dead money hit of any sort.
Peterson recently said that he plans to play in the NFL for five more years. And with the way he takes care of his body and bounces back from seemingly crippling injuries, we could totally see it happening. He recently listed a trio of teams that he considered as potential options if things didn't not work out in Minnesota. To us, one of them — the Houston Texans — just doesn't make sense.
Houston has basically everything Peterson is looking for — a chance to win, a strong defense, and an offensive scheme that fits him — but they already have a Pro Bowl-caliber running back in place (Lamar Miller). Additionally, their salary cap situation is less than ideal.
Why not the Vikings?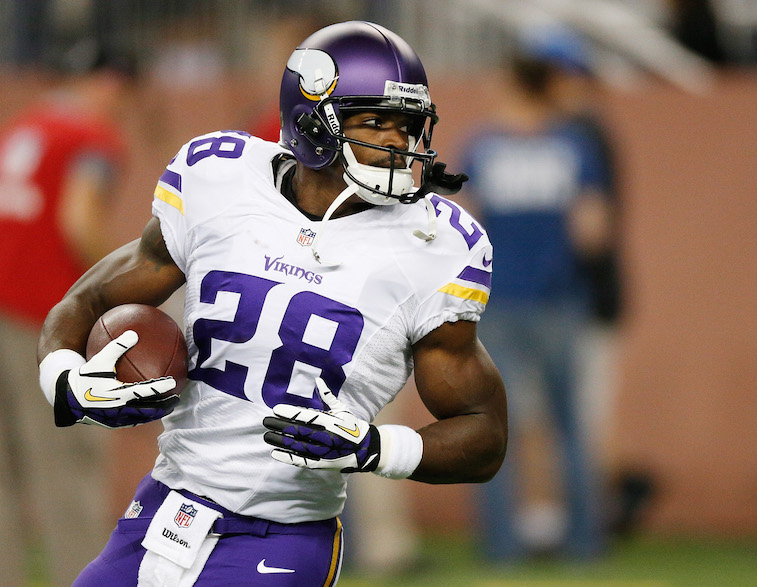 By all accounts, Peterson's first choice is to stay with Minnesota. For this to happen, though, Peterson would have to agree to a restructured contract including a hefty pay cut. He would also have to deal with the fact that the Vikings will run an offense predominantly out of the shotgun (which he isn't particularly fond of) when/if quarterback Teddy Bridgewater returns to action — and this is all before considering the cap implications we discussed earlier.
Statistics courtesy of Pro-Football-Reference and ESPN. Contract and salary cap data courtesy of Spotrac.