Who Vegas is Picking to Lead the NFL in Rushing Yards in 2016
Running back is one of the most unpredictable positions in the National Football League. Every year we see at least one big-name running back fall victim to the injury bug and miss a significant stretch of time.
Expanding on that, it is becoming more and more rare to see a true workhorse NFL running back stay healthy for an entire 16-game season. As a result, it is extremely difficult – and practically impossible — to accurately project and predict how many yards every starting running back in the league will run for in a given season.
Take the 2015 season for example. One year after leading the league with 1,845 yards in 2014 as a member of the Dallas Cowboys, DeMarco Murray signed with the Philadelphia Eagles as a free agent during the offseason and rushed for just 702 yards in 2015. Likewise, a year after Minnesota Vikings running back Adrian Peterson was suspended for all but one game in 2014, the 2012 NFL MVP bounced back and led the league with 1,485 rushing yards in 2015.
So who will lead the league in rushing yards in 2016? Only time will tell, but here is a look at the seven running backs with the best odds to accomplish the feat according to the oddsmakers for the sportsbooks in Las Vegas.
7. LeSean McCoy, Buffalo Bills
Odds: 17-1
Injuries may have limited LeSean McCoy in his first season in Buffalo, but the man they call "Shady" still had a solid 2015 campaign. In 12 games, McCoy had 203 rushes for 895 yards and three touchdowns while averaging just under 75 yards per game. While the numbers don't exactly pop out at you, the Bills running back did manage to score a trip to the Pro Bowl — his third straight and fourth of his career.
Although we have a hard time picturing No. 25 at the top of the rushing leaders list in 2016, the simple fact remains, he has done it before (see the 2013 season). As a result, we'd be foolish to count him out of the race.
6. Thomas Rawls, Seattle Seahawks
Odds: 16-1
Thomas Rawls is taking over for Marshawn Lynch — who retired this offseason — as the Seahawks' starting running back in 2016. He may lose a few carries per game to C.J. Prosise and Christine Michael, but based on what we saw from the former undrafted free agent as a rookie in 2015, Rawls could very well be primed to contend for a NFL rushing title in 2016.
5. Doug Martin, Tampa Bay Buccaneers
Odds: 14-1
After two straight disappointing seasons, Doug Martin returned to the form he showed as a rookie in 2012 rushing for 1,402 yards in 2015. As a result, he landed a hefty contract extension from the Buccaneers, and will enter the 2016 season with sky-high expectations. We are confident that he will produce if he can stay healthy.
Tampa Bay has one of the best up-and-coming offenses in the league, and their new head coach, Dirk Koetter, knows how to use Martin effectively, as he was the team's offensive coordinator during the former Boise State running back's All-Pro season a year ago.
4. Lamar Miller, Houston Texans
Odds: 9-1
Lamar Miller signed with the Texans during free agency this offseason, and the oddsmakers in Vegas expect him to post big numbers despite the fact that he had only one 1,000-yard season in his four years with the Miami Dolphins.
It's easy to understand why. If new Houston quarterback Brock Osweiler proves to be worth his massive contract, the Texans will have one of the most balanced offenses in the league, which should soften up opposing defenses for Miller and the Houston rushing attack.
3. Ezekiel Elliott, Dallas Cowboys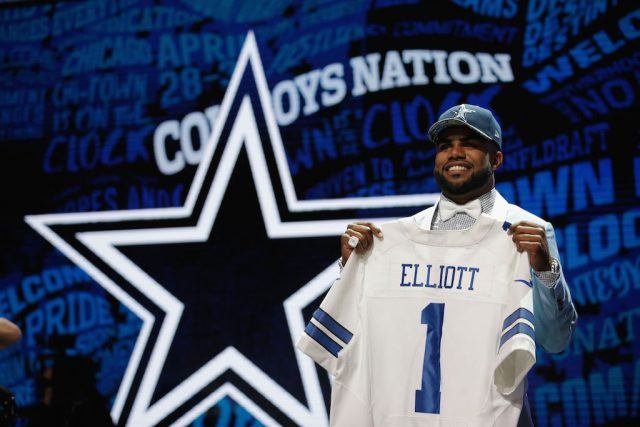 Odds: 17-2
Ezekiel Elliott could not have asked for a better situation to be drafted into than what he got with the Cowboys. The No. 4 overall pick in the 2016 NFL Draft will run behind the best offensive line in the league (the same one that paved the way to Murray's 1,800-yard season in 2014). All signs point to him being the bell cow back in Dallas as a rookie in 2016. With that being said, Elliott may end up facing discipline (a potential suspension) from the league if the recent allegations of domestic violence against him prove to be true.
2. Todd Gurley, Los Angeles Rams
Odds: 9-2
The Rams selected Todd Gurley with the No. 10 overall pick in the 2015 NFL Draft, despite knowing full well that the former Georgia Bulldog suffered a torn ACL just a few months prior. Gurley responded by earning All-Pro honors and winning the NFL Offensive Rookie of the Year award after rushing for 1,106 yards and 10 touchdowns in 13 games. With a year of experience and an improved offense around him, the sky is truly the limit for Gurley in 2016.
1. Adrian Peterson, Minnesota Vikings
Odds: 15-4
Adrian Peterson may be 31 years old, but he is still currently the odds-on favorite to lead the league in rushing yards in 2016. He proved during the 2015 season that he still has the rare combination of burst, power, lateral agility, and breakaway speed that has already made him one of the greatest running backs in NFL history.
The Vikings' offense has taken steps to improve and become more balanced in 2016, which should only increase the effectiveness of Peterson in his 10th NFL season. If he can stay healthy, we are fully confident that the former Oklahoma Sooner will finish the year with somewhere close to 1,500 rushing yards.
Statistics courtesy of Pro-Football-Reference. Odds courtesy of Sportsbook.ag.