3 NFL Stars Who Will Never Be Traded
Last season, Peyton Manning won the Super Bowl as a Denver Bronco. Then, the 39-year-old walked away from football as the most prolific passer in the history of the sport — with 71,940 yards to go with his two championship rings. At one point, Manning wearing anything other than a Colts uniform upon his retirement was simply unthinkable. Still, it was a series of neck injuries that ultimately forced the Colts' hand. They released Manning and picked up Andrew Luck as the first overall pick in the 2012 NFL Draft.
Apparently, nobody is untouchable, as evidenced by Emmitt Smith wearing an Arizona Cardinals jersey, before even Randy Moss and Brett Favre ultimately went on the trading block. Still, there are three players today who have separated themselves from the pack in terms of their legendary career arcs and civic importance. Like something out of a storybook, the following three NFL stars will never be traded and will forever be associated with one uniform.
1. J.J. Watt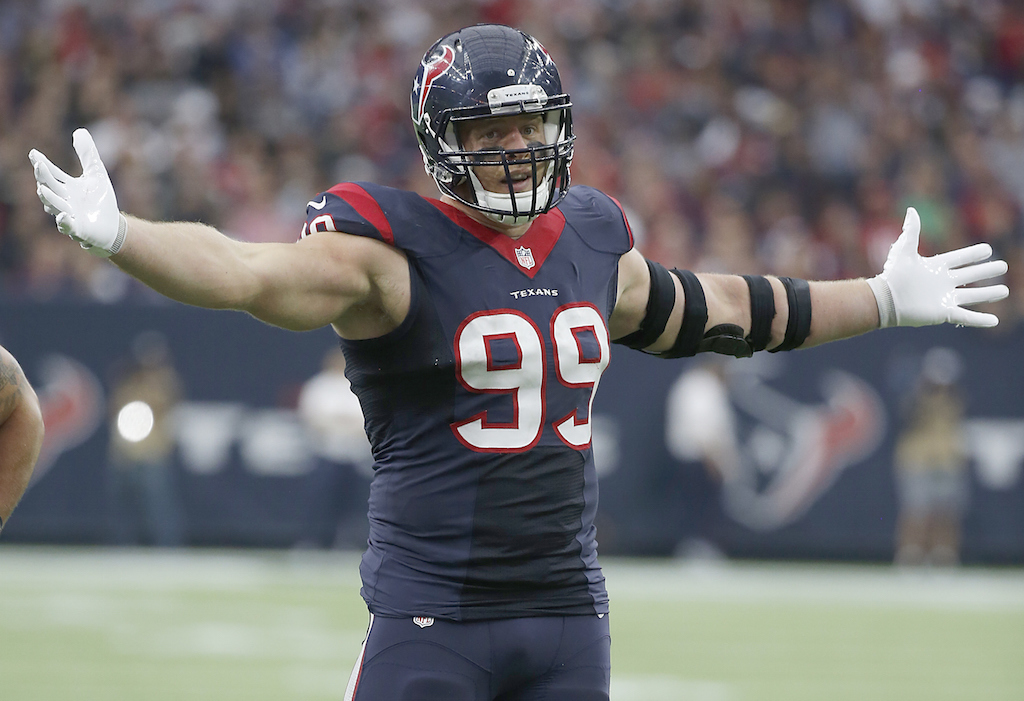 J.J. Watt is a one-man wrecking crew in the mold of Lawrence Taylor. Like Taylor in 1986, Watt has a legitimate chance to take home the 2016 MVP Award as a defensive player. In '86, L.T. came up with 20.5 sacks and ran one touchdown back to the house as part of a Giants squad that ranked second in defense, went 14-2, and won Super Bowl XXI. Watt, for his part, has racked up 20.5 sacks through two separate seasons, while also filling in at tight end for jumbo packages and hauling in three career touchdown receptions.
The 27-year-old is known for his motor, which never stops. As an edge rusher, Watt is too fast for burly tackles to contain in space and too physical for tight ends and backs to grapple with at the line of scrimmage. He must be accounted for at all times and will stare down multiple blockers in obvious passing situations. Last season, outside linebacker Whitney Mercilus exploited this attention given to Watt to come off the back end and pick up 12 sacks of his very own. For 2016–17, the Texans will have one of the more feared defenses in the league, especially if the team gets anything out of former first overall pick Jadeveon Clowney.
If anything, the quarterback carousel has kept Watt out of the Super Bowl. In recent years, the franchise spun between the likes of Matt Schaub, Brian Hoyer, and even T.J. Yates. This offseason, the Houston front office rolled the dice and signed Brock Osweiler to a four-year, $72 million deal in hopes of finally bringing real stability to the position. Still, Watt remains the face of the franchise and the second act of football in Houston. As such, this former Badger will also always be recognized as a lifelong Texan.
2. Aaron Rodgers
Aaron Rodgers fell to 24th in the 2005 NFL Draft, where the Green Bay Packers picked him up as the heir apparent to Brett Favre. Rodgers went on to carry a clipboard for three years behind Favre, with the old gunslinger icily proclaiming that getting Rodgers ready to play was not part of his contract. In 2008, Favre forced a trade to the Jets, after waffling upon his decision to retire only to find out that his starting job was actually up for grabs. After a one-year stint in New York, Favre signed on with the hated Minnesota Vikings as an open ploy for revenge.
Favre to Rodgers does rival Montana to Young in terms of both production and drama. Rodgers, in his first year as the starter, completed 64% of his passes for 4,038 yards and 28 touchdowns against only 13 interceptions. With time, he quickly emerged as the best pure passer in the league. By 2010, Rodgers had won his first Super Bowl, after claiming a wild-card berth and winning three straight games on the road. That postseason, he lit up the competition for 68% passing, 1094 yards, and nine touchdowns through four games.
For the following season, in 2011, Rodgers had his Packers at 15-1 after torching the league for a career high 4,643 yards and 45 touchdowns through the air. These Packers, however, did lose to the Giants in the Divisional Round on the Frozen Tundra. The Giants eventually took out the New England Patriots (again) in Super Bowl XLVI. Because of Rodgers, any Packer season that ends with anything less than a Super Bowl is a major disappointment.
For 2016–17, big-play target Jordy Nelson returns, and Green Bay is set to put up staggering amounts of offense, while the Cheesehead faithful repeatedly break into "Go Pack Go" chants at Lambeau. Rodgers, throughout his career, remains just behind Tom Brady and Manning at the top of the NFL pecking order. The 33-year-old will eventually surpass Brady as the leading man in football at quarterback.
3. Tom Brady
In true rags to riches form, a sixth-round draft pick first checked into the game after Drew Bledsoe took a shot on the sidelines from Jets linebacker Mo Lewis. From there, Brady went 11-3 as the regular-season starter through the rest of 2001, before head-butting his teammates in the tunnel leading out to Super Bowl XXXVI against the Rams. From there, a spellbound Brady shook his head in disbelief amid confetti right after Adam Vinatieri sailed a kick through the uprights to win the game.
In 15 years, the long-running Patriots Dynasty has made six trips to the Super Bowl and won four, (2001, 2003, 2004, and 2014). This run does include "18-1," when Brady went over the top for 4,806 yards and 50 touchdowns, for a team loaded with weapons. He is now definitely in the "greatest quarterback of all time" conversation with Terry Bradshaw and Joe Montana being the only other signal callers with four Lombardi Trophies.
Like the American Revolution, this quarterback leading a rag-tag bunch of Patriots to the Promised Land largely defines the Brady Mystique. For years, he picked apart the coverage to hit the likes of Troy Brown, Julian Edelman, and Danny Woodhead in stride, before handing off the football to scrapheap retreads Antowain Smith, Corey Dillon, and LeGarrette Blount out of the backfield.
Brady, at 38 years old, does not appear to be slowing down. Last season, he went for 4,770 passing yards and actually led the league in touchdowns, with 36. These 2015 Patriots were actually one botched two-point conversion away from tying up the AFC Championship Game at Mile High. Like Manning, Brady figures to make one final deep postseason run before retiring.
This season, backup Jimmy Garoppolo has the Patriots at 1-0, while Brady serves out a four-game suspension for his role in Deflategate. In 2008, Matt Cassel filled in and went 10-5, after Bernard Pollard went low and blew out Brady's knee on his 11th pass of the season. Still, there will never be any quarterback controversy in New England. Brady will be The Man until he so chooses to hang up his cleats and walk away from the game with dignity.
Statistics courtesy of ESPN and Pro-Football-Reference.