NFL: Is Pittsburgh Steelers Coach Mike Tomlin on His Way Out?
The Pittsburgh Steelers have one of the longest-tenured coaches in the NFL in Mike Tomlin. But there are rumors that not everyone in Pittsburgh is happy with his performance and may want to see the team change directions.
Is Mike Tomlin on his way out in Pittsburgh?

Mike Tomlin's record with the Steelers
Tomlin has coached the Steelers since 2007. His overall record is 125-66-1 for a winning percentage of .654%. In only his second season, 2008, he took the Steelers to a Super Bowl victory over the Arizona Cardinals. He also led them to another Super Bowl during the 2010-2011 season where they lost to the Aaron Rodgers-led Green Bay Packers.

Tomlin has taken the Steelers to the playoffs in eight of 12 years. Under him, the team has a playoff record of 8-7. Despite a lengthy career in the Steel City, he has yet to take home the honor of NFL Coach of the Year.
Although they've shown solid consistency throughout Tomlin's tenure, they missed the playoffs last year. The team also suffered from some internal discord due to dissatisfaction expressed by both Le'Veon Bell and Antonio Brown — both of whom are no longer in Pittsburgh.

The internal struggle with the Steelers surrounding Mike Tomlin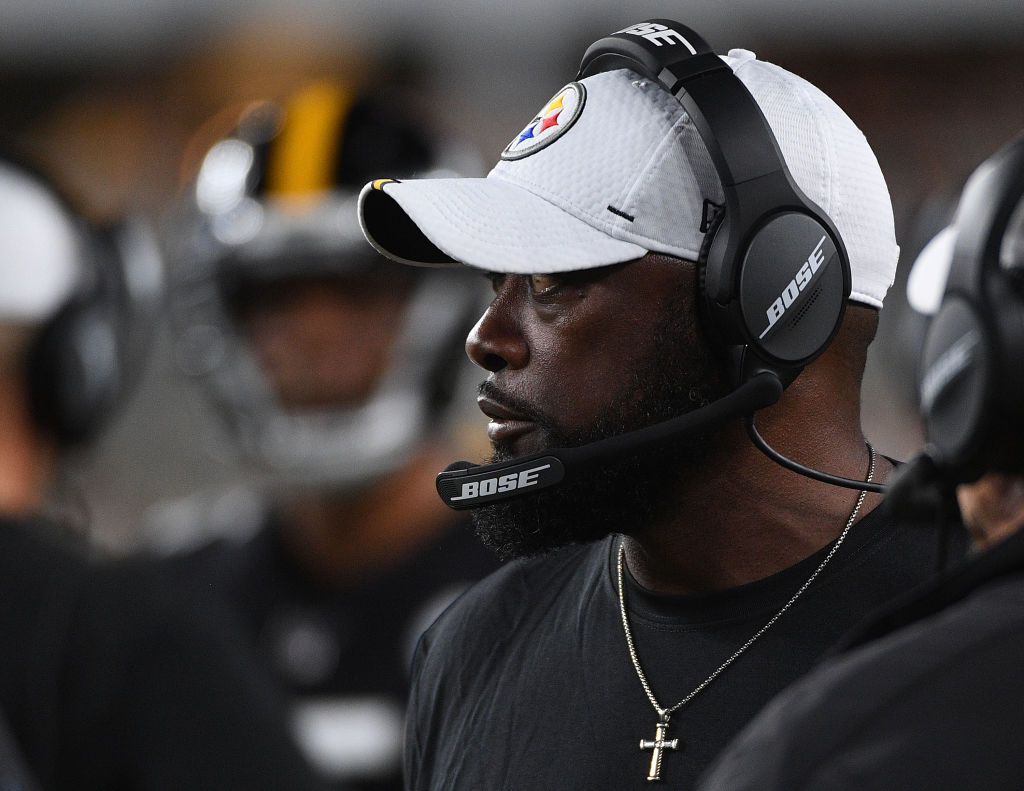 According to ProFootballTalk, some of the Steelers' minority ownership expressed doubts over the decision to grant Tomlin an extension through 2021 with a team option for 2022:

"The Steelers' minority owners periodically huff and puff, but they lack the ability to blow anyone's house down. As it relates to the recent contract extension given to coach Mike Tomlin, Ed Bouchette of TheAthletic.com reports that some were opposed to it."

The Steelers have not gone on a deep playoff run since 2010. For a franchise accustomed to winning Super Bowls, it makes sense that their leadership may get impatient with Tomlin's lack of rings.

It seems minority owners would have a fair degree of power in deciding whether a coach is hired or fired, and yet Tomlin had his contract extended. If the minority owners are reportedly unhappy, why is it that they lack the power to remove Tomlin as they desire? That word 'minority' has a lot to do with it.
Why Mike Tomlin is probably not on his way out
Tomlin's job is most likely secure for one very important reason: he's still beloved by majority owner Art Rooney II. For example, when Rooney was asked about the rumors of his partners wanting Tomlin out in early 2018 season, he joked about the possibility (see the tweet above).
The Steelers also have a long history of not making knee-jerk reactions on coaching decisions. Their coaches tend to have long tenures. Tomlin has coached the team since 2007. Before that, Bill Cowher led the team from 1992 until 2006. Chuck Noll guided the Steelers from 1969 until 1991. All three won Super Bowl titles in Pittsburgh.

Take a moment to think about that. In this day and age of coaches getting minimal time to build their franchise into a winner before being replaced, the Steelers have had a grand total of three coaches in the last 50 years. Whether one agrees with that approach or not, it's clear the Steelers front office and ownership places a premium on longevity and giving their coaches an opportunity at a long tenure.

While Tomlin won't coach in Pittsburgh forever, it's highly unlikely the Steelers will make a move any time soon. Tomlin is beloved by the people internally who matter most, and the franchise generally doesn't fire coaches for a long time. Anything can happen, but the smart money here is on Tomlin's job being safe.