NFL: Is it Time to Stop Calling the Packers' Aaron Rodgers an Elite QB?
Few people would challenge the statement that "Aaron Rodgers is one of the best quarterbacks in football." But recent evidence raised in a piece on FiveThirtyEight points out that in a few areas, Rodgers' performance has been somewhat subpar, especially after a tough year last year.  It raises the question: Is it time to stop calling the Packers' Aaron Rodgers an elite quarterback? 

Aaron Rodgers career accomplishments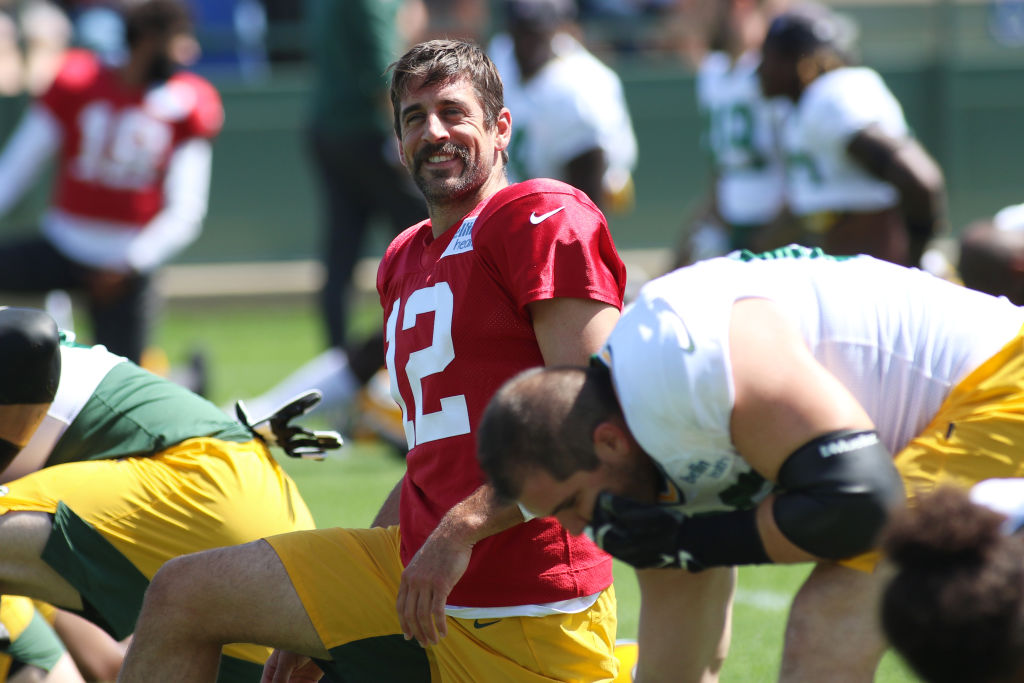 Rodgers is widely regarded as not just one of the best quarterbacks in football right now, but also one of the best to ever play the game. Take a look at what he's done throughout his career since taking over for Brett Favre as the quarterback of the Green Bay Packers:
100-57-1 win-loss record
338 touchdowns
42,944 yards passing
64.8% completion percentage
One Super Bowl
Seven Pro Bowl selections
Two-time All-Pro
Two-time MVP
Rodgers has thrown over 40 touchdowns in a season twice. He's set records for endorsement deals. He's without a doubt one of the most recognizable figures in all of sports.

But as we are about to see, Rodgers had a difficult season last year.

The case against Rodgers as an elite QB
The Packers went 6-9-1 last season. That led to Green Bay firing the only coach Rodgers had known over his entire career, Mike McCarthy. While few blamed Rodgers for the Packers' struggles last season, Rodgers reportedly had a troubled relationship with McCarthy.

While on the surface it appears Rodgers is as good as ever, FiveThirtyEight made a case for why Rodgers' game may be slipping:

"Since 2015, the Packers have gone a cumulative 30-24-1 with Rodgers under center, and the QB hasn't been as sharp as he once was. Over the past four years, Rodgers's yards per attempt dropped more than a yard from his previous career average to 7.1, and his TD rate fell a percentage point to 5.6%. Perhaps more worrying, there are important areas of the field where Rodgers isn't simply no longer excellent — he's actually worse than league average."

The piece points out that from 2015-2018, Rodgers has struggled on intermediate throws, performing well below the league average.

FiveThirtyEight chalks this up to a few possible reasons:
Age. Even the best players succumb to it, and if it hasn't happened yet, it will happen at some point for Rodgers.
Jordy Nelson. Nelson was Rodgers' favorite target, and he hasn't looked the same since the receiver left.
A lack of success on play-action passes, which are typically successful down the middle of the field.
The reasons we should still call Aaron Rodgers an elite QB
While Rodgers' underperformance on intermediate throws is definitely troubling, there are several areas in which he still clearly excels:
Accuracy. Rodgers threw only two interceptions last season for a league-leading interception percentage of 0.3%. Meanwhile, he had a 62.3% completion percentage.
Picking up big yardage plays. Rodgers threw for 7.8 yards per pass attempt last season.
Durability. Despite being injured last year, he still managed to start all 16 games.
Rodgers still throws one of the prettiest deep balls in the league. The question now is if he can address the areas in which he's struggled in recent years. The FiveThirtyEight piece argues that one area in which he can is on play-action calls. That's thanks to new head coach Matt LaFleur, who arrives in Green Bay after being the Tennessee Titans' offensive coordinator. The Titans averaged 7.3 yards per play on play-action passes last season, which bodes well for Rodgers and company.

While Rodgers may not be the player he was over the first few seasons of his career, he's still an elite quarterback. A fresh start with a new, offensive-minded head coach might be all he needs to improve his game and become even more effective next season.