NFL: Texans' Deshaun Watson Joins Cam Newton in NFL Record Books With Rare Feat
In his third campaign, Houston Texans quarterback Deshaun Watson has continued to put forth a strong start to the 2019 season behind what has been a career-best pace on the field that has put him in the MVP conversation. Watson's stellar play has helped him add yet another eye-catching feat as he has joined an exclusive list with Cam Newton in NFL history.
Deshaun Watson off to stellar start
Through the first seven games of the season, Watson has been off to a torrid pace with his level of play.
He has been one of the most productive quarterbacks in the league as he has thrown for 1,952 yards with 13 touchdown passes to five interceptions along with rushing for 196 yards with five touchdowns. Watson has notched more than 300 passing yards three times, along with at least three touchdown passes three times.
Although the Texans are hovering around the .500 mark on the season, Watson has been a definite bright spot with his play on the field that has earning the recognition he deserves as one of the top young talents in the league.
Deshaun Watson shares NFL history with Cam Newton
Along the way in his brief NFL career, Watson has added several impressive all-time NFL records to his resume over his two-plus seasons.
The 24-year-old achieved another mark in the Week 7 loss to the Indianapolis as he joined Carolina Panthers quarterback Cam Newton as only the players with at least 7,500 passing yards and 1,000 rushing yards in his first 30 career games.
Watson has been a tremendous factor on the field with both his arm and legs, helping make him one of the top quarterbacks in the NFL and of his draft class. Like Newton, he has proven to be a difficult player for opposing defenses to game plan against due to his skillset.
He is just a couple of weeks removed from his career-best performance where he became the third player in the Super Bowl era to record at least 400 passing yards, five touchdown passes, and a perfect passer rating in a single game. All this has helped put him in the mix for MVP chatter with a few top players in the league.
Deshaun Watson's MVP bid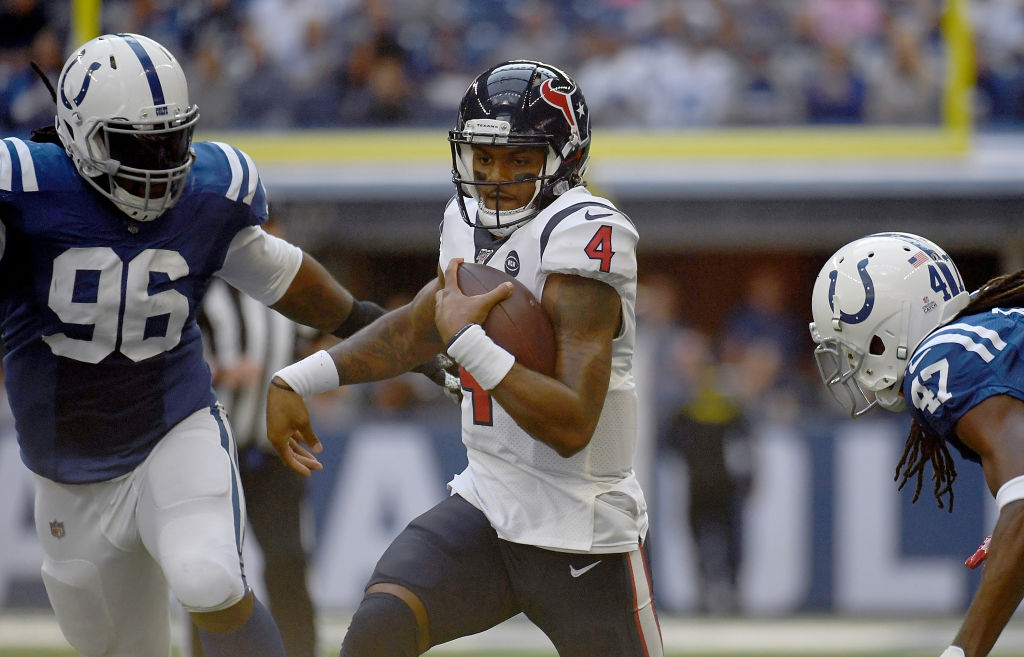 His MVP candidacy may have taken a bit of a ding after the disappointing 30-23 loss to the Colts on Sunday, but he's certainly in the MVP talk.
However, it is a discussion that's filled with plenty of other deserving players. Green Bay Packers quarterback Aaron Rodgers is coming off his best performance of the season in the blowout win over the Oakland Raiders, posting six total touchdowns and 429 passing yards. Rodgers has also led the Packers to wins in six out of their first seven games played.
Panthers running back Christian McCaffrey has been putting together a breakout campaign as he led the league with 618 rushing yards heading into Week 7. The Seattle Seahawks may have dropped a discouraging loss at home to the Baltimore Ravens, but quarterback Russell Wilson has put together a phenomenal season that could be a career-best statistical campaign.
Reigning league MVP Patrick Mahomes is expected to be out for the next few weeks, but once he returns, he could also play a factor in earning the award for a second straight year. It's quite a crowded conversation at this point of the season, but Watson has a chance to make headway if he can continue to produce while marching the Texans up the standings to one of the best marks in the league..