NFL: The 3 Best Quarterbacks to Ever Play For the Seahawks
Seattle Seahawk quarterbacks are a bit like the late Rodney Dangerfield —  locked into a perpetual battle for respect. In 1974, the city of Seattle was awarded its own expansion team, where they proceeded to serve as cannon fodder for the likes of the Broncos, Raiders, and Chiefs out in the AFC West. After a conference realignment, the Seahawks did make a run at Super Bowl XL, but lost out to the Pittsburgh Steelers in one of the more poorly officiated games in recent memory.
In 2014, the Seahawks put the world on notice with a 43-8 beat-down of Peyton Manning and the Denver Broncos in Super Bowl XLVIII. Still, as perennial contenders, the Seahawks play with an edge, and their raucous 12th Man fans appear desperate to help the team prove itself. Each of the three following all-time greatest Seattle signal callers has played a major role in cultivating this underdog culture, after often times being dismissed as game managers and system quarterbacks.
3. Dave Krieg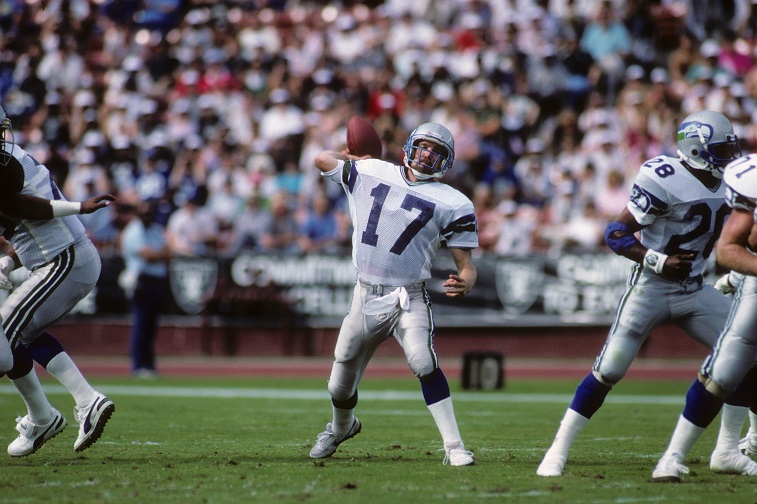 Over the course of 19 years, Krieg racked up 3,105 completions for 38,147 yards and 261 touchdowns with the Seahawks, Kansas City Chiefs, Detroit Lions, Arizona Cardinals, Chicago Bears, and Tennessee Titans. On paper, he still ranks as a top-20 quarterback, if only by his longevity –surprisingly, Krieg passed for more yards than the likes of Jim Kelly, Phil Simms, Steve Young, Troy Aikman, and Kurt Warner.
Krieg, of course, played out his prime years in Seattle, after signing on with the team as an undrafted free agent out of Milton College in 1980. After making the team, Krieg battled against local folk hero Jim Zorn for the starting job, before finally earning his spot with the first team, by Week Nine of 1983. Zorn, of course, will always be revered in Seattle, as the first starting quarterback of the expansion team.
After beating out Zorn Krieg went on to win the first two playoff games in Seahawks franchise history before losing to the L.A. Raiders in the 1983 AFC Championship Game. In 1984, Dave Krieg had a career year, torching defenses for 3,671 yards and 32 touchdowns in 1984. That season, the Seahawks went 12-4 and won one Wild Card Game before losing a Divisional Playoff Game on the road in Miami. In Seattle, Krieg ultimately finished 70-49 from 1981 until 1991, leading a very underrated bunch that included the likes of Curt Warner, Cortez Kennedy, Brian Blades, and Steve Largent.
2. Matt Hasselbeck
Keeping with Seattle tradition Matt Hassellbeck was also one of the more underrated quarterbacks of his era. In 1998, the Green Bay Packers took Hasselbeck in the sixth round (187th overall) of the draft out of Boston College. In Green Bay, he was charged with running the scout team and carrying a clipboard deep behind Brett Favre on the bench. In 2001, the Packers dealt Hasselbeck to Seattle, where he was reunited with Mike Holmgren, and given a chance to start.
In Seattle, Holmgren went to work installing the West Coast offense, which was predicated upon the quarterback making quick read reads and throwing short passes out to playmakers that could rack up yards after the catch. This was back when the Seahawks also featured Shawn Alexander as a workhorse back, in force-feeding him the football for 330 carries per season, between 2001 and 2005. Against this backdrop, Hasselbeck was often unfairly dismissed as a game manager and system quarterback.
In reality, Matt Hasselbeck was especially adept in going play action, rolling out, keeping plays alive, and working the soft zone for big gains. In 2005, Hasselbeck completed 66% of his passes, for 3,459 yards and 24 touchdowns, against only nine interceptions. The 2005 Seahawks went 13-3 and marched on to Super Bowl XL in Detroit, where they lost 21-10 to the Pittsburgh Steelers. In all Hasselbeck threw for 29,434 yards and made six trips to the playoffs as a Seahawk, taking the franchise to previously unseen heights.
1. Russell Wilson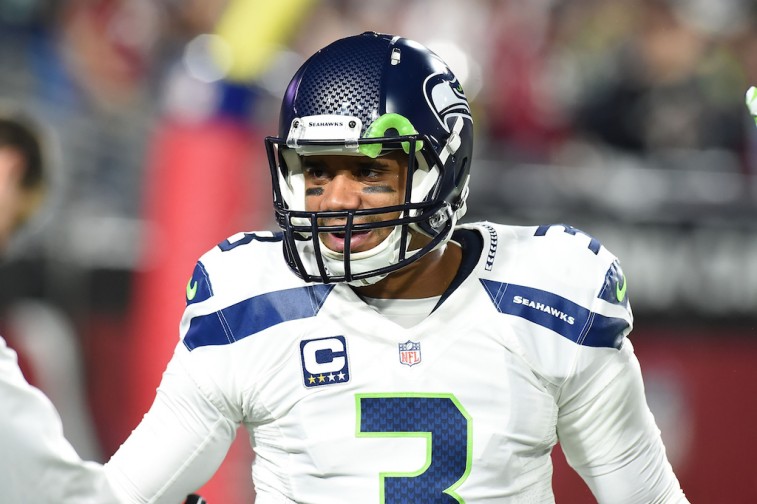 Russell Wilson is the latest and greatest rags-to-riches story out of Seattle and the Pacific Northwest. Wilson began his college career at NC State before transferring to Wisconsin, where he completed 73% of his passes, for 3,175 yards, 33 touchdowns, and one Rose Bowl berth, after one year as a Badger. Still, Wilson somehow fell into the third round of the 2012 Draft, where he was picked up by the Seahawks, as the 75th overall pick, after Brock Osweiler and Brandon Weedon were both off the board. NFL scouts, at the time, were clearly unimpressed by Wilson's apparent lack of size, speed, and arm strength.
After the draft, Russell Wilson went on to beat out supposed starter Matt Flynn, in training camp. Flynn, in case you've forgotten, had just signed a three-year, $26 million contract with Seattle after a blistering, 480-yard, six touchdown performance against the Detroit Lions in his  final game with Green Bay. Still, with Pete Carroll running a meritocracy, Russell Wilson was given the chance to start, and completed 64% of his passes, for 3,118 yards, and 26 touchdowns, as a rookie. Wilson also picked up 489 yards and four touchdowns on the ground that season, out of the shotgun spread.
Wilson is coming off two straight trips to the Super Bowl. In 2013, Wilson went for 232 yards and two touchdowns of total offense, in leading the Seahawks to a 43-8 Super Bowl XLVIII blowout. Last season, Wilson threw an interception at the goalline to gift-wrap Super Bowl XLIX to Tom Brady and the New England Patriots.
Earlier this month, Russell Wilson did sign a new, four-year $87.6 million contract. Certainly, Wilson and the Seahawks will be out to make amends, and take vengeance upon this bitter Super Bowl loss, but at 26 he is already the greatest Seattle Seahawk quarterback of all time.