NFL: The 3 Greatest Colt Quarterbacks of All Time
The Colts franchise, whether based out of Baltimore or Indianapolis, is all but synonymous with transcendent quarterback play. Interestingly, each of the top three quarterbacks in franchise history may be easily identified by their rocket arms, understated athleticism, and the freedom to call their own plays. In time, it's likely the Colts will see each of the three following quarterbacks off to Canton, where they will be enshrined in the Hall of Fame.
3. Andrew Luck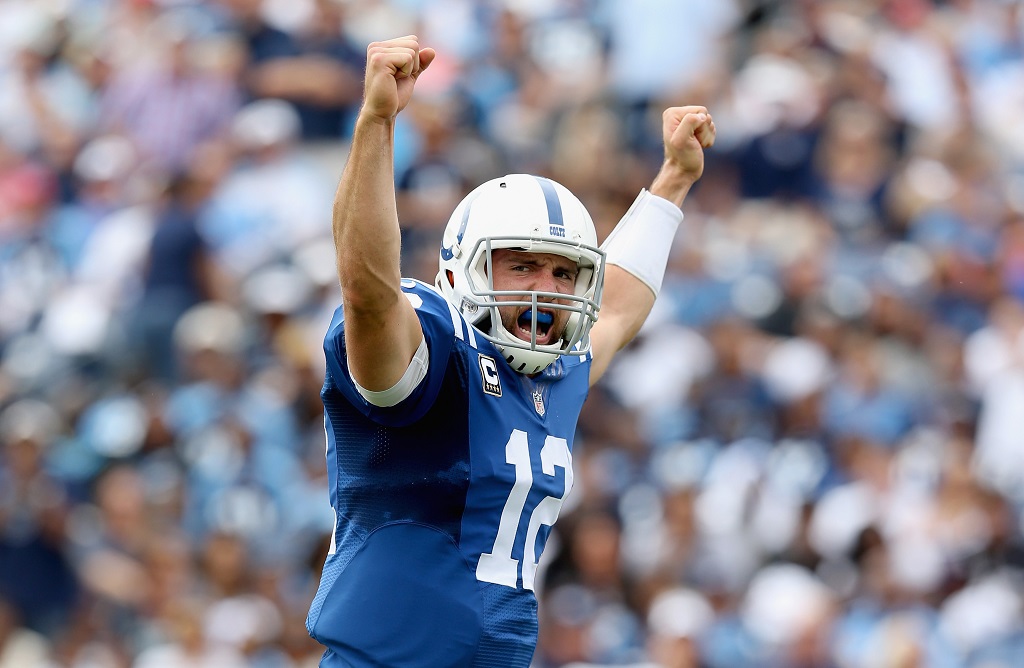 The Indianapolis Colts selected Andrew Luck with the first overall pick in the 2012 NFL Draft, as the heir apparent to Peyton Manning. Earlier that spring, Jim Irsay and the Colts made the heart wrenching decision to cut ties with Manning, largely to avoid paying out a $28 million signing bonus due to the former face of the franchise. Manning, at that time, was coming off a severe neck injury, which had team doctors fearing that the legend would never play football again, let alone perform admirably as a shadow of his prime self.
As a rookie, the precocious and Stanford educated Andrew Luck was immediately handed the keys to the franchise, and headlined a stacked 2012 Draft class that also included the likes of Robert Griffin III, Ryan Tannehill, and Russell Wilson. That season, Luck completed 54% of his passes, for 4,374 yards and 23 touchdowns. Luck also went 11-5 as the starter and earned his first playoff berth, with the Indianapolis Colts never missing a beat, as perennial contenders.
Luck, in winning this war of attrition, has quickly emerged as the best young quarterback in the game. With time, Luck has grown increasingly confident, in terms of reading defenses and going through his progressions, before snapping off a bullet down the seams. As a last resort, Luck is also a deceptively fast athlete, who is more than willing to tuck the ball in, break contain, and truck defenders at the sticks to move the chains.
Last season, Luck put it all together, in torching defenses for 62% passing, 4,761 yards, and a league-high 40 touchdowns. Luck, most importantly, went on the road to win a playoff game against Peyton Manning and the Denver Broncos, before heading off to Foxboro and getting blown out of the building by Tom Brady and the Patriots. This season has proven to be the roughest start yet for the young quarterback, but we should treat this as the exception proving the rule. It is, after all, just four games into the season.
2. Johnny Unitas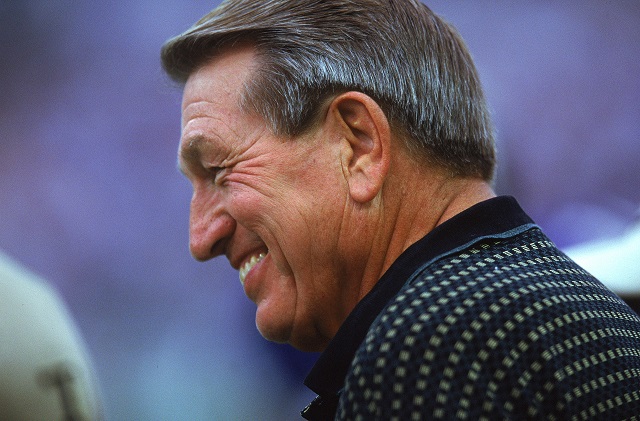 Johnny Unitas was primarily responsible for ushering the game of football into the modern era. In doing so, Unitas called his own plays, orchestrated the first two-minute drill, and revolutionized the concept of the forward pass, while wearing his trademark crew cut and black high top shoes. Unitas, by his 1973 retirement, owned every significant passing record, to go with three NFL titles and one Super Bowl championship.
Johnny U was as American as Apple Pie and destined for stardom. In true rags-to-riches form, Pittsburgh took Unitas in the ninth round of the 1955 draft, as the 102nd overall pick, before the Steelers immediately cut the hometown kid. From there, Unitas signed on with the Baltimore Colts in 1956, after playing semi-pro ball and working construction. Still, his legend grew quickly as he took over the starting spot by mid-season, and went on to work timing routes between himself, John Mackey, and Raymond Berry to perfection. By 1957, Johnny U was leading the league in both passing yards (2,550) and touchdowns (24), through his first full season as a starter.
In 1958, Unitas headlined a cast of characters that also included the likes of Lenny Moore, Frank Gifford, Pat Summerall, Gino Marchetti, Raymond Berry, Vince Lombardi, and Tom Landry. In taking the NFL Championship, Johnny U led a two-minute drill to tie the game up in regulation, before marching down the field again, to win the game in overtime. The Greatest Game Ever Played was set in front of a nationally televised audience, and kicked off a long running boom in popularity, for the NFL.
1. Peyton Manning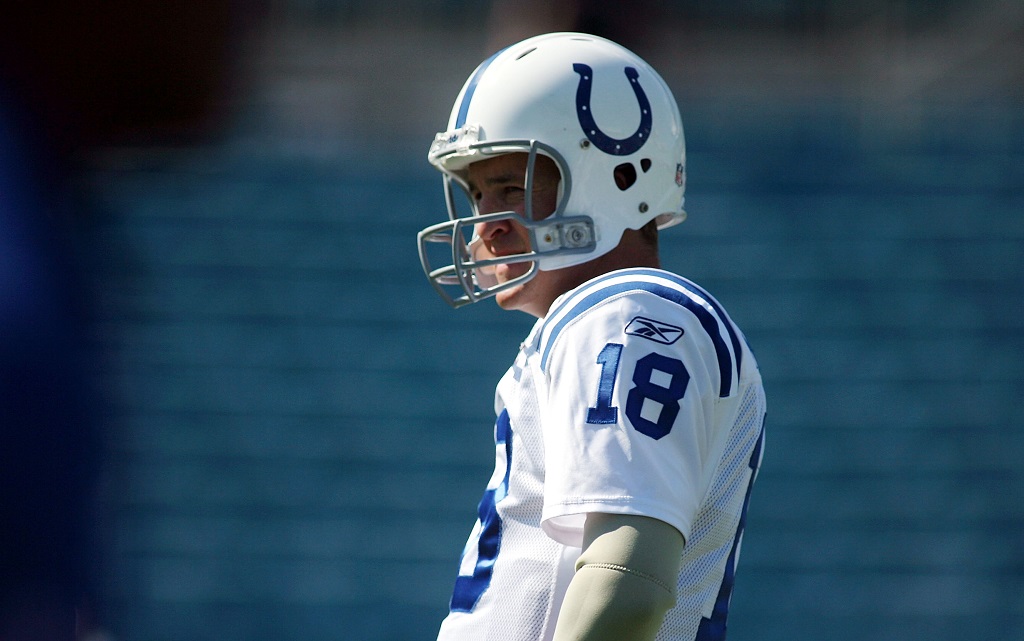 Peyton Manning, as a model for consistency, has been so good for so long, that he is often times considered boring, by casual football fans. By retirement, Manning will likely own every passing record on the books, in ultimately going over the top for more than 70,000 passing yards and 550 touchdowns. As a first ballot Hall-of-Famer, Manning will forever be recognized for his dry wit, Southern charm, rocket arm, and total command of the offensive attack.
Manning, of course, made a name for himself in Indianapolis, where he racked up 4,682 completions, 54,828 passing yards, and 399 touchdowns, through 14 years. Manning passed for more than 3,500 yards and 25 touchdowns through each of his regular seasons in the NFL – to compile this gaudy statistical record. In 2004, Manning completed 68% of his passes, in lighting up the league for 4,557 yards and a then record 49 passing touchdowns.
Still, critics attacked Manning in his prime, for his apparent inability to win The Big One. In 2006, Peyton Manning finally got past the Dynasty Patriots in the AFC Championship Game, in airing out the football for 349 yards, to lead a feverish 18-point comeback at home. From there, Manning went on to claim Super Bowl XLI MVP honors, in putting up 247 yards and one touchdown against the Chicago Bears, in a driving South Florida rain.
Peyton's rivalry with Tom Brady will likely define this NFL generation for fans, and the closest comparison might be the NBA's Bill Russell and Will Chamberlain. In this case, it will be Peyton that will be hailed for his staggering statistical production, while Brady, with his four Super Bowl titles, remains part of an elite winner's circle that also includes Terry Bradshaw and Joe Montana.