NFL: The 4 Best Fantasy Football Performances From Week 2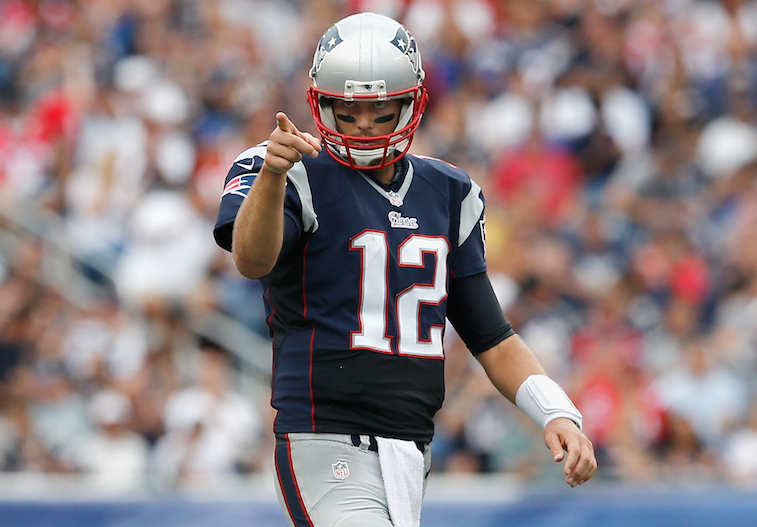 Four veteran NFLers turned back the clock with epic performances on Sunday, leading their teams to big victories. The best wide receiver in the game kept doing his thing, putting up monster numbers for his squad and helping the team get its first win of the year. And, of course, each of these four superstars helped thousands if not millions of fantasy football players with their eye-popping statistics.
The following group of athletes represent the best of the best from this past weekend as they were straight up "in the zone" all game long. Selecting this week's "4 Best Fantasy Football Performances" was a difficult task, given the very high number of worthy candidates. Guys like Allen Robinson, Odell Beckham Jr., and Julian Edelman didn't even make the cut for the honorable mentions crew, despite their standout games.
Before we look at the very best individual performances of the second week of the NFL, let's give some credit to these guys who just missed the cut.
Disclaimer: For the sake of this article, we have excluded kickers, team defenses, and individual defensive players. We have chosen the four best from the QB, RB, WR, and TE positions.
Honorable mentions: Matt Jones (Washington Redskins), Julio Jones (Atlanta Falcons), DeAngelo Williams (Pittsburgh Steelers), and Adrian Peterson (Minnesota Vikings)
4. Ben Roethlisberger, QB, Pittsburgh Steelers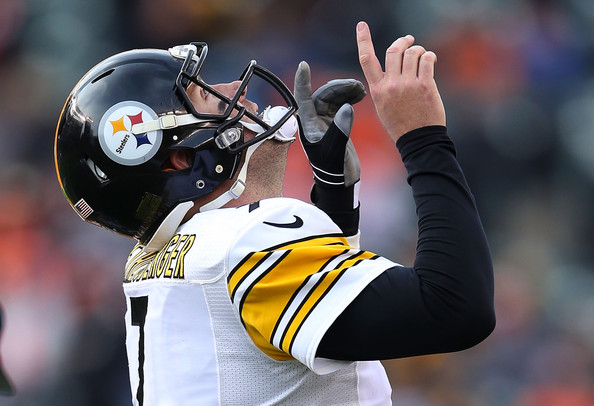 Week two statistics: 369 passing yards, three touchdowns
The fact that Ben Roethlisberger had an astronomical quarterback rating of 155.8 in week two — just short of the perfect 158.3 figure — is impossible to ignore. Big Ben was instrumental in leading the Pittsburgh Steelers to a 43-18 shellacking of the San Francisco 49ers, helping the team earn its first victory of 2015 in the process.
The nearly perfect QB rating just scratches the surface on what was a masterful afternoon for No. 7. He finished the game a very efficient 21-for-27 on pass attempts with three touchdowns. Although most standard fantasy leagues don't reward a player for a lack of mistakes — they only get penalized if it happens — the zero interceptions, zero sacks, and zero fumbles only add to Roethlisberger's monumental effort.
Depending on the scoring settings in your league, if you started Roethlisberger last weekend, chances are he earned you around 30 points in a Yahoo! Fantasy Football league.
3. Antonio Brown, WR, Pittsburgh Steelers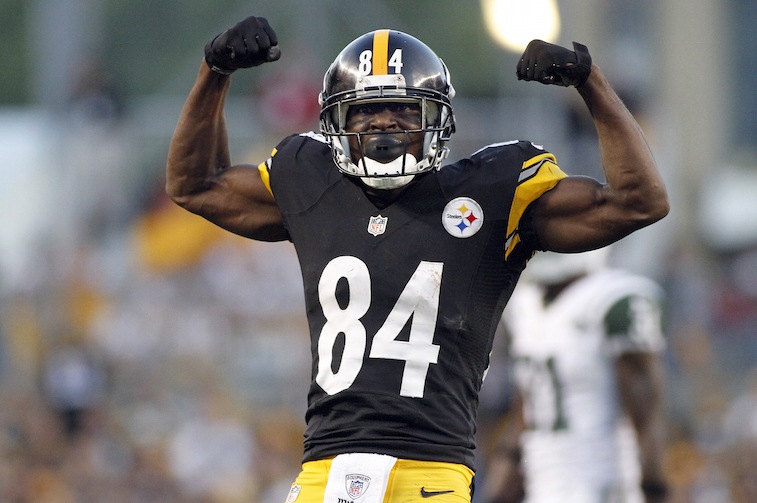 Week two statistics: Nine receptions, 195 receiving yards, one touchdown, one two-point conversion
Roethlisberger's favorite target comes in at number three on the list of best fantasy football performances in week two. Like the quarterback, wide receiver Antonio Brown was coming off of a very solid week-one effort against the New England Patriots defense. He duplicated his nine catches on 11 targets on Sunday against the 49ers and again hauled in a touchdown.
Two things separate Brown's most recent game from the first though. He upped his receiving yards to a monstrous total of 195 — which led the entire league in week two — and he capitalized on a two-point conversion catch in the first half. If your league counts successful two-point conversions, then that was a terrific added bonus to your WR1 output.
With a typical scoring format in a Yahoo! Fantasy Football league, Brown likely earned his owners between 25 and 30 points this week. If you're in a PPR-league, that total was likely closer to 30 or above.
2. Larry Fitzgerald, WR, Arizona Cardinals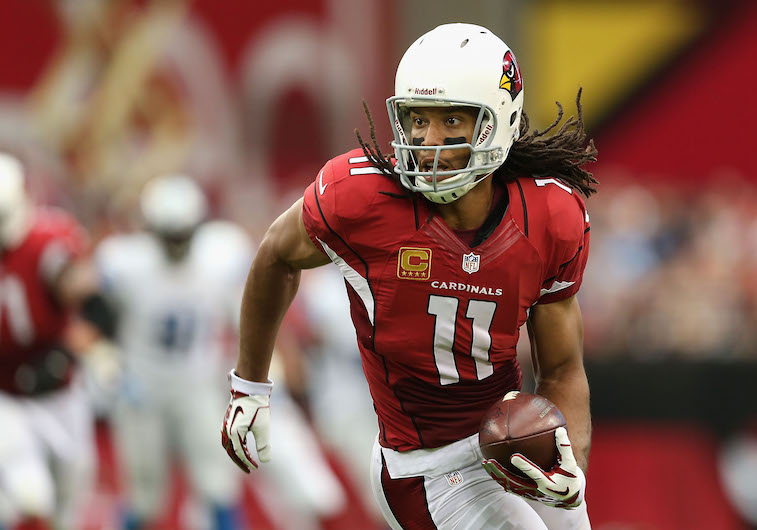 Week two statistics: Eight receptions, 112 receiving yards, three touchdowns
Without a doubt, the biggest surprise name to make this post is Larry Fitzgerald. At 32 years of age, the eight-time Pro Bowler entered this season coming off of a disappointing 2014 campaign. It's still a legitimate argument to say that Fitz is past his prime, but performances like this weekend's against the Chicago Bears helps make the case otherwise.
The career-long Arizona Cardinals wide receiver posted eight receptions for 112 yards and led the NFL with three touchdown catches on Sunday. Quarterback Carson Palmer has the much younger John Brown and Malcolm Floyd at his disposal, but with nine targets last weekend, Fitzgerald outplayed both of them.
With his stunning output, Fitzgerald-owners in a Yahoo! Fantasy Football league were likely rewarded with upwards of 30 points on Sunday. For those in PPR-format leagues, we would expect that total to be closer to an absurd 35 points.
1. Tom Brady, QB, New England Patriots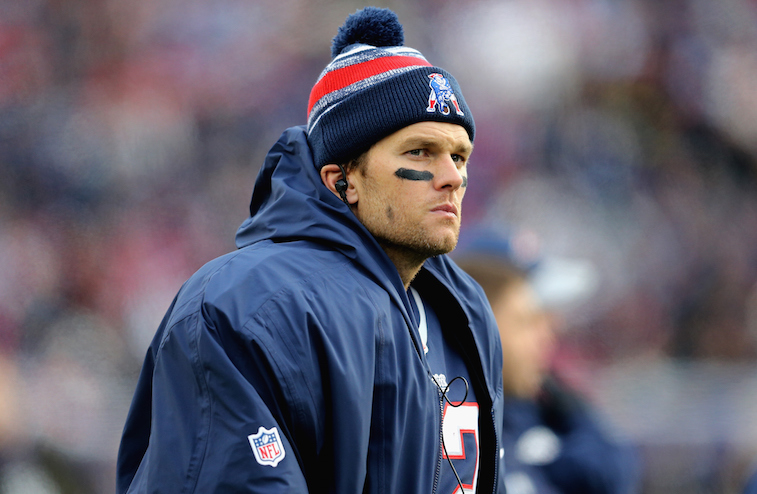 Week two statistics: 466 passing yards, three touchdowns
Love him or hate him, Tom Brady is back on top of the NFL world, ladies and gentleman. The "GOAT" had himself a field day on Sunday, and he did it against the Buffalo Bills, supposedly one of the best defenses in the game.
It would have been unfair to expect Brady to match or even better his week-one masterpiece against the Steelers, but that's exactly what he did. Head Coach Bill Belichick essentially abandoned the running game from the start, and Brady ended up hurling an unbelievable 59 pass attempts. He wasn't quite as efficient as he was against Pittsburgh, but still, 38-for-59 is pretty damn good. Brady posted a ridiculous 466 yards through the air and connected on three more touchdowns to up his league-leading total to seven.
Sure, he had a late-game fumble that may have kept it from being a perfect day. But who cares? If you had Brady as your starting quarterback in a typical Yahoo! Fantasy Football league, he likely earned you 30 or more points.
All data courtesy of NFL.com, Pro-Football-Reference.com and ESPN.com.
Follow Victor on Twitter @vbarbosa1127.