NFL: The 4 Best Fantasy Football Performances From Week 4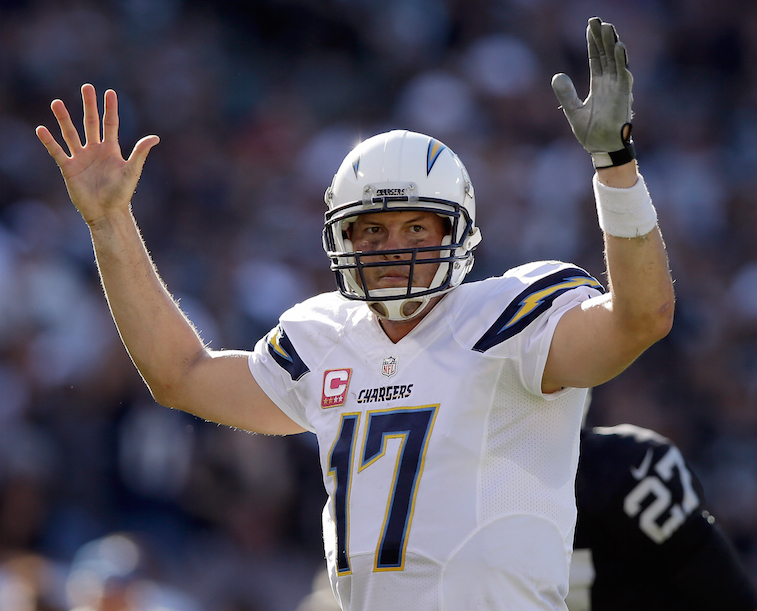 For as extraordinary as the Week 3 individual performances for fantasy football were, Week 4 was not quite as crazy. That's not to say that there weren't plenty of standouts to chose from, but with Tom Brady, Rob Gronkowski and the New England Patriots on a bye week, perhaps there were fewer absurd stat lines to be expected.
Only four quarterbacks threw for three touchdowns in Week 4 and only a single one of them made it over 300 passing yards. On the ground, a pair of running backs hit pay dirt more than once on Sunday – albeit three times apiece – yet they also could not even crack the 75-yards rushing plateau. Similarly, the receiving corps had two players haul in a pair of touchdowns each, yet one of them had a solid, if unspectacular 96 receiving yards, while the other guy had a measly 18.
With Week 5 underway, the NFL season is now officially past the quarter mark. A typical 13-game regular season fantasy league meanwhile is approximately a third of the way complete. Before we look at the best fantasy football performances from Week 4, let's see who just missed the cut.
Disclaimer: For the sake of this article, we have excluded kickers, team defenses and individual defensive players. We have chosen the four best from the QB, RB, WR and TE positions.
Honorable mentions: Jeremy Hill (Cincinnati Bengals) and Allen Hurns (Jacksonville Jaguars)
4. Vincent Jackson, WR, Tampa Bay Buccaneers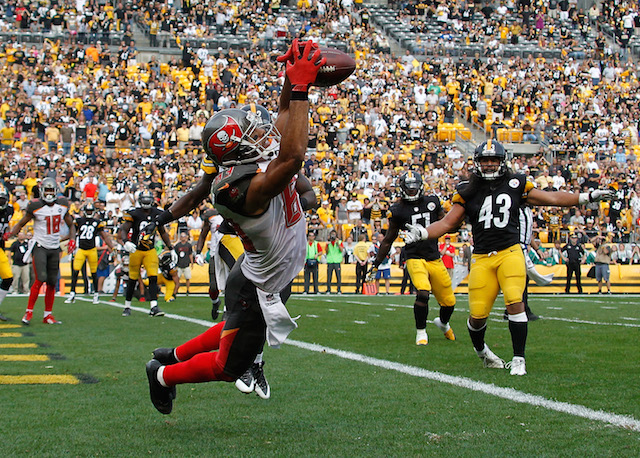 Week 4 statistics: 10 receptions, 147 receiving yards, one touchdown
OK, so maybe Vincent Jackson didn't turn back the clock quite to the effect that Steve Smith did in Week 3, but the 32-year-old Louisiana native was still on fire against the Carolina Panthers secondary. Fellow 30-something Ted Ginn posted two touchdown scores for Carolina in the contest, but those were his only two catches of the afternoon and they totaled just 18 yards.
In the Bucs first three contests of 2015, V-Jax had just nine receptions and 145 yards combined. Aside from doubling his receptions total, receiving yards and touchdowns caught last weekend, Jackson also received 75% of his season's total targets in the game with 15 looks.
If you were smart (or lucky) enough to start the Bucs wide out in Week 4, he probably rewarded you with around 20 points in a standard Yahoo! Fantasy Football league. In a PPR format, that total likely climbs to around 25 points.
3. Chris Ivory, RB, New York Jets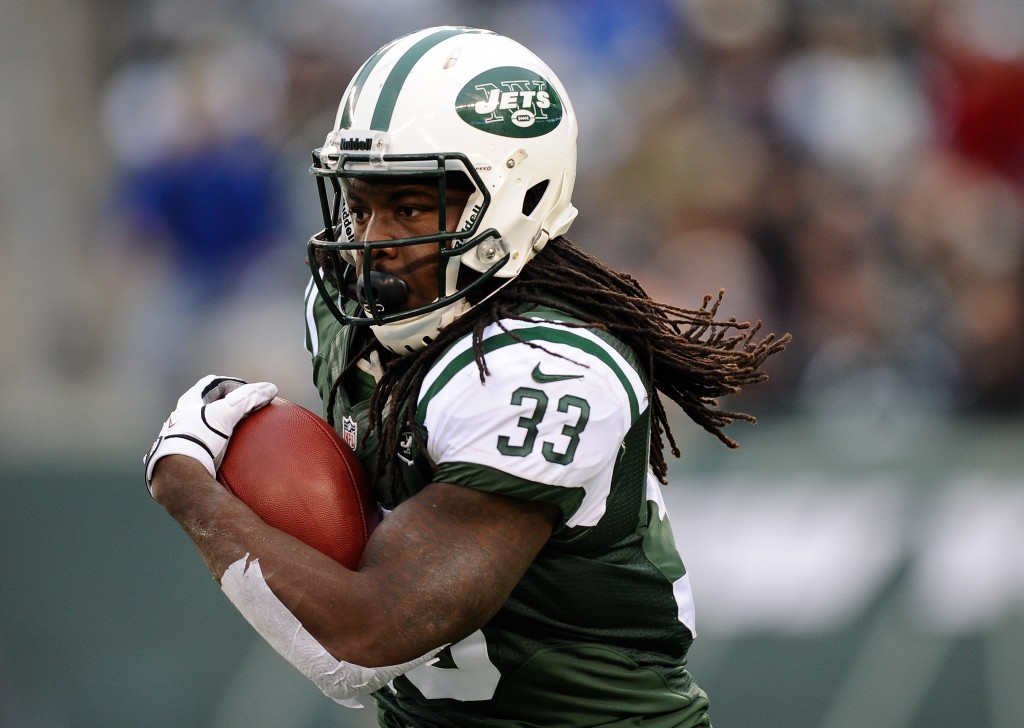 Week 4 statistics: 29 rushing attempts, 166 rushing yards, one rushing touchdown
So maybe the New York Jets aren't going to be so bad after all.
Without a doubt the most surprising 3-1 team (bizarrely there are only two teams with that record) entering Week 5 play has got to be the J-E-T-S and a huge part of the success has been running back Chris Ivory. The long-locks back is off to a huge start in 2015 and his Week 4 output against the putrid Miami Dolphins has been the highlight thus far. Ivory led all rushers with a career-high 166 yards on the ground last weekend and with injuries in Buffalo, disappointment in the Miami running game and unproven talent in New England, Ivory is the best running back in the AFC East right now.
With Ivory in your fantasy backfield for Week 4, he almost certainly got you between 20 and 25 points in a standard Yahoo! Fantasy Football league.
2. Philip Rivers, QB, San Diego Chargers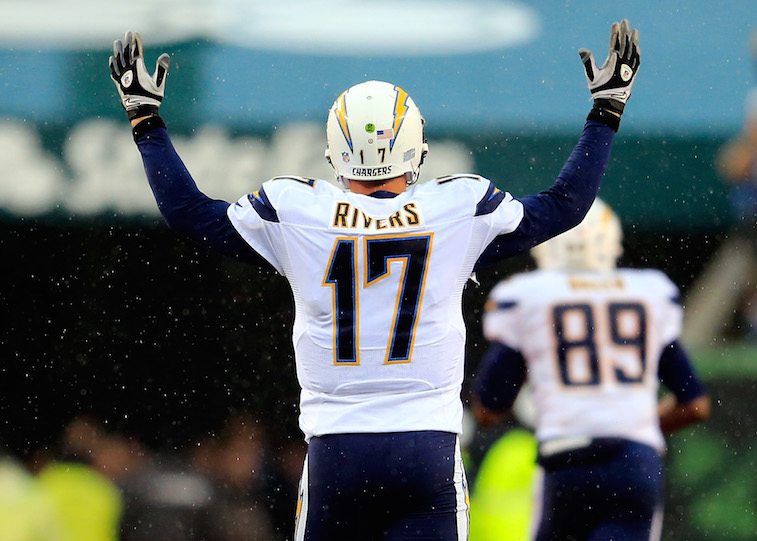 Week 4 statistics: 358 passing yards, three touchdowns
San Diego Chargers quarterback Philip Rivers is as inconsistent as ever in 2015, but fortunately for the Bolts, it was the good Rivers against the Cleveland Browns in Week 4.
In the 30-27 Chargers win, Rivers completed 23-of-38 pass attempts for a monster 358 yards (ranking third in the NFL.) In addition to his three touchdown passes, it was the first contest of the year where the QB did not throw an interception.
If Rivers was your starting QB for Week 4 of your fantasy league, he likely scored you between 25 and 30 points in a typical format.
1. Devonta Freeman, RB, Atlanta Falcons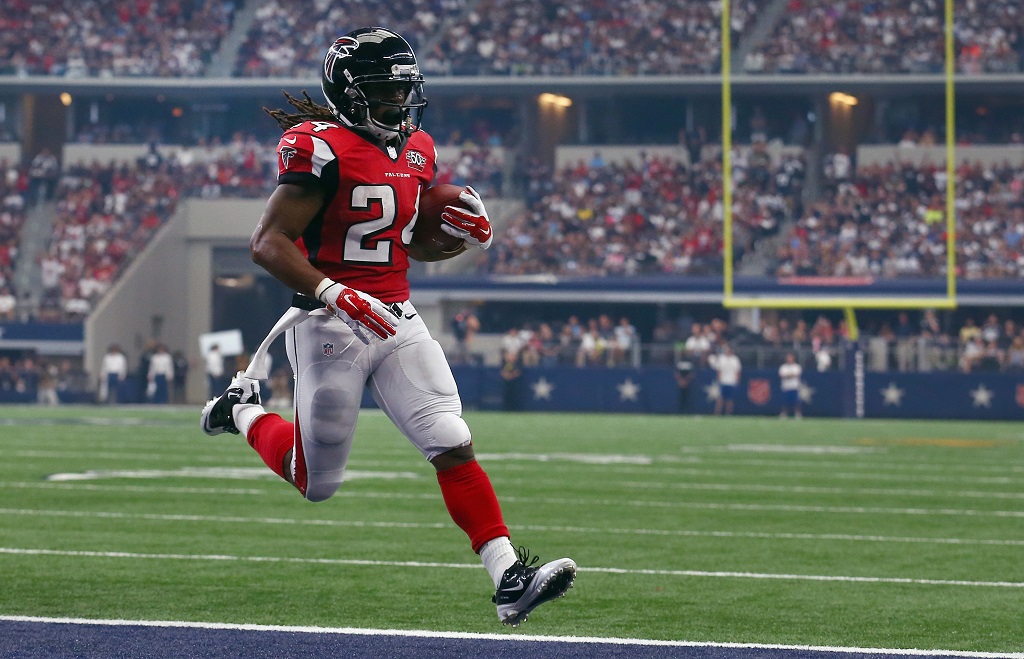 Week 4 statistics: 14 rushing attempts, 68 rushing yards, three rushing touchdowns, five receptions, 81 receiving yards
Coming off of last week's all-timer, Atlanta Falcons running back Devonta Freeman was tasked with leading the run game again in Week 4, this time versus J.J. Watt, Jadeveon Clowney, Vince Wilfork, and the rest of the Houston Texans defense. With a very mediocre 68 rushing yards in the 48-21 Falcons bloodbath, why on earth is Freeman number for the second consecutive week? Oh yeah, he posted three rushing touchdowns… AGAIN!
With the trio of scores, Freeman had touchdown runs on about one-third of his modest 14 carries on the afternoon. To cap it off, he grabbed five catches for the second week in a row, this time for a very solid 81 yards and is quickly establishing his versatility in the Atlanta backfield. In Week 3 against the Dallas Cowboys, Freeman totaled 193 all purpose yards with the three touchdowns. Week 4 brought on 149 all-purpose yards and three more scores. Even against a tough Washington Redskins defense this weekend, Freeman has now put himself into RB1 consideration.
The surprise of the NFL season so far surely earned you between 30 and 35 points in a standard Yahoo! Fantasy Football league last weekend.
All data courtesy NFL.com and Pro-Football-Reference.com.
Follow Victor on Twitter @vbarbosa1127.