NFL: The 4 Best Fantasy Football Performances From Week 7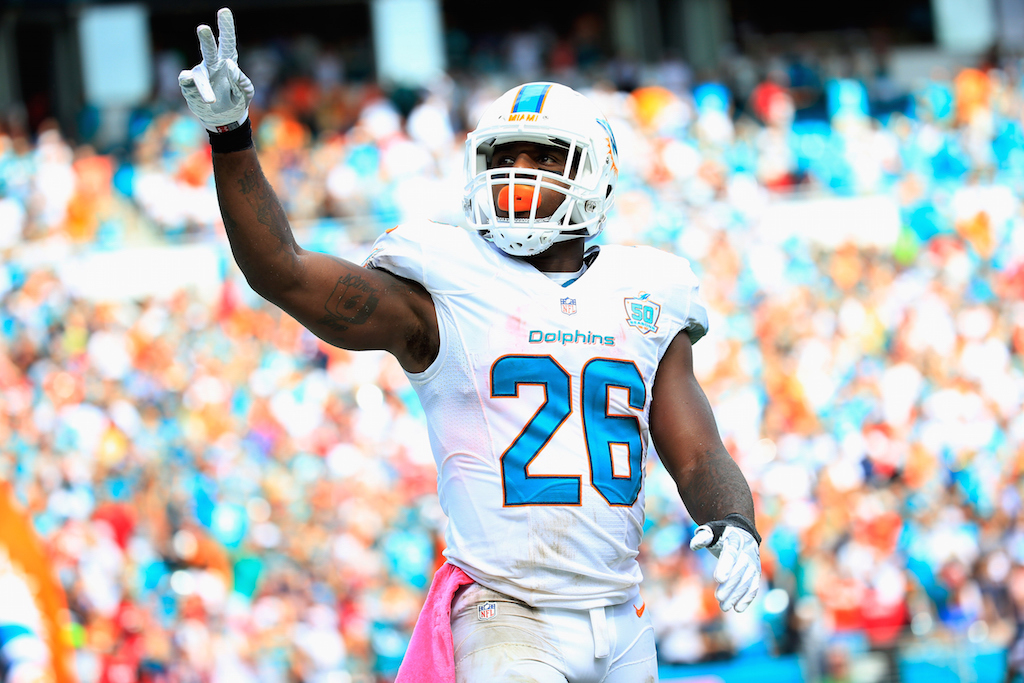 The fact that four players with two receiving touchdowns each, a running back who posted 152 rushing yards and a score, and two quarterbacks who tossed for over 300 yards and at least two TDs didn't make this list goes to show just how remarkable Week 7 was for fantasy football. In fact, there were more than a dozen players considered for inclusion in this slideshow but, alas, only four can make the cut.
When the Miami Dolphins posted a ridiculous 41 points in the first half last Sunday against the Houston Texans, we knew that it was going to be a special day of offensive outbursts and difficult decisions. Despite the New England Patriots' shellacking of those very same Dolphins during this week's Thursday Night Football contest, for one afternoon last weekend, the Fins were on fire.
It's not very surprising then that two of this week's featured players are from Miami, but who else joins them at the top and how are the four players' performances ranked? Before we begin the countdown, let's look at which stellar outputs (there are a lot) from Week 7 barely missed the list.
Disclaimer: For the sake of this article, we have excluded kickers, team defenses, and individual defensive players. We have chosen the four best from the QB, RB, WR, and TE positions.
Honorable mentions: T.Y. Hilton (Indianapolis Colts), Darren McFadden (Dallas Cowboys), Tom Brady (New England Patriots), Kirk Cousins (Washington Redskins), Mike Evans (Tampa Bay Buccaneers), Danny Woodhead (San Diego Chargers), and Jordan Reed (Washington Redskins)
4. Ryan Tannehill, QB, Miami Dolphins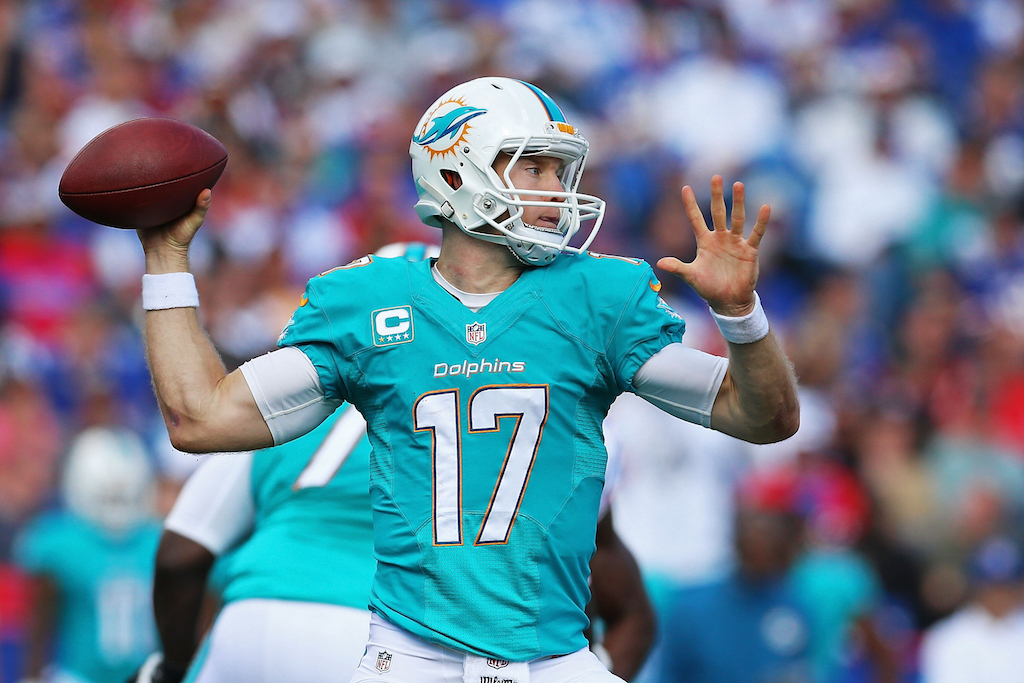 Week 7 statistics: 282 passing yards, four touchdowns
It's been an underwhelming first half for Dolphins quarterback Ryan Tannehill. In four of his first five games, the Texas A&M product put up less than 20 points for owners in a standard Yahoo! Fantasy Football league. Then came Week 7 against Houston.
While only attempting 19 passes, Tannehill completed 18 of them (consecutively to begin the game.) He "only" threw for 282 yards, but picked up four touchdowns on the day. History was all over the place for the Dolphins offense. The four touchdown passes all came in the first 16 minutes of the game, and the team had previously been 0-7 against the Texans, the only team they had never beaten. According to STATS, the victors became the first team in at least 75 years to post four offensive touchdowns of at least 50 yards in a half. There are many other jaw-dropping numbers from the game, but revealing each of them would take all day.
Unfortunately for the Dolphins — and especially Tannehill-owners — things all came crashing down when they were destroyed by their division rival Patriots 36-7 on Thursday. For one week though, those who started Tannehill in Week 7 were likely rewarded with almost 30 points.
3. Nate Washington, WR, Houston Texans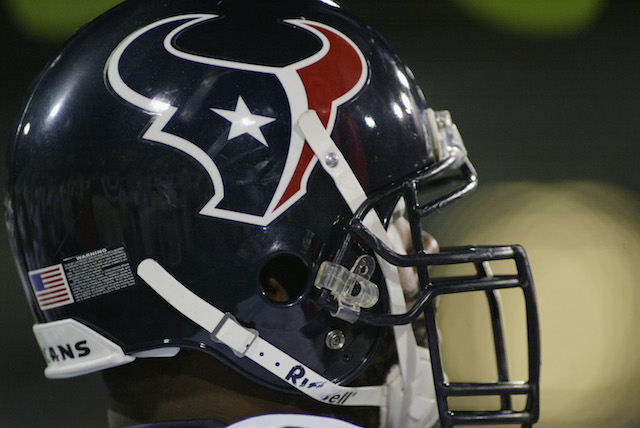 Week 7 statistics: nine receptions, 127 receiving yards, two touchdowns
You were expecting DeAndre Hopkins? While the other Texans wide out has arguably been the best fantasy wide receiver in the league this season and made our post last week, went off in Week 7 in that aforementioned loss to the Dolphins. Granted, nearly all of Washington's stats were accumulated in the second half, aka "garbage time," but fantasy owners don't care one bit.
Washington hauled in nine catches for 127 yards and two touchdowns. After three consecutive goose eggs in Week 4 through 6 (he sat out two games), if anybody out there had No. 85 in their lineup, we're not sure why. But hey, if he was, you lucked out big time.
For the less than 1% of the population who somehow played Washington last week, he brought in about 25 points in a standard Yahoo! Fantasy Football league. If you're in a PPR-format, that total ascends to upwards of 30.
2. Todd Gurley, RB, St. Louis Rams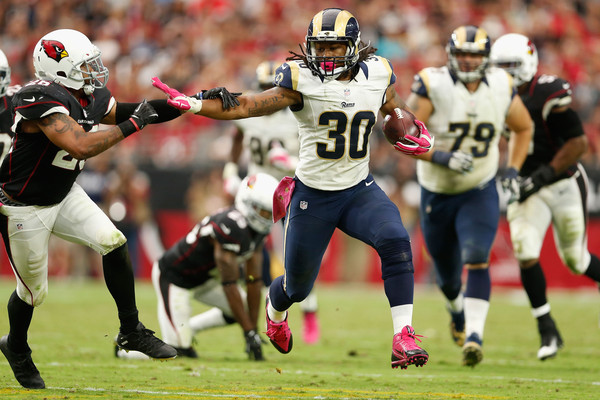 Week 7 statistics: 19 rushing attempts, 128 rushing yards, two rushing touchdowns, four receptions, 35 receiving yards
First-round 2015 NFL Draft pick, Todd Gurley, is heating up big time. The long-locks St. Louis Rams running back posted his third straight 100-yard rushing game last weekend against the Cleveland Browns and makes his first appearance in our weekly list.
Not only did Gurley register 128 rushing yards on 19 carries in Week 7, but he found pay dirt twice as well. To cap off his marvelous performance, No. 30 caught four passes for 35 yards as well. If he keeps up the pace, Gurley could make a dramatic push for the rushing title as he now sits in 12th place despite only playing in four games and holding 74 carries.
With Gurley in your lineup for Week 7, he got you almost 30 points. If points per reception count towards your total, that figure likely jumps over the 30 mark.
1. Lamar Miller, RB, Miami Dolphins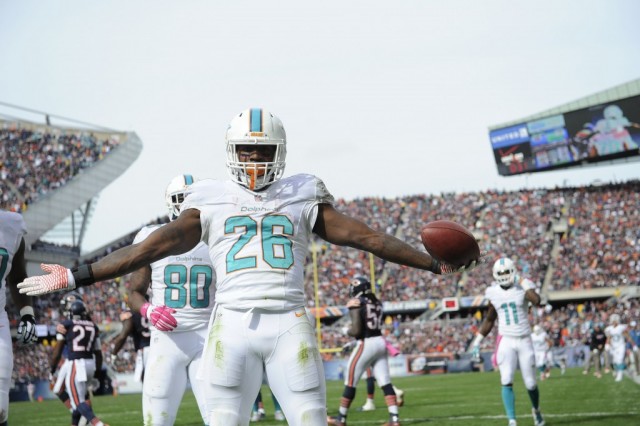 Week 7 statistics: 14 rushing attempts, 175 rushing yards, one rushing touchdown, three receptions, 61 receiving yards, one receiving touchdown
Lamar Miller made a serious case for the best fantasy football performance of the year thus far with his splendid day (really first half) against the Texans last Sunday. Miller dominated both on the ground and through the air to the tune of over 200 all-purpose yards and a pair of touchdowns to set the tone for a wild afternoon of football.
Like with Tannehill, it had been a putrid start to the campaign for Miller, but for the first two games under new head coach Dan Campbell (and a new offensive philosophy), the homegrown talent was a different player. In the first four games of the year, Miller totaled 131 rushing yards and zero touchdowns. Then in Week 6 and 7, he torched opposing defenses for almost 300 yards on the ground and two TDs. Coming through with an 85-yard scamper and a 54-yard scoring reception on Sunday made it a day to remember.
The week's leading-rusher probably picked up an absurd 35 points in standard leagues for owners. In PPR groups, the number jumps closer to 37 or 38.
All data courtesy of NFL.com, Pro-Football-Reference.com, and ESPN.com.
Follow Victor on Twitter @vbarbosa1127